Non profits see big Bonnaroo benefits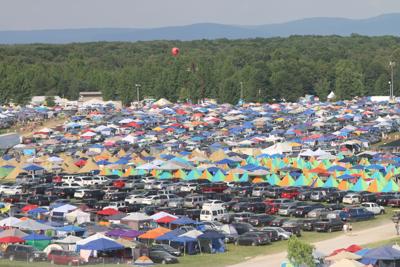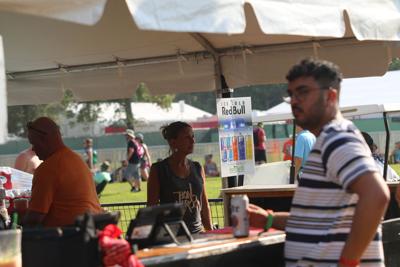 Whether you're at home and hearing the bass thumping through your windows or on the farm dancing, there is no question that Manchester feels the impact of Bonnaroo. Residents know how Bonnaroo Works Fund grants can assist community development, but less noticeable are the funds Bonnaroo gives to the nonprofits during the festival. Such organizations that benefit are Manchester's Chamber of Commerce, Keep Coffee County Beautiful, the Anti-Drug Coalition, Park Partners, school groups and more.
Chamber of Commerce
A partnership built to last – the Chamber of Commerce has had a tent set up in Bonnaroo since the very beginning. For 17 years, members of the chamber and volunteers have given their weekend to sell beer to festival goers, an opportunity Executive Director Terri Hudson says is fantastic.
"It's a great opportunity to mix and mingle with guests in town and it's also obviously a fundraiser for us," she said. "This year, we have a unique opportunity – we have an artist hospitality tent that we're in charge of, so we're selling wristbands over there to get food and drink, but then we also have this beer tent as well."
"You know, it's a good time," she added. "It lets us get to know our volunteers more. They're our regular citizens here that live and eat and play and sleep, all that in town, so we get to know them on a more personal level so that's great."
In the past, the chamber had two beer tents. They dropped the second this year in favor of the hospitality area.
The funds they see varies from year to year and tent to tent. On average, Hudson explains they see about 35 cents per beer sold. To compare, she estimated their efforts bring in about a quarter of what a typical golf tournament might do for them. Due to the new setup, they are unsure how much money they'll bring in.
"They're our biggest contributing member," she said in regards to Bonnaroo. "We just appreciate the fact that they're here in town so much, it's such a great tourism opportunity and we are trying to support them through their negotiations with the county. So you know, I think it's a mutually trusting and appreciative relationship."
She continued to say that she and chamber members hopes the county is able to negotiate a good contract for both parties.
The chamber's beer tent was located in front of Which Stage this year.
Coffee County Red Raider Quarterback Club
The Coffee County Red Raider Quarterback Club, which is the fundraising arm of the Central High School Red Raider football team, helped to staff three booths at Bonnaroo this year.
In conjunction with the Bearclaw Coffee Co., the quarterback club staffed three booths at the festival and expects to raise upwards of $6,000.
"It is hard work, but this is a great opportunity to raise money for our program in a short amount of time," said quarterback club president Emily Howes.
According to Howes, the quarterback club partnered with the Bearclaw Coffee Co. to help staff three booths when manpower was needed. The quarterback club also staffed the Christmas Barn, which was located in the Centeroo area.
Coffee County Youth Bass Club
When it comes to yearly fundraising budgets, the Coffee County Youth Bass Club can knock out most of its entire year in one weekend thanks to Bonnaroo.
Spearheaded by Phillip Petty, volunteers work to sell beverages near "Which Stage" at Bonnaroo. Petty expects approximately $5,000-$6,000 in revenue to go toward the bass club's coffers. Additional money raised is donated to the Tennessee State Trail and the Southcentral Tennessee Region – which the bass club competes in. Petty also makes donations to youth baseball teams.
"We have people from these organizations help staff the booth because I have to have around 60 people per day to staff this, so it's hard to get that all form one place," explained Petty.
Besides selling sponsorships for their uniforms, Petty says that working Bonnaroo is the only fundraiser the bass club needs to participate in. He explained that proceeds from working the festival account for 75 percent of the club's funding, with the other 25 percent coming from uniform sponsorships.
"It is a three day thing and then it's over with, we don't have to worry about (fundraising) anymore. That's definitely the big reason we do it."
Keep Coffee County Beautiful
In line with their name, Keep Coffee County Beautiful had one goal at Bonnaroo; lower the amount of litter.
"Our mission is cigarette litter," said Tonya Wilkinson of KCCB. "We are trying to prevent cigarette litter. We have cigarette ash receptacles out. We have the bins, which you've probably seen on the poles out there, and we give out pocket ash trays for people."
This year, they were handing out pocket ash trays.
The festival provides them with more than funding, however. Compost from their pile goes to KCCB school projects, KCCB does recycled art programs at the ninth grade academy and a $2,000 grant allowed them to do their Recycled Earth program.
"We have done solar tree with the schools, we have done a lot of work with the different grants," Wilkson said. "Bonnaroo has helped us a lot and the use of the compost pile is huge because that saves us a ton of money for the community gardens and all the different things…yes, they've helped us a lot in the past."
"We do a lot of networking out here," she continued. "It really helps us. We help other people. We are neutral at the corner down here. We've done all our retrofits to all our low income housing in the county. We've done Grundy County, Warren County, Bedford County and Coffee County, all the low income housing now. So it's a mutually beneficial thing for nonprofits to meet each other and help each other – that's our biggest thing."
"[Bonnaroo] has put Manchester on the map…So for us, that gives us more funding for Keep America Beautiful – all of these pocket ash trays, $20,000 worth, come in because of Bonnaroo. It brings in quite a bit of extra funding for us," she concluded.
Park Partners
Park Partners is all about improving the green spaces in the area – from setting up irrigation channels to soccer fields, Bonnaroo has helped them achieve it for the past 17 years.
This year, volunteers and members sold beer in front of That Tent to help offset the $65,000 they need to renovate and improve the children's playground at Fred Deadman Park.
Parks and Recreation Director Bonnie Gamble explained the entire project will cost $130,000, but they applied for a grant to pay for half of it.