Spending time with those you love is one of the best gifts around, so when looking for that perfect gift for dad, think of things to do together.
For those who are stuck for ideas of where to go, here is a few local options for time well spent with dad.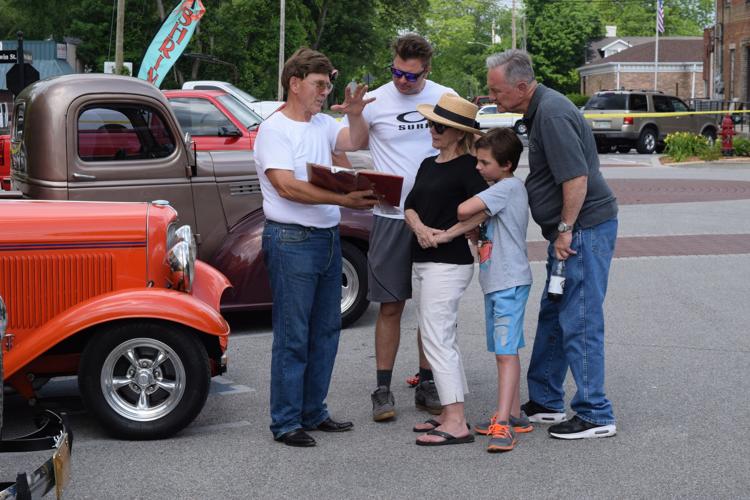 Go to a car show
Candy apple red, the exhaust note of a perfectly tuned big-block Mustang or even the musty smell that only the interior of an old car has – the sensory overload of a car show is a perfect draw for a daddy-day event.
Southern Wheels in Motion Car Club will hold a car show Saturday, June 16 at Tullahoma's Waggoner Park, 1300 E. Carroll St, near the new National Guard Armory.
The show offers 44 classes of vehicles ranging from non-street legal racecars to mini trucks.
Make a special stop by the "Rat Rods," modified 30s hot rods that have a particular following in Manchester.
To view is free and to show is $20 for the first car, $10 for the second.
There will be food vendors and registration begins at 8 a.m., judging at noon and awards presented at 3:30 p.m.
 Distillery crawl
For those old enough, take dad on a tour of the area's great local distilleries. Jack Daniels calls it a pilgrimage, and while they make fine whiskey, the expression is a tad hyperbolic. Nonetheless, a tasting tour is a great way to spend some quality time with dad.
Plan your own route according to taste, but some local stops are George Dickel Distillery, 1950 Cascade Hollow Rd.
Tours are Monday through Saturday 9 a.m. – 4:30 p.m., Sunday 11:30 a.m. to 5 p.m.
The last tour starts at 3:30 p.m. Monday through Saturday and at 4 p.m. on Sunday.
Tours are $12 per person and include a complimentary tasting (must be 21 or older to sample). Book a tour in advance at www.georgedickel.com.
Next up is Jack Daniel's Distillery, 133 Lynchburg Highway, in Lynchburg. The world famous brand now offers a variety of tours, ranging from Mr. Jack Toast in the Hollow Tour, a motor coach tour that includes a sample, to the Taste of Lynchburg that includes the tour, tasting and a communal meal at Miss Mary Bobo's. A non tasting tour is available for $15.
For complete details, go to www.jackdaniels.com.
From Lynchburg, wind your way back through Kelso and tour Pritchard's Distillery, located in an old schoolhouse, Prichard's - Kelso, 11 Kelso Smithland Rd. Kelso, TN 37348.
Pricard ' s Distillery incorporated in 1997 with American rum and opened its first distillery in 1999.
A tour involves a taste stop in the old school library. Hours are Monday – Friday: 9 a.m. - 4 p.m., Saturday: 9 a.m. -3 p.m. and closed on Sunday.
For more information, go to prichardsdistillery.com.
The final stop or the first, should be at Beans Creek Winery.
Beans Creek offers tastings and tours daily at 426 Ragsdale Rd. Hours are
Monday through Thursday, 10 a.m. to 6 p.m., Friday and Saturday from 10 a.m. -7 p.m. and Sunday 1-5 p.m.
These Manchester-made spirits include Tennessee Chardonel in the dry white range and proceed in sweetness to Nana's White and Red Muscadine. If available purchase a bottle of their sparkling strawberry, made from Wartrace strawberries and made in the traditional French fashion.
 Plan a Picnic
Fast food and carryout cannot compare to the treat of a simple picnic.
While it may be tempting to take dad out to his favorite restaurant, consider simple fair and a scenic location – no distracting T.V. to yell over no wait staff pushing you out the door for the next table to be seated.
While the roadside table stops have all but disappeared (Sewanee's Lone Rock still has one on Highway 41-A), picnic locations only need be relatively quiet and have a convenient enough spot to eat.
Close by are the city parks offer benches and pavilions, or above the spillway at Normandy Dam. A bit farther out try the memorial cross overlook in Sewanee, at the end of the Tennessee cul-de-sac, or the Natural Bridge, 591 Natural Bridge Rd.
Food needs not be elaborate. A brown bag with a ham and cheese sandwich and a bag of chips will taste amazing after a morning hike. For the culinary proficient make a homemade pepperoni calzone or a cheese steak sub. Just remember food safety and to pack out what you bring with you.
For a special treat make dad this for dessert. Try Reese's Peanut Butter baking chips instead of chocolate chips.
Caramelized Chocolate, Banana, and Marshmallow Sandwiches:
2 tablespoons unsalted butter, room temperature
2 tablespoons (packed) dark brown sugar
4 slices buttermilk bread
8 whole large marshmallows
2 metal skewers
2 tablespoons semisweet chocolate chips
12 banana slices
 Mix butter and sugar in small bowl to blend. Spread on one side of bread slices. Place two slices, buttered side down, on plate. Skewer four marshmallows on each of two skewers; hold skewers over open flame and toast until marshmallows are blackened in spots, about 10 seconds.
Divide marshmallows between bread slices on plate, leaving 1-inch border. Sprinkle chocolate chips over marshmallows, dividing equally. Top with banana. Cover with remaining bread, buttered side up, pressing slightly.
Heat large nonstick skillet over medium-high heat. Add sandwiches; cook until brown, about 1 1/2 minutes per side. Transfer sandwiches to work surface; cool then cut diagonally in half and wrap in paper towel or deli paper and pack for your picnic.
Recipe by the Bon Appetit Test Kitchen.