Coffee County students interested in career and technical education (CTE) must choose one of 15 pathways offered by Coffee County Central High School. Most students make their decision while choosing their classes for 10th grade, but some begin their CTE pathways in ninth. Because of this, there isn't much room for error – if a student doesn't like their area of study, they can, essentially, be locked in due to state graduation requirements.
 To graduate from high school, the state requires students to complete 22 credits in various core  subject areas and three credits consisting of Career and Technical Education (CTE), Advanced Placement (AP), International Baccalaureate (IB), Fine Arts or Math and Science.
Because of this, CTE Direction Richard Skipper teams up with Manchester Chamber of Commerce to host a career fair for seventh through ninth grade. The chamber brings in professions and high school teachers take the day to teach their trade to students interested in pursuing a career in that trade.
"This event is all about career experience," said chamber director Katy Riddle. "We are helping identify professionals in industry who can help them make educated choices in career."
Skipped added that the fairs are career-focused and not university-focused for a reason.
"Ultimately, it's to educate our kids," Skipper said. "The career is what's going to happen. …they can go to college to get a career, or go into a career right after high school. It's not a separation of college and career, it's all about career."
This year's fair was held on Thursday, Oct. 25 in First Baptist Church. Previously it was held in the Manchester-Coffee County Conference Center and, in years before, in the high school's library. The conference center staff was very accommodating, but ultimately, the classes need separate rooms so no one was speaking over one another, Skipped explained.
When it was held in the high school, it was only offered to high school students. Therefore, it was too late for most students to change CTE programs and the interest quickly outgrew the space.
Coffee County Central High School is one of the few schools in the state that offers 15 of the 16 CTE pathway options. Government is excluded from their curriculum because a lot of the content is very similar to public safety and law. The 16 pathways are agricultural, food and natural resources; architecture and construction; arts, audio/video technology and communications; business, management and administration; education and training; finance; government and public administration; health science; hospitality and tourism; human services; information technology; law, public safety, corrections and security; manufacturing; marketing, sales and service; science, technology, engineering, arts and mathematics (STEAM); and transportation, distribution and logistics.
During the fair, Coffee Middle School and Raider Academy students chose three paths that interested them and rotated between rooms. Westwood Middle School was invited as well, but students from the city school were unable to attend.
In one room, CHS Culinary Arts teacher Angela Harris spoke about what it means to run a restaurant as an executive chef, what it took to be a chef or a baker and what it meant to be in the culinary program.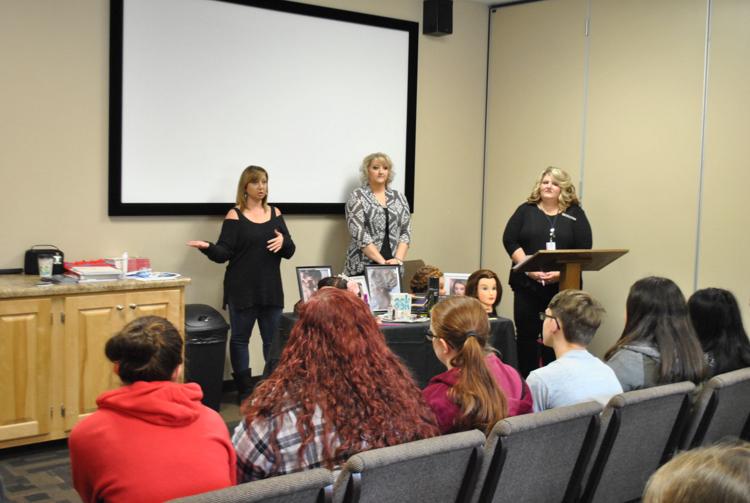 CHS teacher Sandy Lewis, along with members of the Naturally Tranquil Spa and Love Beauty School, explained what it took to be in cosmetology. It's not just knowing what looks good, it's having a working understanding of chemistry, polarity and STEM. The high school offers cosmetology courses that teach how to do facials for oily, dry and acne skin, eyebrow waxes, haircuts and nails.
"From teaching cosmetology…when I drive through town, I can look in a shop and say 'that was my student,'" said Lewis.
She's had students who became massage therapists, spa, barbers, nail artist.
"It's been a very successful career for me," she added.
STEM was divided into two rooms, as student interest was high. In one room, Arnold Airforce Base engineers spoke with the students about their jobs. One was Greg Sandlin.
"We're going to have a real need for engineers," Sandlin said. "That need is going to continue."
To ready students for a career in STEM and engineering, the high school offers principles of engineering, digital electronics (electricity), robotics, drafting, architecture, engineering design and more.
Future career fair efforts
Skipper is interested in continuing to push down the grades he offers to the fair. Ultimately, he'd love to offer it to sixth, seventh and eighth grades only, and emphasis CTE options in elementary school.
"Ideally, all grades at the middle school will attend at some point. Still good value in ninth grade, but if it moved to 6-8 grade, would they still need it in ninth?" Skipper explained.
It will continue to be offered to both county and city schools, as both funnel into CHS.
A program for elementary school is already in the works. PowerPoint presentations with visuals are being completed to share with fifth grades to introduce them to what is to come. Skipper hopes to roll these out sometime this school year.