Down home Southern: Mercantile Café greets each diner like family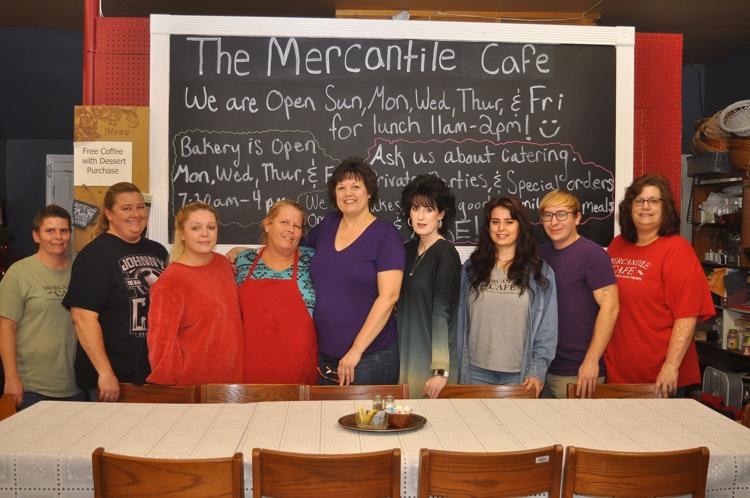 Mercantile Café's Renee (Clouse) Holt and her sister Mysty (Clouse) Bynum have one longstanding rule, make sure each and every customer feels like family.
"We are hometown Manchester folks wanting to serve the community," Renee said.
The sisters, raised a stone's throw from the square on the Woodbury Highway, started the restaurant 5 years ago, an expansion of their Sweet Simplicity Bakery.
"I've always wanted to own a restaurant since I was in high school," Renee said. "Feeding people is instant gratification. I enjoy making people happy. I enjoy cooking, but (moreover) the end result."
For the first years the sisters tested the waters by only staying open a few days a week, but over the last few years, the restaurant has become a serious business venture.
"We have grown substantially," Renee said. "We serve anywhere from 100-200 people a day, we cater … (and now) I have my manufacturing license. And I have my liquor license for catering. When we do weddings, we can offer a full bar."
The catering side of the business can handle upwards of 300 people at an event and is just about as popular as the restaurant.
Despite that volume, the Mercantile staff stays committed to building relationships with every guest. 
 "It is important me or my sister to greet every customer that comes into this restaurant," Renee said. "If this restaurant is open, one of us is here. I try to personally see each person."
That family environment is the essence of a hometown restaurant – something too often missing from the chain restaurant.
"That's what's unique with us. We are connected with our customers," she said.
It's like eating at grandma's.
Each day the menu, planned the afternoon before, is made (as much as possible) from scratch from as locally sourced products using trusted family recipes and served in quick cafeteria-style serving.
"I am very particular about a lot of things. All of our meats come in fresh. We hand batter everything," Renee said. The mashed potatoes are never instant.
      The top-sellers chicken and dumplings and chicken and dressing, along with all the casseroles and desserts are exclusively made from scratch in-house.
 "If we can get it fresh, we get it fresh. If we can get it local, we get it local," Renee said.
The Mercantile Café is open for lunch and for supper on Fridays. It is closed Tuesdays and Saturdays. Sunday after church is a big day for the Mercantile. About 200 people will dine in during the three hours the restaurant is open.
"It's a place for people to bring their families, enjoy and good meal and dessert," Renee said. 
Located on the square at 100 W. Fort St., the Mercantile Café is open daily (except Tuesdays and Saturdays) 11 a.m.-2 p.m. and Fridays 5-8 p.m. Sweet Simplicity remains open after lunch until 4 p.m. Stop in to let one of the sisters plan assist with your catering needs or to check out the new gift shop, featuring Tennessee products and gifts.   
John has been with the Manchester Times since May 2011. He covers Lifestyles in addition to handling education reporting and general news assignments.John has won Tennessee Press Association awards for Best News Photo and placed in numerous other categories. John is a 1994 graduate of Tullahoma High School, a graduate of Motlow State Community College and earned a Bachelor of Arts in English from Middle Tennessee State University. He lives in Tullahoma, and enjoys the outdoors with his wife, Mitsy, and his 17-month-old, Sean.