Manchester Living: Love is best when it's hometown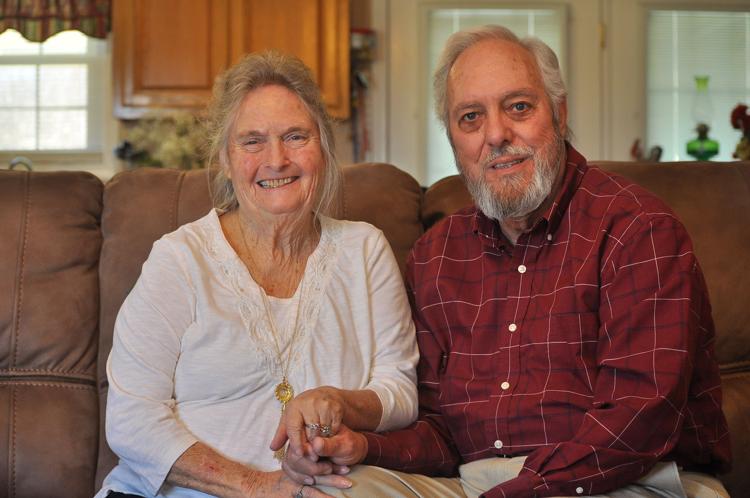 Local couple's love shines through 55 years of war, military service and a failed elopement 
 Local couple Thomas and Reba Hewell know the struggles and joys of making love work. Their love story spans 55 years, a Southeast Asian conflict and a failed runaway elopement.
Both Thomas and Reba grew up in religious families, so naturally they would first see each other at church.
"One night, I went in. I was going to ease in and sit on the back row. (Reba) and her sisters were sitting on the back row. She caught my eye. I kept looking back to see if she was looking back at me," Thomas said, eventually getting the nerve up to ask out Reba.
Thomas lived on the other side of town. He transferred junior year from City Central to Kittrell High School. Times were different back then, so Thomas hitchhiking 20 miles every day wasn't a big deal, especially when love's involved.
"Our senior year, we decided we would sneak off and get married," Thomas said."Nobody would ever miss us," he thought.
Back then, a blood test was required three days before a marriage could be performed, so the young couple borrowed a car to make the first trip to Ringgold, GA. Thomas borrowed his uncle's 1956 Chevrolet. Reba snuck her clothes out the bathroom window and off they went.
"We started out down (Highway) 41 through Manchester. That's before Interstate 24 was built. We got about as far as the Tennessee River and the forward gears went out," he said.
"I turned that thing around in reverse and started backward down the road. That wasn't the worst of it. I threw a rod through the motor."
Stuck there on the side of the road, Thomas turned to his future wife and suggested they hitchhike.
"We got picked up by a couple of guys in suits," he recalled.
"Yeah, we're going right where you're headed," Thomas recalled them saying.
The two men in suits turned out to be police officers.
When they all got to the courthouse, it was after hours, so there was no marriage that day, but there was a call home.
"I told my parents, 'y'all don't come down here we're already married. We'll start back tomorrow,' " Hewell said still working out how to get married the next day.
The officer, shaking his head cut in, "Y'all come get these kids." Reba, never speaking lies even back then, confirmed what the officer was saying.
Back home things returned to normal. The young couple decided to wait until after graduation to tie the knot.
"I joined the Army and left the day after graduation, so we had to wait until after I got through basic training."
On Aug. 12, 1963 the Hewells wed, only for Thomas to ship out for Advanced Individual Training shortly after.  Then he got his orders to go to Germany, alone.
The first two years of their marriage, the young Hewells spent literally an ocean apart, only getting to see each other during a 30-day leave. Upon his return stateside, they moved posts to post until his eventual deployment to Vietnam in 1967. 
"I was discouraged when he went to Vietnam. It was hard. Him being in war – you don't know if they're going to make it out," she said. "I always believed he'd come back, but you don't know."  
In the time after Vietnam, Reba finally got pregnant with their first child. The Army in its wisdom housed the couple in a fourth-floor apartment.
"I held that baby and walked up all those stairs," she said.
A young mother in a foreign country all alone for stretches at a time, Reba cared for their new daughter. 
"When you had a baby back then you took care of it. There was no one to hand it off and say can you take care of her until I get to feeling better," she said.
Love and their faith have always gotten the Hewells through the tough times.
"It was discouraging him being gone so much, but we made it through. We loved each other. Love will go a long ways," Reba said. "He's been the one. You just know it (when it's the one). It's a special feeling in your heart. Nobody can fill that emptiness except the one," she said.
"We've had our ups and downs but we've been happy," Thomas added.
Reba and Thomas' secrets to happiness, put God first, never go to bed angry at each other and always find a place for forgiveness.
She adds, "Show lots of love."
John has been with the Manchester Times since May 2011. He covers Lifestyles in addition to handling education reporting and general news assignments.John has won Tennessee Press Association awards for Best News Photo and placed in numerous other categories. John is a 1994 graduate of Tullahoma High School, a graduate of Motlow State Community College and earned a Bachelor of Arts in English from Middle Tennessee State University. He lives in Tullahoma, and enjoys the outdoors with his wife, Mitsy, and his 17-month-old, Sean.