Wednesday, Jan. 23 is national pie day, created to celebrate the splendor of pie. Keeping with the spirit of the occasion, we went into the kitchen with a local chef to make his adaptation of an American classic, the strawberry tart.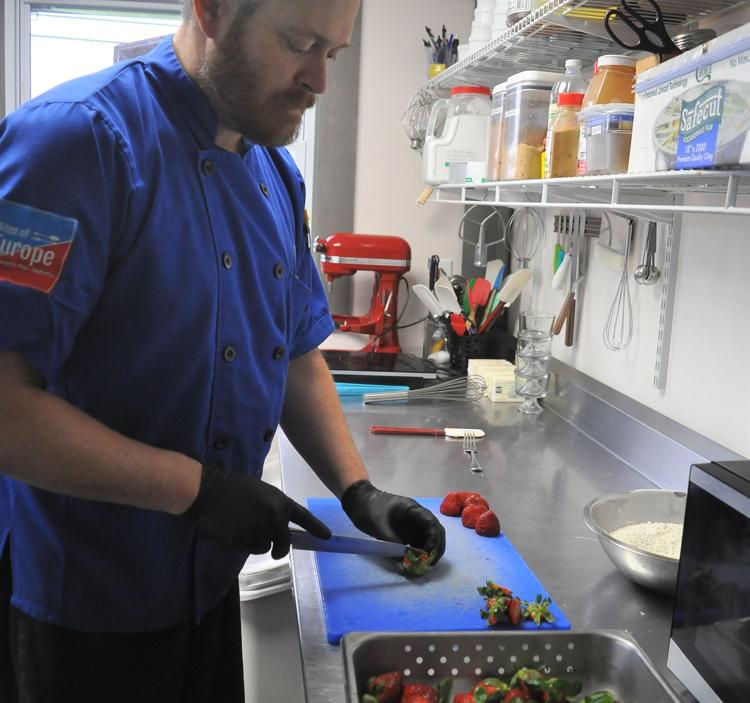 Tarts, the feisty cousin to pie, with their scalloped sides and a flair for high culture, may not be quite what you think of when you hear strawberry pie, but the light, fresh strawberry flavor and the right balance of sweet and creamy won't over burden your palate like the syrupy filling commonly found in strawberry pie.   
Bites of Europe Head Chef Josh Capozzoli starts his strawberry tart with a homemade filling that chills in the fridge for at least an hour. A no-roll pâte brisée shell is the base, and topping the tart is a layer of glazed fresh strawberries.
Noticeable is the simplicity of the recipe. Crust, filling, topping – it's the quality of the ingredients that makes this dessert shine, according to Capozzoli.  
The workhorse of the tart is the pastry cream filling or crème patissiere in French. This versatile custard is made from egg yolks, cream, sugar, cornstarch butter and vanilla. It rests atop Capozzoli's signature shell, a five-ingredient pâte brisée, the recipe he worked out through trial and error. He whips out this no fuss pastry shell using an ovenproof mixing bowl, a 400 degree oven for 12 minutes and a spatula in the final step. It's hands-on about 10 minutes and altogether ready in 30 with no rolling pin needed.  
"This is richer and has a little more butter than a (traditional) pie crust," Capozzoli said.
This is also the crust that Bites of Europe uses for quiche Lorraine at Sunday brunch.    When the bowl comes from the oven in goes the flour.  Capozzoli incorporates the last bit by (gloved) hand and portions out enough to cover the bottom of the tart pan and presses it into the edges.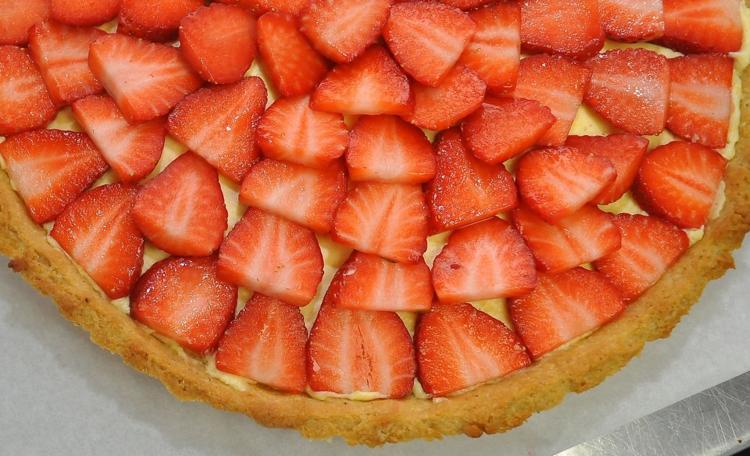 The cream pastry that Capozzoli makes from scratch can be used for everything from éclairs to donuts.
"It's like ice cream-flavored custard, though not cold," Capozzoli said.
He said a workable (though not quite as good) alternative can be made with instant pudding.  Follow the instructions for the pudding, cutting the liquid amount in half.
He spreads three scoops of pastry filling onto a cooled tart shell before covering with sliced strawberries and a glaze made from honey and warm water. 
If you're eyeing a tart from Bites of Europe for   Valentine's Day, be sure to call in advance. Desserts, including the strawberry tart can be ordered 72 hours in advance. The restaurant will have also a limited menu available on Valentine's Day . Be sure to get your reservations in early.
Whole strawberry tarts can be purchased for $25. All deserts are made in house. Availability varies daily.   
Capozzoli comes to Bites of Europe from pastry chef positions at the University of the South and Middle Tennessee State University. For his interview at Bites of Europe, owner Kevin Greenwood challenged him to cook something of his choice, a grilled chicken with capers. Capozzoli started work the next day. 
5 tablespoons of vegetable oil
15 tablespoons water (just under a cup)
425 grams of butter (14.9 oz. or just under a pound)
Preheat oven to 400 degrees F. Place first four ingredients into an ovenproof bowl. Bake for 12-15 minutes. Mix in the flour and press into two 11-inch tart pans, lightly sprayed with Pam. Prick evenly with a fork. Bake 12 minutes more until golden brown.
Bring cream just to a simmer. In a separate bowl whisk egg yolks, sugar and corn starch until it forms a pale yellow color. Temper mixture by slowly adding slightly cooled cream to the mixture. Slowly pour into pot. Cook until it thickens 5-7 minutes to a custard consistency. Stir in a couple of pats of butter for velvety finish. Spread into a baking sheet and cover with plastic wrap. Refrigerate an hour to hour and a half.   
1 pound of fresh strawberries, thinly sliced and stems removed
Warm water, just less than a ½ cup to thin the honey
Assemble tart. Spread cream filling evenly over cooled shell. Arrange thinly sliced strawberries side by side in concentric circles. 
Glaze the strawberries to keep them from drying out with a mixture of honey and warm water, using a pastry brush.