SUBSCRIBE to the Manchester Times this month and the paper will donate a portion of your subscription to the Coffee County Children's Advocacy Center in recognition of Child Abuse Awareness month. Subscribe for a year for $40 (11 cents a day) and we will donate 15 percent back to the advocacy center for new subscribers. Eight percent of renewals will be donated too.
Call today: 931-728-7577.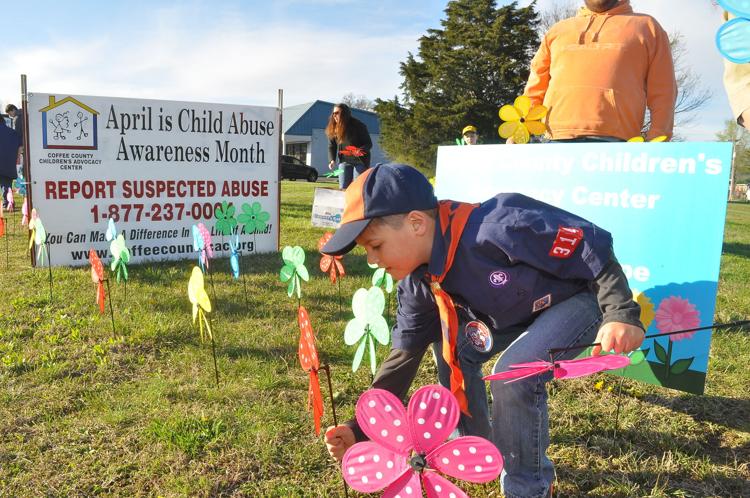 Coffee County Children's Advocacy Center will hold its annual major fundraiser Party with a Purpose Friday, April 26 at Bites of Europe restaurant, 1306 Hillsboro Blvd.
"We're trying to do something a little outside the box this year," said Center Director Joyce Prusak. "We're bringing in a large tent at Bites of Europe, and using the restaurant, beer garden and the tent to do the event."
There will be live entertainment throughout the event. Tony Castellanos will perform as well as Michael Childress.
Prusak said the event will be relaxed and casual, but the format will be similar to years past, such as including a silent and live auction. This year's auction items include Bonnaroo tickets, Franklin's Pilgrimage Festival (featuring headliners the Foo Fighters, The Killers and Keith Urban), tickets for a two-night stay at Opryland Hotel which includes Grand Ole Opry tickets  (no blackout dates, so Christmastime is an option), casino stays and other regional attraction tickets.    
"Our goal is to raise between $35,000-40,000. This is our biggest fundraiser of the year," Prusak said.
Cuisine from Greece, Italy, France and Germany will be represented, including a brats stand, onions and sauerkraut and French desserts.
The event will begin with a silent auction and social hour at 6 p.m. All proceeds from this event will go directly to supporting the needs of the Coffee County Children's Advocacy Center.
The center serves Coffee County children who are victims of severe abuse, prevention of abuse and to educate the public.
"The majority of the cases we see…are possible victims of child sexual abuse," Prusak said.
She said 75 percent of the annual cases are sexual abuse, followed by severe physical, severe neglect and drug exposed cases.
"We work with the Child Investigative Team to make sure that the children and families have an appropriate, efficient investigation to limit the trauma on the child and the family as much as possible," she said.  
The second phase of the center's mission is to offer hope to children who have been abused.
"Child abuse is scary. It's traumatizing, but there is hope. When children are given the tools, they can grow into happy, healthy children and adults," Prusak said.
"Our goal is to make sure that whatever has happened to them does not become their defining moment and that they can still be kids."  
The center offers a prevention program in all three of the county's school districts and an adult program for any organization that works with youth.
  The Children's Advocacy Center helped nearly 3,700 children since opening our doors in 2005. Additionally, it provides prevention education in the schools to over 20,000 children.