The principal of the U.S. News and World Report's top ranked school in the state was interviewed by the Coffee County Board of Education on Thursday, May 30 for the open director of schools position.
Rutherford County's Central Magnet School Principal Dr. John Ash, described himself as a servant leader with high expectations. His students at Central Magnet achieve an average of 30.6 on their ACTs, his teachers are comfortable with coming to him and expressing their opinions, asking for help or pointing out his mistakes, and the results speak for themselves, Ash explained.
"So I guess as far as a culture, extremely high expectations. I'm a firm believer of what you expect out of children is what you get out of children. I have extremely high expectations and so far, at every school I've ever been at, we've been able to meet them," Ash said.
He later added, "Sometimes as a school system, you get too caught up in the big picture. Education is simple: you teach every child to their fullest potential. You do everything you can with every single child and the hole, I think, repairs itself…you still have to believe that each and every child has a potential to be reached and you push them to that potential. While every potential may not be exactly the same, just like sports, everyone still should get the most they possibly can. I'm a big believer in having high expectations for every child."
To get Coffee County to that level, he wants to start grade-level ACT programs in kindergarten, to increase drive in academics in all students, get parents engaged, get teachers what they need a build trust within the school system.
Ash described himself as a servant leader.
"The more I can do, the more (teachers) can do their job and the better they can do their job," he said.
"I do feel like leading with respect and treating them with respect will get you better results in your future," Ash added.
At Central, he believes the school has a family feel – students are comfortable with teachers, teachers are comfortable with them and everyone is comfortable with him, their principal.
He added that teachers at schools with low turnover rates probably are respected more than teachers in schools with higher turnover rates.
 "It's the culture more than anything else that keeps teachers," he explained, adding that he believes in taking time to explain why something can or cannot be done to teachers instead of just telling them yes or no. He later explained that he is a bottom-line kind of person, but not a micromanager.
Serving the teachers in that way, listening to them and implementing what a director can will increase morale, Ash said. He knows to be visible, to read body language and attitude to see if morale is good or bad on any given day and is willing to put in the work to make it as good as it can be.
"From some of your questions, morale might not be good here and it may take a while for them to turn it around. They may not believe what I say, but they will believe what I do," Ash said. "It's going to take a little bit of time to get it turned around – ocean liners don't turn around on a dime – but it will turn around."
One of his main goals is to increase academic drive.
At Coffee County, he would communicate with business partners to ensure the Career and Technical Education is preparing students for the industry and future needs and trends.
"It's very important that you study what this area needs and then tailor your programs toward that. Our first priority is teaching kids and academics is what you're there for," Ash said.
"It's very hard to earn a great living with the high school diploma today. We need to make sure our students are prepared for that training," Ash added.
He acknowledged some kids may not see a successful future for themselves, so it may be beneficial for Coffee County to bring back past graduates and have them talk about their upbringing and success after graduation.
However, academic drive is difficult to impress upon students if parents are not on board as well.
"If you're not welcoming parents into the schools, they're not going to be involved," Ash said.
Some ideas he gave were open houses to allow parents to meet teachers, having a Spanish speaker in every school and teachers having their own webpage to update students and parents on assignments.
"Let (parents) know good things are happening. Email the parent. Say, 'hey, you're child did great on a test today.' Reinforce that relationship, make them want to be involved," Ash said.
He concluded by saying if the school wants parents to get involved, the staff and faculty need to make it easy for them to be involved.
Weaknesses and worth ethic
Ash admitted he is not familiar with Coffee County, which he said is his biggest weakness as a candidate. To compensate, if he were hired, he would want his deputy director to come from within the county.
Despite this, he explained he knows smaller towns, rural/suburban areas and socio-economic differences. Ash grew up in Carthage, Tenn., a small town in Smith County. He worked at Lavergne High School, where 70-80 percent of students were on the free or reduced lunch program. Ash admitted that at Central Magnet, not all of his students are good.
"Culture shock is what you make it," he said, adding that he is very adaptable and has been through culture shocks before, so going from the No. 1 school in the state to Coffee County would not faze him.
Outside of not knowing the area, he said his other weakness is internalizing things too much.
"I bring my failures home. Two weeks ago, I had to non-renew some teachers. That is a failure on my part. Somewhere, I did not support those teachers well enough to get them to where I need them to be. That bothers me," he said.
Ash added student affairs are internalized as well – if a student is arrested, expelled or moves to an alternative school, he feels like he failed that student somewhere along the way.
Ash believes his weaknesses do not hinder his work ethic.
"I get to school every morning at 6:30. If there is a ballgame, I leave at 9:30 or so," he began. When he was a teacher, he would come in early every morning to tutor or be there for his athletes before and after school.
"I spend the summers at school, balancing classes. There is nothing I won't do to make sure Central and eventually Coffee County is a success. I was a football coach, I mowed the fields, I did weights, I spent 100s of hours and I loved every minute of it," he said.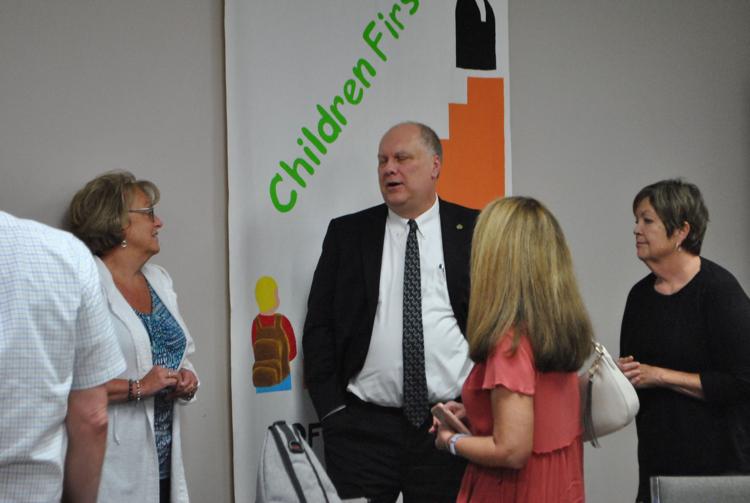 Ash concluded the interview by reiterating his belief in creating a respectful environment where administration can point out his mistakes in his office and he will have open communication with them and the board for as long as he holds the position.
"I can't promise to be here in 25 years – I'll probably be dead in 25 years, but I will give it my best while I am here," he vowed.
Ash is the second of five scheduled interviews to fill the position, which was vacated when Dr. LaDonna McFall resigned this spring.