Every year for over a decade, Coffee County Schools have worked to make sure all of their students can enjoy the Christmas season. This year's Angel Tree program gave out around 500 presents to children in need in the community.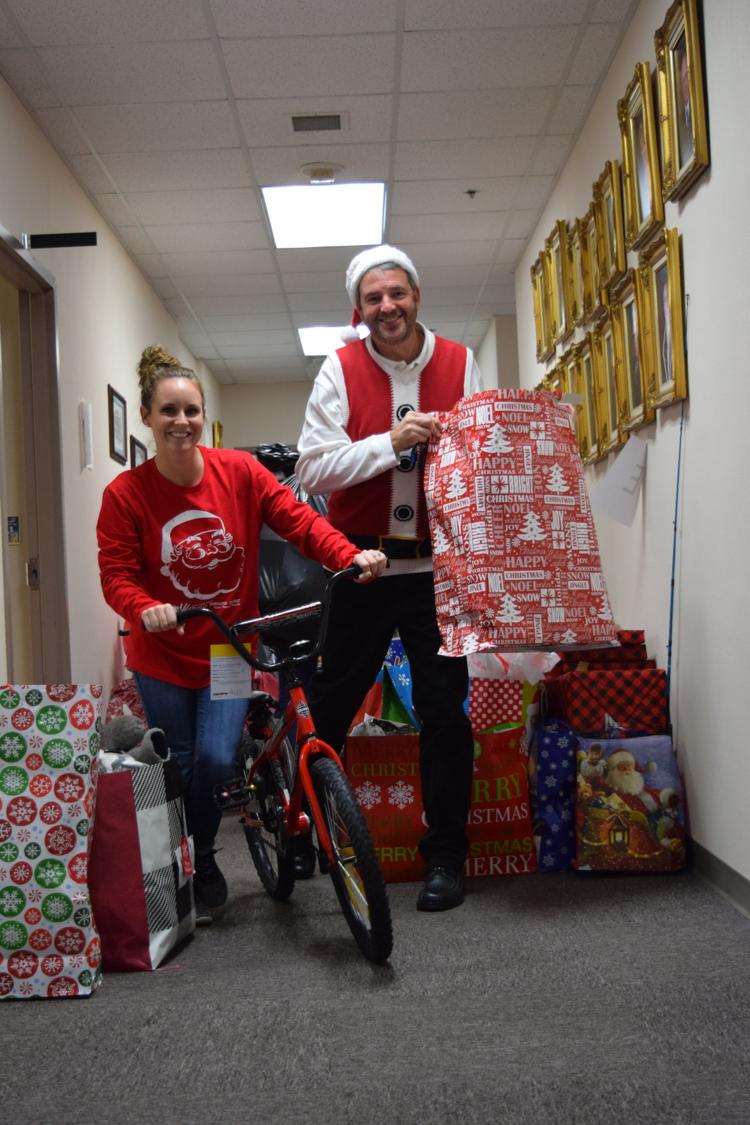 During the month of December, Coffee County School's central office hallways were filled with gifts, ranging from clothes, to toys and bicycles. On Friday, Dec. 14, staff maneuvered the halls like Santa's elves, grabbing gifts, throwing them over their shoulders or wheeling them through the maze of gift bags and wrapped boxes.
All of items were donated by local organizations, families and individuals. 
"We are grateful to live in such a supportive community that always puts the needs of children first," said Coffee County Schools Family Resource Center Coordinator Taylor Rayfield. "The success of this year's Angel Christmas Giving Program would not have taken place without our industries, organizations, individuals, churches, and small businesses who go above and beyond to ensure our students in need have a bright and Merry Christmas. We could not do what we do without your support, Manchester. Thank you."
Rayfield has held his position for three years. Under him, the Angel Tree program has thrived.
"Growing up, I had the privilege of being a part of the Fann family Christmas program," Rayfield explained. "The late Gaylen Fann, who was a true public servant in our community, former county commissioner and vice mayor of Manchester, year after year dressed up as Santa and handed out Christmas gifts to so many in our community.
"This was something that I always enjoyed being a part of and never did I imagine that I would have the opportunity to serve in a very similar capacity. Gaylen always shared this with folks, 'life is about serving, giving, and loving each other. It's that simple,'" he added.
"It is humbling to work and live in our great community that rallies together to take care of one another.  It is a true honor to have the opportunity to serve our students, families, schools, and community in this capacity," he concluded.
The program is hosted by the Family Resource Center. The center exists to address the problems with the home and community environments which impede or create barriers to a child's ability to learn and grow successfully. Coffee County Schools Family Resource Center provides educational support, resources, and programs that strive to engage and empower families. 
Family Resource Center's history
In 1993, the Tennessee General Assembly recognized the increasing number of children in high risk environments as a result of poverty, families with substance abuse, domestic violence and other barriers that hinder child success, Rayfield explained. The state general assembly passed legislation granting local education agencies (LEAs) the authority to establish Family Resource Centers (FRCs).
"Schools cannot solve all the problems alone," Rayfield said. "However, schools are in a prime position to be the catalyst in networking effective prevention and intervention programs. The FRCs work proactively to establish collaborative partnerships with parents, communities and business leaders, state and local service agencies, public and private organizations."
A competitive grant process, there are only 103 Family Resource Centers serving 78 school systems in 65 counties. Coffee County Schools celebrates 25 years next school and has been a grant recipient since its inception.