East Coffee Elementary School fourth grade classes got a special treat on Wednesday, Dec. 12 when a Central High School graduate visited them to show them how their clothing drive will affect students in Guatemala. Leah West, niece of East Coffee Fourth grade teacher Norma Pichulo, now lives in Guatemala and works with BuildinGUATE ministry.
Pichulo's and Shannon Reynold's classes have been gathering socks, underwear and other various clothing items to send to San Gabriel School in Guatemala. West works closely with the school and will be able to bring the donations back to the country.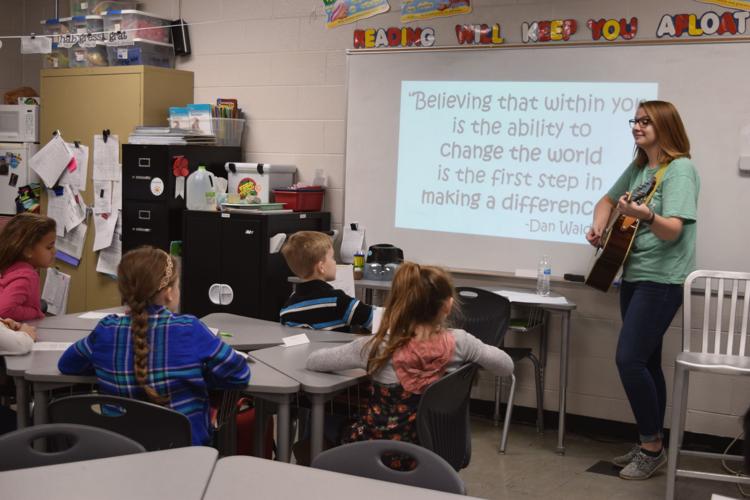 Knowing West would be back in the United States while San Gabriel students enjoyed their summer vacation, Pichulo thought it would be a perfect idea for her to speak with her and Reynold's classes.
"The things you collected are really needed there," West told Pichulo's class after showing them a slideshow of photos that included the school and students.
West also taught the kids some Spanish, including how their names would be said in Guatemala. Boy names would end in "ito" and girls in "ita." The students also learned how to introduce themselves in Spanish: Como te Llamas? Me llamo <name>. Mucho Gusto! This translate to: What is your name? My name is <name>. Good to meet you!
They also learned how to say hello, goodbye and how to ask where the bathroom was.
To connect the students to the ones in San Gabriel, West taught them how to sing "Feliz Navidad." 
Other things the students learned about included the food and animals in Guatemala, their Independence date, how many volcanoes were there and how many are active (37 and three active ones).
West called Pichulo's class "the smartest group of fourth graders" she's ever seen, based on the questions they asked. She was blown away they made the connection between America gaining independence before Guatemala and they asked about specific dates, such as if Guatemala's independence was near the time of the Alamo.
The two classes collected clothing donations until Dec. 18. An official count of items has not yet been done, but Pichulo's class had well over 50 items to donate.
"I feel happy for those kids in Guatemala to get the things our parents and we bought. It makes me feel good," said Charlie Higgins, a student in Pichulo's class.
Once the donations are sent over, this won't be the last contact with the students in San Gabriel. The students will become pen pals though West's ministry. Because there isn't mail service, it will be electronically sent.
Students will not have to worry about writing in Spanish – all letters will be translated.
 "It's not every day you get the opportunity to talk with someone in a different country," Pichulo said.