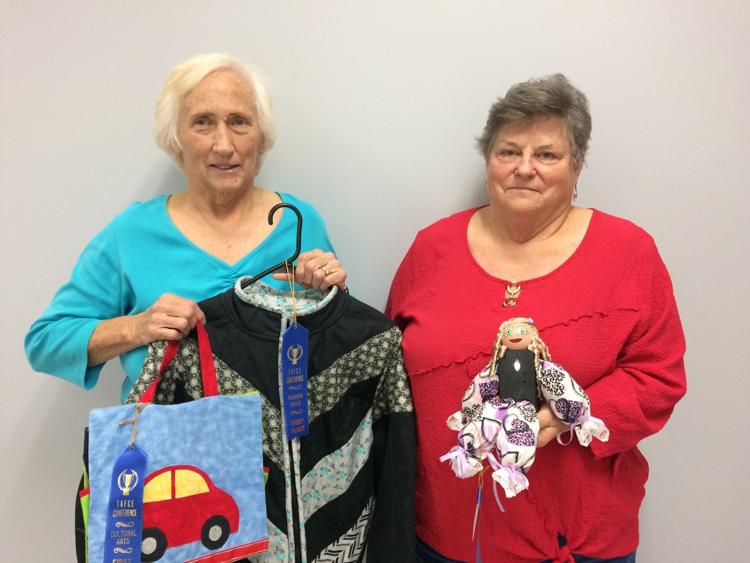 Members of the Tennessee Association for Family and Community Education in Coffee County recently held their annual awards and recognition luncheon at the Manchester Farm Bureau. "Spring Into FCE" was the theme for this year's event hosted by the Manchester Club.
Current president Jeannie Freeze presided, recognizing individuals and clubs for achievements this past year. Asbury, Blanton's Chapel, Manchester and Noah clubs received Master Club Awards for outstanding membership development and community service.
Marilyn Bryan, Peggy Bryan and Jo Ann Smith of Asbury Club, Lucy Deal, Blanton's Chapel Club and Jeannie Freeze, Noah Club were recognized for completing 500 to 1,000 hours of community service and receiving the prestigious, State Certified Volunteer Service Award.
As literacy is one of the community projects of the association, book bags and bookmarks are handcrafted and donated each year to children's summer reading programs. Nineteen members who also enjoy reading completed the member reading challenge and collectively read 1,381 books. Inspirational, Children's, Fiction, Non-Fiction or Self-Help Reading Certificates were earned by Peggy Bryan, Marilyn Bryan, Evelyn Floyd and JoAnn Smith of Asbury; Mary Srmek, Doris Hines and Virginia Hullett of Blanton's Chapel; Vicki Jacobs, Suzi Mosler, Renate' Bates, Jeannie Crittenden, Terry Cotten, June Rigney and Jackie Barnes of Manchester; Marjorie Anderson, Martha Bryan, Kathy Nordgren, Jeannie Freeze and Carol Vanattia, of the Noah Club.
County Reader of the Year Awards for individuals reading the most books in each category were earned by Vicki Jacobs, Children's, Martha Bryan, Fiction, Kathy Nordgren, Non-Fiction and Evelyn Floyd (Asbury) , Self-Help and Inspirational.
Each year, each club names a Club Member of Year. For outstanding contributions to their club, members Jo Ann Smith, Mark Srmek, Renate' Bates and Callie Jernigan (Noah) were recognized.
As with any group, member participation is vital to the growth and success of a club. Recognized for their participation, Marilyn Bryan, Jo Ann Smith, Theresa Frame (Blanton's Chapel), Virginia Hullett, Jeannie Freeze, Callie Jernigan, Lynne Lusk (Noah) and Dianne Oblak (Noah), Jackie Barnes, Renate' Bates, Suzie Mosler and Marilyn Wilt (Manchester) received the 100 Percent Attendance Award.
Membership Achievement Awards were presented to three dedicated individuals for year of service. They were Jo Ann Smith, five Year Member, Virginia Hullett, 45 Year Member and Imogene Allison, 60 Year Member.
Membership in the Association for Family and Community Education is open to anyone interested. For information, contact a member or your local UT-TSU Extension office at 723-5141.