Five Coffee County High School teams earned silver and bronze during the SkillsUSA State Leadership and Skills Conference in Chattanooga, which began March 31. In total, 57 CHS students attended the conference.
The following CHS students placed:
Silver: Melanie McKelvey and Yanely Luna in television production; Matthew Hale, Jasiyah Knox, Josh Roberson, Emma Singleton, and Ashley Meadows in the quiz bowl; Dalton McGinnis, Allison Vaughan and Bailey Roye in promotional bulletin board; and Colton Kerber, Brianna Gawrys, and Destiny Grissom in community service.
Bronze: Kase Leatherwood and Tanner Brisbane in audio and visual production.
The chapter also sent two elected state officer candidates – junior Jalen Morris as elected vice president of the state and freshman Brayden Gray as secretary of the state. Gray and Morris will join a team of six state officers, all elected at the state conference.
Nationals is in Louisville, Ky., from June 24-28. Those who placed first will be moving on. Silver medalists will not be attending unless the first place winners decide not to attend the national competition.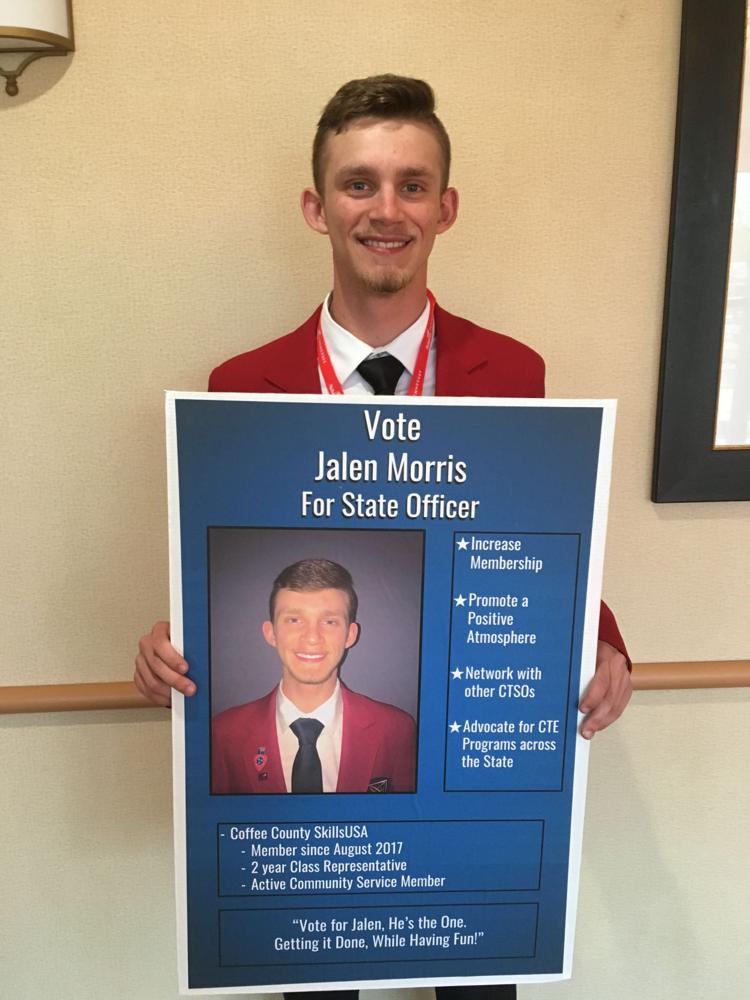 Morris, previously the sophomore representative of Coffee County's SkillsUSA chapter, is moving up in rank. This year, he decided to put all of his energy into campaigning for vice president instead of competing, which is something he's wanted to do for months.
"I am honored," Morris said. "It's by far the biggest honor I've ever received. I've worked hard to be elected. I campaigned. I got elected the end of March. I've been talking with Mr. Spears, who is our chapter director, about running for state office since last year, like the beginning of my junior year, so August.
"It was a whole process from August to March to achieve what I wanted to achieve," he said.
As vice president, he will be doing a lot of public speaking, be in charge of procedures at monthly meetings and attend leadership conferences. Morris is excited to embrace the responsibilities and can't wait to experience it all.
"I also wanted to show people what I can do, how I can lead and be effective," he said.
He added he'd like to use his role to increase SkillsUSA participation, if possible.
"Because SkillsUSA is awesome – it gives students a voice. It gives kids the ability to govern themselves. It lets the kids do what they know the students want. We have a state director, but we also do our own thing and make our own decisions," Morris said.
He thanked everyone at CHS, including Principal Paul Parsley, Career and Technical Director Richard Skipper, and his teachers and SkillsUSA directors Jon Spears and Tobey Alonso.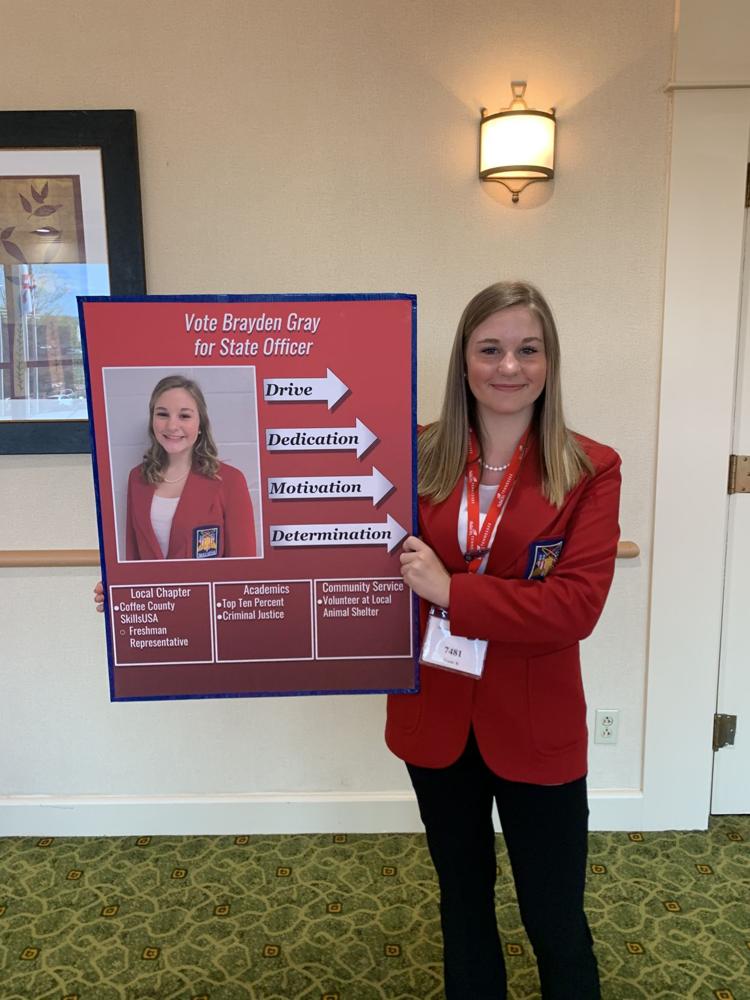 As a freshman, Gray feels honored to be elected as a state officer, adding many of the voting delegates at the state conference thought she was much older when they first met her.
During his interview, Morris told the Times he wouldn't be surprised if Gray went all the way to become an officer at Nationals in the future and added he was impressed with her campaign during the state conference.
"It makes me feel like a leader," Gray said about her position.
During her campaign, she made custom printed gray and blue tie-dye rubber bracelets with her slogan on it – Vote Brayden Gray to lead the way at SkillsUSA.
She also competed while campaigning. She and her teammates, Alanna Coker and Chloe Martin, made a suitcase project. Inside the suitcase was a crime scene.
When asked why she wanted to become an officer instead of just a competitor, Gray replied, "I'm really interested in the program so I thought being a state officer would be a better chance to get to know the program, to get involved and help me with my future."
She added that she is proud of her achievements this year and could overcome her shyness to better herself.
"I'm proud I had enough courage to do it as a freshman and I'm proud I could go out there with confidence," Gray said.
As secretary, Gray will keep minutes during meetings, do public speaking and attend leadership conferences.
Promotional Bulletin Board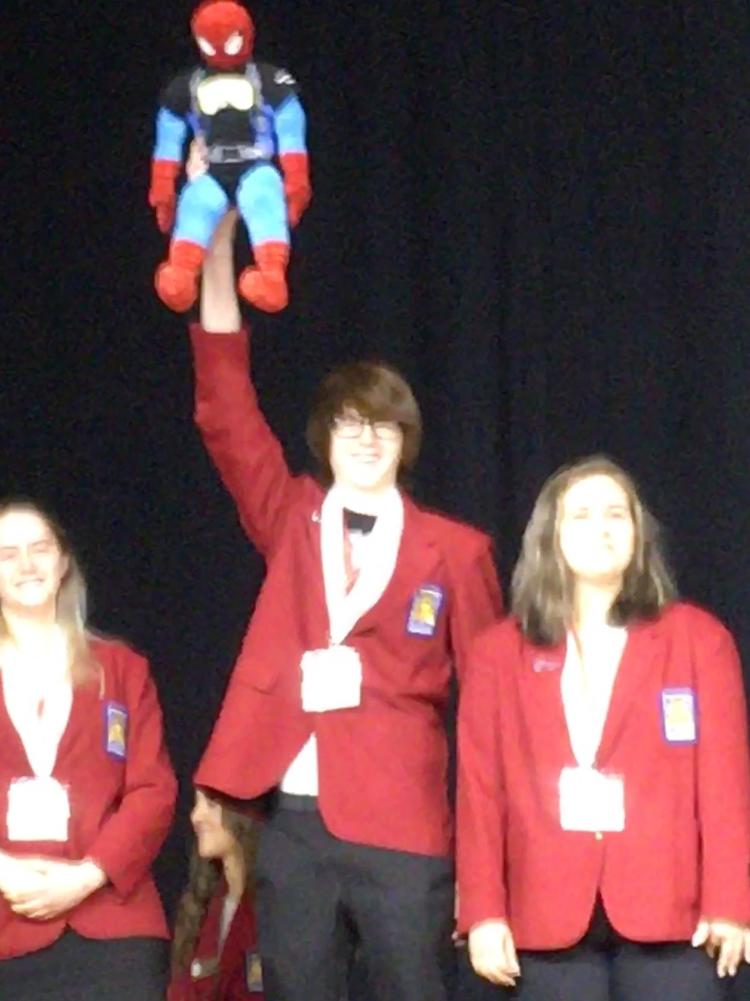 A group of three juniors and seniors tackled the promotional bulletin board project for the first time in CHS history. Vaughan and Roye are also new to SkillsUSA and this is their first time competing. McGinnis competed once before.
 "This is actually the first time the school's actually done that competition," Roye said. "We were going in blind. Usually you have people who did it last year who say 'hey, don't do it this way' or 'do it this way,' or 'judges like this,' but we really didn't have any mentors so we just did it by ourselves to learn."
Their bulletin board was made from foam board, covered in cardstock for color, painted and had photos of CHS's CTE programs.
"Pretty much the bulletin board was promotional," Roye explained. "Essentially, we did it so we could promote SkillsUSA, but for the state competition, we did it to promote our school. So it was all about showing off what we've done with our career and technical programs."
Vaughan added if you looked at their board compared to the 10 others there, you would have thought they would be last place. Not knowing what to expect, she explained their board was sparse compared to everyone else's.
The trio were interviewed by judges and had to go over their project, which consisted of the board, a notebook with additional information and had to answer questions about how they worked together as a team and why they chose this competition.
"I think we did a good job presenting," Vaughan said in regards to what she was most proud of.
Roye agreed and added they worked well together, for the most part.
"Teamwork gets a lot more done individually I guess," Roye said.
The trio thanked Spears, Alonso and all of the CTE directors.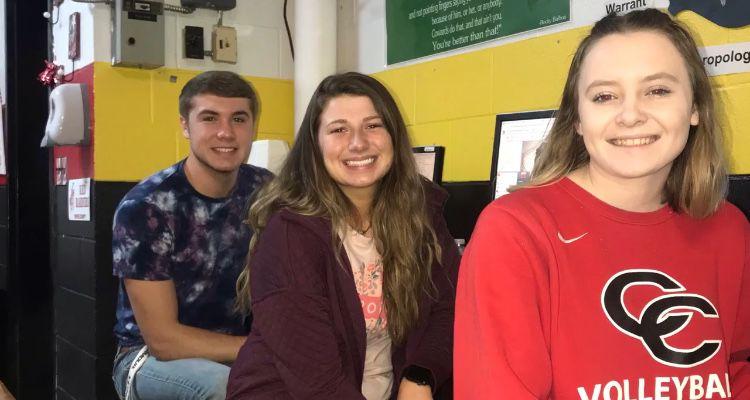 Earning silver in the community service sector was Kerber, Gawrys, and Grissom with their fundraiser for Hurricane Michael relief. Last year, all three of them went to the state competition as well and Gawrys and Grissom placed second.
This year, the three worked together to gather donations for Hurricane Michael victims. The storm occurred on Oct. 10, 2018 and made landfall near Mexico Beach and Tyndall Air Force Base in Florida. According to National Oceanic and Atmospheric Administration (NOAA) scientists' post-storm analysis, the hurricane was a category 5 when it made landfall, with winds reaching 160 mph. 
"I have a whole lot of family that lives in Florida and we know that a lot of kids at the school have families there too," Gawrys said.
The trio gathered about 20 medium-sized boxes to ship to Florida.
"It was pretty hefty," Gawrys said.
Grissom added it was nice knowing they were doing something that would make a difference.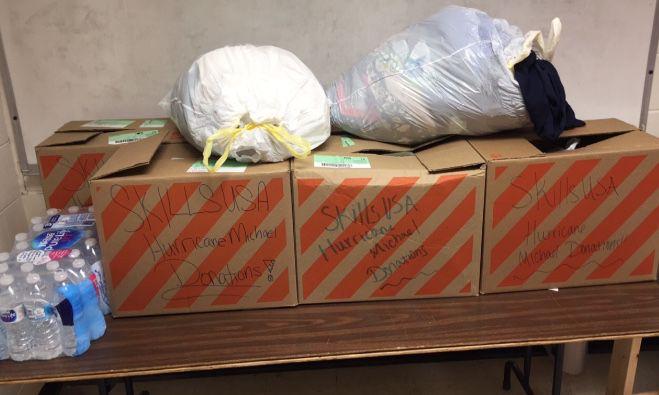 "Last year, we got a lot of people to help. This year, we didn't have to ask for people to help, they were all willing. People would just come in to homeroom and would help us sort the stuff. That just made me happy," Grissom said.
She later added, "The smallest thing matters in ways you couldn't even think of."
Gawrys said she was proud of the community for banding together to help out – they had donation boxes in the school and around Manchester in places like Cracker Barrel.
Kerber added he was proud everyone was willing to help.
"Every little thing helps," he said.
Their project at SkillsUSA consisted of a 30-page binder, a photo slideshow and a PowerPoint presentation. They went up against 10 groups.
They thanked Spears, Alonso and CTE teacher Mindy Acklen for their help and support, as well as their friend Lexi Bryan.