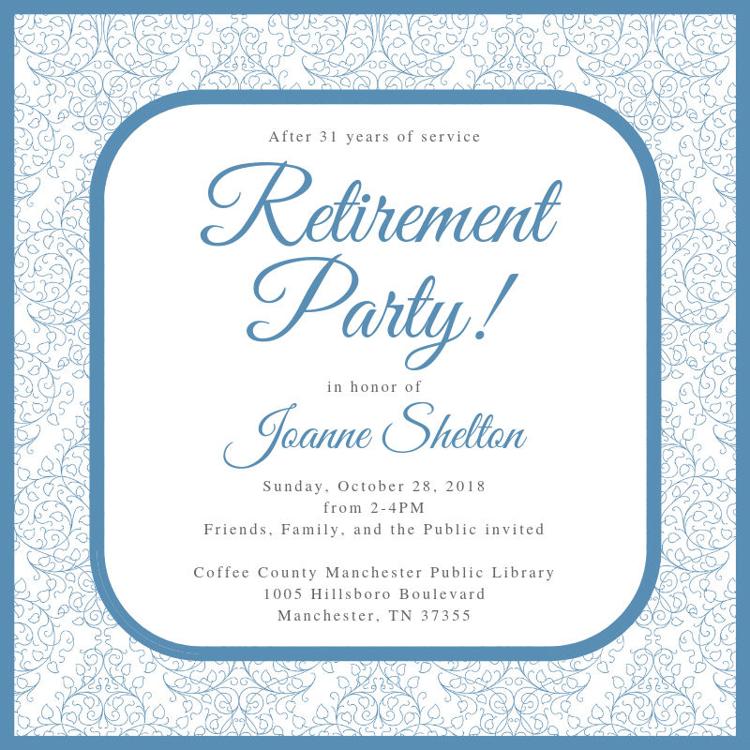 Coffee County Manchester Public Library will hold a retirement party from 2-4 p.m. on Sunday, Oct. 28 for retiring Assistant Director Joanne Shelton. 
Shelton retires following 31 years of service at the library. 
"We encourage people who have known Joanne throughout her career here to come by and say goodbye or congradulations," said library Director Pauline Vaughn.   
The library, normally closed on Sundays, has invited the public to the event. Light refreshments will be served. None of the regular library services will be available. 
"We decided to have it here at the library, we have the room and it's easy to find. The public can come by as they want," Vaughn said.  
Vaughn noted that Shelton was in charge of ensuring the smooth running of the library.
"She was in charge of the day to day running of the circulation desk, helping patrons, taking care of maintenance requests and did clerk work," she said. 
Shelton retired at the end of September. The position was filled internally. 
Manchester resident Catherine Ezell is the new Assistant Director, whom Vaughn said has been with the library for over eight years. 
"She's very tech-savvy and well versed in what it takes to run a library," Vaughn said.   
The library is located at 1005 Hillsboro Blvd.