Coffee County Schools hold annual community service projects and this year, New Union's decided to focus on what keeps their school safe.
Principal Jill Potts explained the students are all so thrilled with their school resource officer, Deputy David Grosch and his canine, Jarka, that nearly every grade chose to help law enforcement this year or to invest in school security.
First grade raised funds for interior door jams; second grade is working on Relay for Life, which is May 11 at 6 p.m. at Raider Academy and is collecting gently used books to fill the box boxes around town; third grade handed out goodie bags to community helpers, such as law enforcement; fourth grade is putting together Sunshine Bags until May 14, which are gift bags filled with yellow treats for the  Manchester Police Department and the Coffee County Sheriff Department; and the fifth grade donated funds for sheriff department's K9 unit.
The first grade and fifth grade teachers each highlighted their projects. Everyone was extremely thankful for the generosity of those who donated.
First grade: interior door jams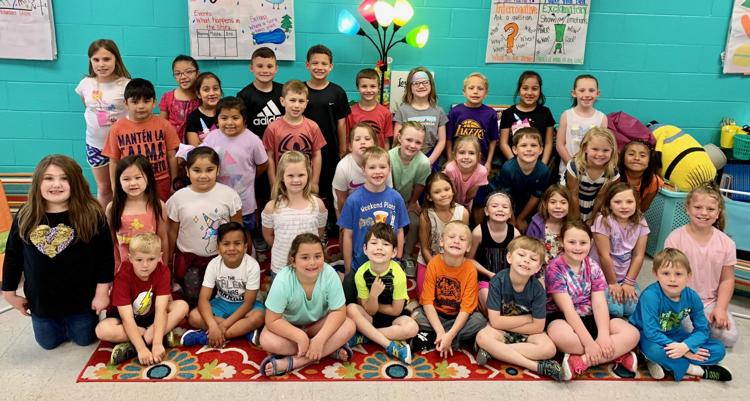 The first graders went above and beyond with their project and raised more than double their initial goal, which was to put door jams, which are secondary locking methods, on all classroom doors. The cost for those locks would be $1,200.
 The fundraiser, which ended Friday, May 3, raised $2,800. Every interior lock, including the doors that will be added after the school's renovation, will have a door jam.
Two types of door jams are required – one for doors that swing outward and one that swing inward. Teachers would go through a brief training session to learn how to use them after the maintenance team installs them over the summer.
"We're looking at layers of security when there's an intruder. The more layers of security you have, the faster you can get kids to safety," said Principal Jill Potts.
She explained Grosch, went over the school's safety plans for intruders, evacuations and lock downs, and together, school administration audited their security. With this in mind, when first grade teacher Nikki Alonso brought up the idea of interior door jams, the green light was given.
"Every year, they do a community service project. We, as a team, were trying to look at what would benefit the school," Alonso said. She explained her father learned about the door jams and he and her husband, both in law enforcement, looked more into them.
"I thought, why couldn't we have that in our school?" Alonso said.
Alonso referenced days when teachers were out and a substitute was in the room or when the students were outside of their classes.
"We want our entire inside of our building, no matter where students are, to be secure," Alonso said.
First grade teacher Courtney Parker added the students are seeing the direct impact of their efforts and, if they grow up and have kids and send them through New Union Elementary, will see the benefit of the added security for a long time.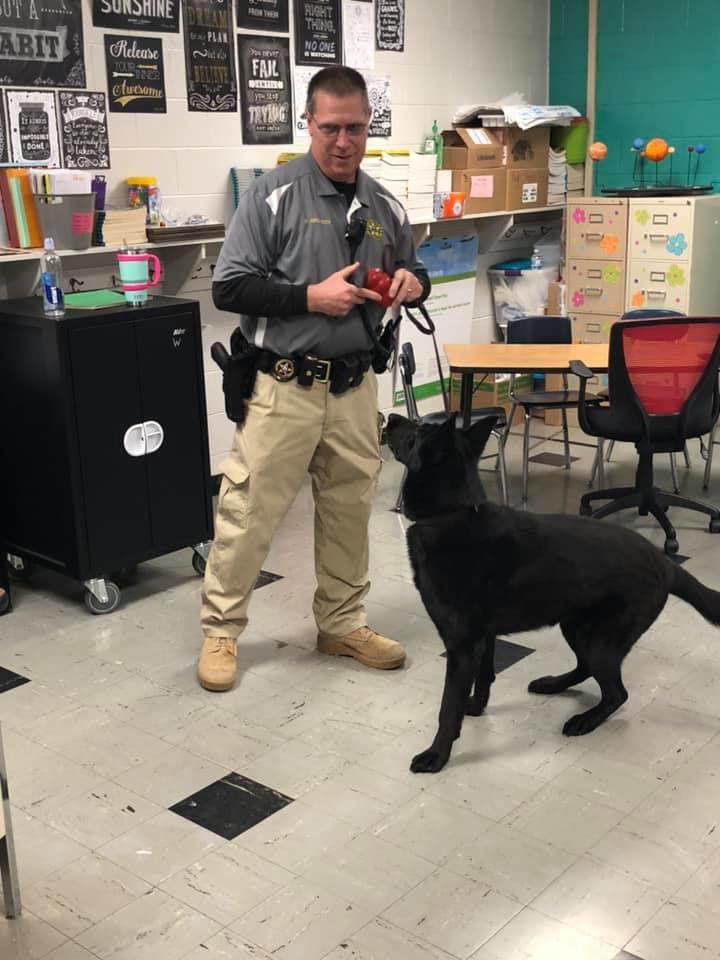 For over two weeks, 66 fifth graders raised $384 for Grosch and Jarka. This surpassed their goal of $240.
"We were excited to get them that and a little bit extra," said fifth grade teacher Susan Helms.
She explained, as a teacher, many of the items in her classroom come out of her pocket. The same is said for Grosch and Jarka. When the students learned that, they all jumped on board with the project and were excited to help, she said.
That, Helms added, and because they adore Grosch and Jarka.
Jarka has been in the fifth grade classes a few times and recently, she and Grosch, along with Deputy McKelvey, Deputy Curbow, and canines Yoshi and Max, held a presentation so students could see the dogs in action on Wednesday, April 24.  The check was presented to the deputies the same day.
The money went toward leashes, collar, protective gear and travel gear, such as bowls. Because they surpassed Grosch's initial need, the sheriff's department was able to purchase extra leashes for their other K9 unit teams.
"Even some of the students who couldn't bring in large amounts brought in a couple dollars, so you could see it meant a lot to them," said fifth grade teacher Tori Taylor.
Fifth grade teacher Rick VanDuzer added New Union parents are wonderful for their continuous support to the school and their fundraisers.