In November 2018, the Manchester School District's Board of Education allowed College Street Elementary School to implement a new social and emotional learning (SEL) program called The Sanford Education program. Now nearing the end of the school year, Assistant Principal Mary Gilbert, who introduced the program, teachers and students alike are thrilled.
The Sanford Program provides kits to all grade levels and teachers in the school. Inside the kits are lessons, plan books, activities, prompt cards and more to enhance the program's Meet Up and Buddy Up activity and lessons.
The lessons have allowed students to "make connections, let them know they have a voice, create a community and create units," Gilbert said.
Heather Reid's first grade class demonstrated Meet Up and Buddy Up on Thursday, May 9. The students started by sitting in a large circle and answering prompts one at a time. This activity was designed to teacher Reid's group goals, which are be respectful to one another; only talk when it's your turn; be kind and understanding; sit still and always listen to others; raise hand if you have a question; give thoughtful feedback; and stay on task.
The first prompt was "what makes you laugh?" Students answered with funny cat and dog videos, tickling, people slipping on banana peels, jokes and pranks. When one student disagreed with another, Reid quickly interjected and reminded her class that everyone's opinions are valid and matter, even if the other person doesn't agree that something is funny.
The second prompt was "What makes you thankful?" The first grade class answered with family, friends, not having to do laundry a lot, that their parents cook for them, having food and things they own.
"For Ms. Reid because she helps me do my work," said Demitriy Battle.
Gilbert explained activities like this help students with their active listening skills and teach them to be respectful – not only do they learn not to talk over their peers, but to engage with their interests and be kind to their opinion.
The second activity was Buddy Up. Reid's class does this once per day and buddies switch every week.
It allows the students pair up with "somebody we don't always play with so we get to know everybody in the class," Reid explained to her students.
Each pair was asked to pick one word, an adjective, to describe their partner. To teach the kids the word "adjective," Reid provided multiple examples. The students quickly understood and said their partners were kind, sweet, funny, playful and pretty.
After this activity, the kids shared why they learned the Sanford Education program. Most responded that they liked being with a partner and it was fun.
Students shared the SEL programs allowed them to get to know their classmates and make new friends.
It's more than just fun, though.
"A kid in the class was nonverbal because they were so shy," Gilbert said after the lesson. "Now they've opened up and interjected in discussions because Reid's build a safe place in the classroom for them to speak without the fear of being judged."
She added these lessons carry to other parts of the building – many students continue the lessons into recess and share with their friends or play with their buddies.
"It creates a family in the classroom," Gilbert said.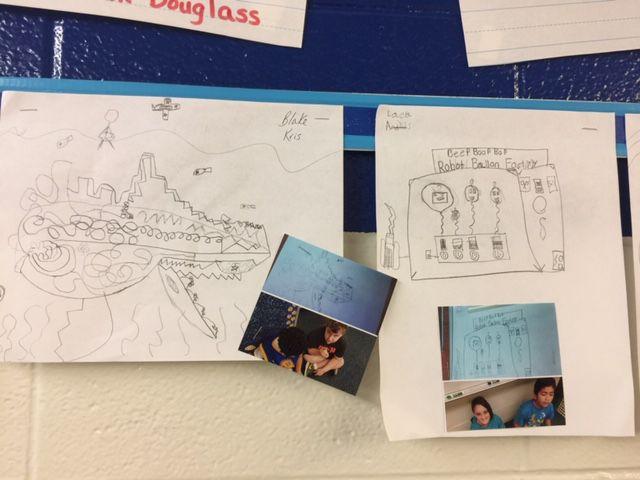 First grade activities differ greatly from fifth grade. Lining the hall near the library are fifth graders' art work from Renee Parnham's class. Students partnered up to make the drawings - one would draw one line and pass it to their partner. The other would draw another line and pass it back.
Parnham, an English language arts teacher, uses the prompt cards as writing ideas for the students, such as "what is something no one knows about you" or "If you could make a change in the world, what would it be?"
"It taught a lot about themselves and their classmates," Parnham said.
Students know that if they don't want to share it, they don't have to. They developed a "buddy touch" system where they would touch their buddy on the arm to show them if they were okay or not with sharing an answer. This teaches kids to respect other's privacy as well as when it is or isn't okay to share something.
Gilbert spoke with some CSES teachers to gauge their responses to the program and many of them noticed their students becoming more compassionate and understanding of one another as they got to know each other on a deeper level. It also helps teachers become more aware of immediate needs in their classrooms.
"It is wonderful students are intentionally making connections with classmates and are respectfully listening to each other. They are engaged in conversations, collaborating, working together, and problem solving throughout the day. Our students enthusiastically express they want to participate in more activities each day," Gilbert said.
The ultimate goal of this program, which Gilbert feels confident they are on the right track at succeeding at College Street, is "Everybody counts, you know your name, we care that you're here, you're important," she said.
About the Sanford Education program 
Researched out of Arizona State University and John Hopkins, and aligned with the Collaborative for Academic, Social, and Emotional Learning (CASEL), which is the clearing house for social emotional learning, the Sanford Education Program is a free SEL program for all schools to use.
The kits differ by need and grade. Inside are lesson plan books for teachers, activities such as cards and a puppet. There are two main components to the program that will be integrated into the classrooms,, which are Meet up and Buddy up and lessons and activities.
Meet up and Buddy up are two classroom meeting-style lessons. Meet up is a classroom style meeting that aims to build social emotional learning. Buddy Up pairs different students up in the classroom for 5-15 minutes a day.
Activities and Lessons are meant to be done once a week for around 45 minutes. The various lessons teach diversity and inclusion, empathy and critical thinking, communication, problems solving and peer relationships.