Coffee County Central High School is sending students to nationals this summer for the Future Business Leaders of America (FBLA) competition. Nationals will be from June 27 to July 3 in San Antonio.
The Times spoke with a few of winners from the 2019 State Leadership Conference on Friday, April 12. They are seniors Bryson Hullett, Jack Beachboard, Morgan Henley, Nathan Brown, Chloe Spry and Weston Hargrove.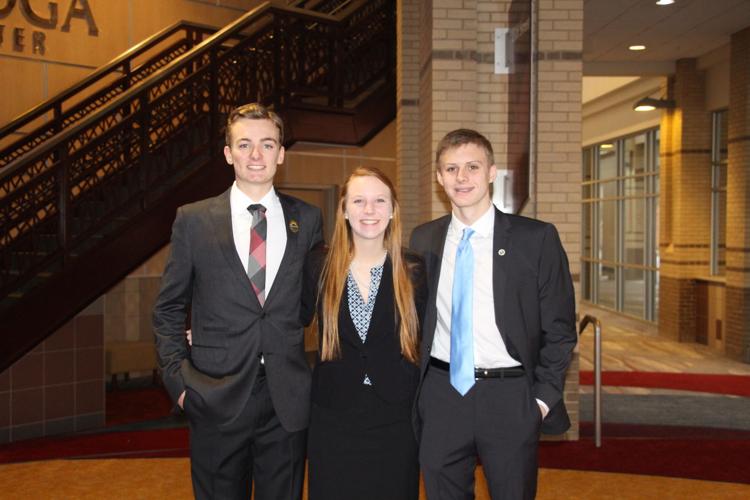 Winning first with their business financial plan is Hullett, Beachboard and Henley. They trio were tasked with creating their own business.
"We had to create our own business, like a fictional project," Beachboard explained. "It had to be within our local community and then we had to come up with how it was going to be run, financial projections for our first year, our first five years and how we were going to manage the business for  certain period of time."
The team decided to use a barn, which in their fictional scenario, was given to them after Henley's uncle passed away. The barn, formerly known as By My Holsteins Dairy Farm, became By My Legacy Banquet Hall. The venue would host weddings, banquets, proms, meetings and more.
"No one else in the community was doing that," Hullett said.
Henley added it was a growing industry they wanted to tap into.
They divided the work – Henley did the PowerPoint presentation, Hullett was the graphic designer and Beachboard wrote up the report.
Despite never getting first in state before, Hullett was confident.
"I already told them we were going to (get first place), they didn't believe me," he said.
Henley added that it felt great – she's placed second in state in the past and getting the gold this time felt really nice.
This will be Hullett's and Beachboard's first time at nationals.
Beachboard and Henley took on the Community Service project as well. It highlighted the school's annual effort to raise money and awareness for the Tennessee Breast Cancer Coalition. They sell custom T-shirts at sporting events, during school hours and gather donations throughout the fundraiser.
In 2018's "Team Up to Tackle Breast Cancer" event, FBLA members sold t-shirts and Otis Spunkmeyer breast cancer cookies, and hosted a pink out game where the football team wore pink jerseys and all other participants at the game sported pink. They raised $6,500.
"It definitely affects me, obviously, since my grandmother (Rita Young) had breast cancer, so it really hits home when we can impact people going through such a trying disease," Henley said.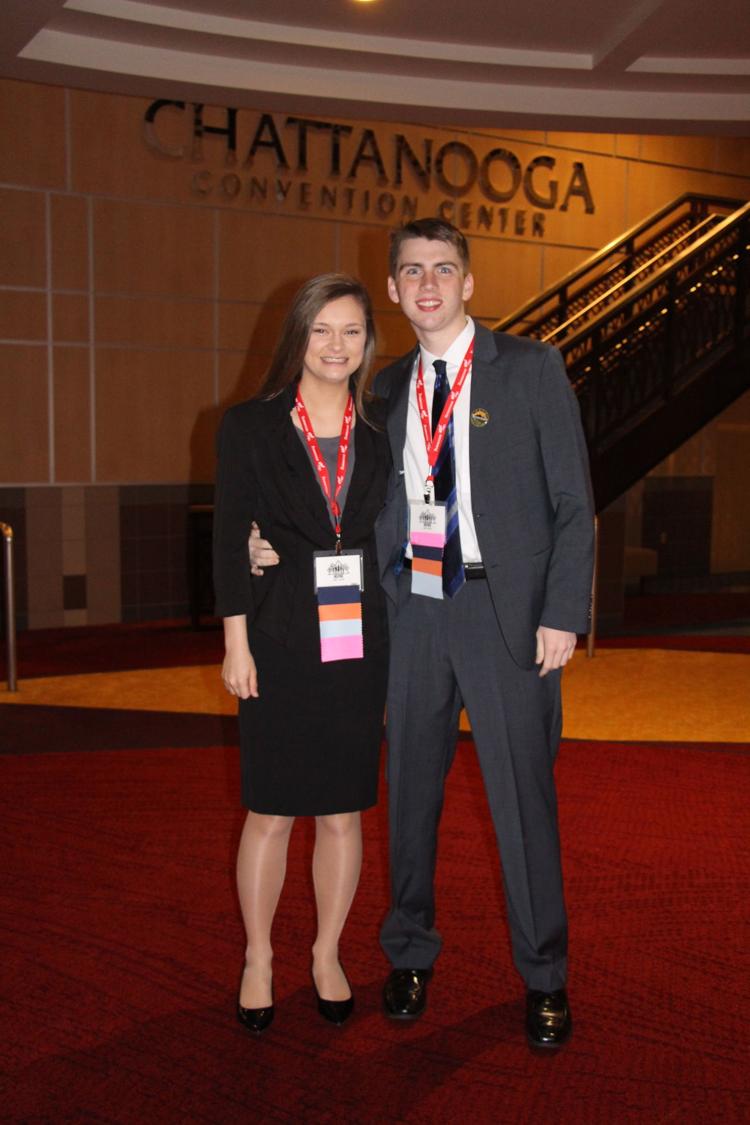 A team of two, Spry and Brown won first place in state with their creation of a high school. The duo had to design a crest, letterhead, business cards and brochure for their fictional school.
"The whole premise of the school was that Coffee County High School, the number of students was getting fairly large inside of the school and the school was fairly small for that number of students so we decided that Manchester City should have its own high school," Brown explained. "We named the school Riverwood because it's fairly close to the Little Duck River and then 'wood' because of Westwood."
The school would be located in the field by the Koss Center, as it was in close proximity to the ninth grade academy, the interstate and had plenty of room for athletic fields.
"I definitely had a high stake to go for this year since nationals placement and first place last year," Spry said. "It was kind of stressful, but I had faith in our project."
Brown added it felt great to get first place.
"She used to placing, I'm not," he said, jokingly.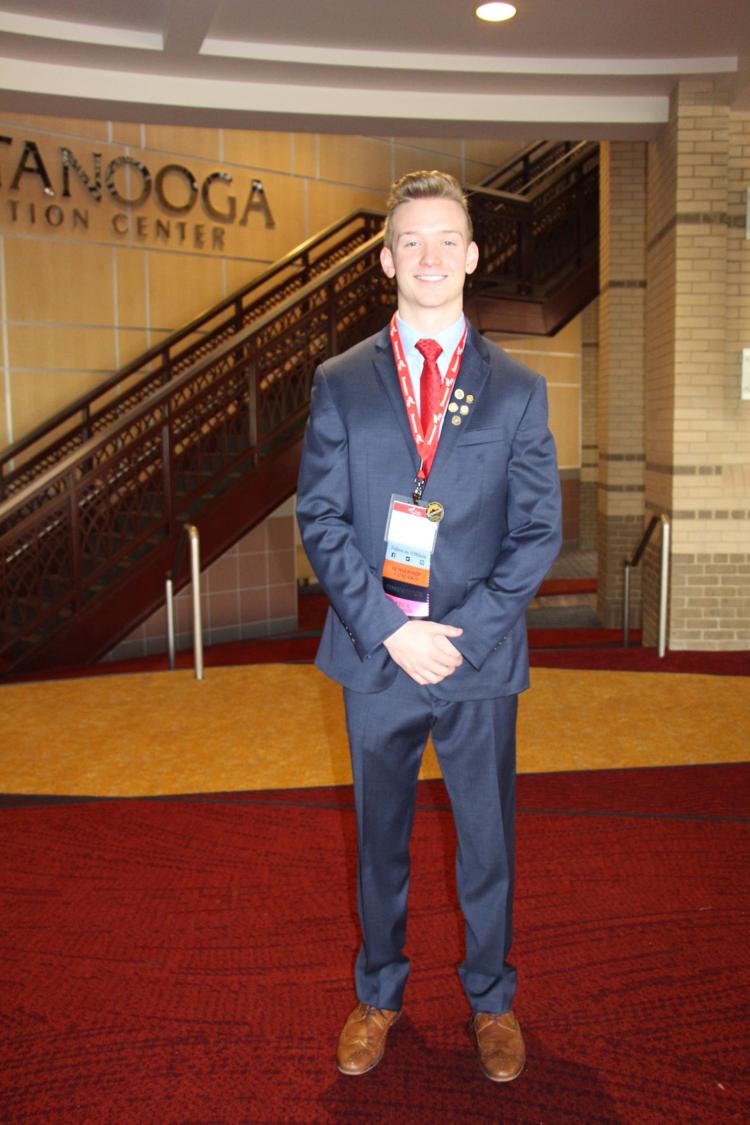 FBLA State Reporting Officer Weston Hargrove won second place in both of his competitions – his FBLA business report and a personal portfolio. At the state conference, Hargrove was also named Who's Who in FBLA and received a  Bronze Level for the President's Volunteer Service Award.
The business report outlined CHS's chapter of FBLA's annual data and he created a website for his personal portfolio.
"I'm proud of how it turned out, especially with the amount of work and amount of time I put into it. Of course, with my other responsibilities as State Officer, I didn't really have time to buckle down and memorize everything I needed to have as far as material-wise, but I felt like as fair as design and production of the report and portfolio itself were very very good," Hargrove said.
He is excited for nationals and to be able to focus solely on his projects and presentations. During the state competition, he had added responsibilities.
"My role as a state officer this year was the state reporter," he explained. "I basically oversaw social media and I reached out to different chapters within our organization and basically took our student involvement to the next level.
"I'm excited for nationals. I know it's going to be a lot more laid back for me, especially and I think I'll be able to focus on more of my projects. I definitely think we'll be seeing some good results from San Antonio," he said.
Other winners and accomplishments include Cade Davis, T-shirt design winner; Andres Cavalie, state pin design winner; Henley, Region 4 Dr. Bill Radcliff scholarship winner; Elizabeth Proffit, inducted as 2019-20 Region 4 President.
Other first place winners are Alissa Sparkman and Jordan Winton-American enterprise project; and Connor Fox-introduction to parliamentary procedure.