Westwood Middle School's Speech and Theater classes have seen an upgrade for the new school year, while adding a new high school credit course, Theater I.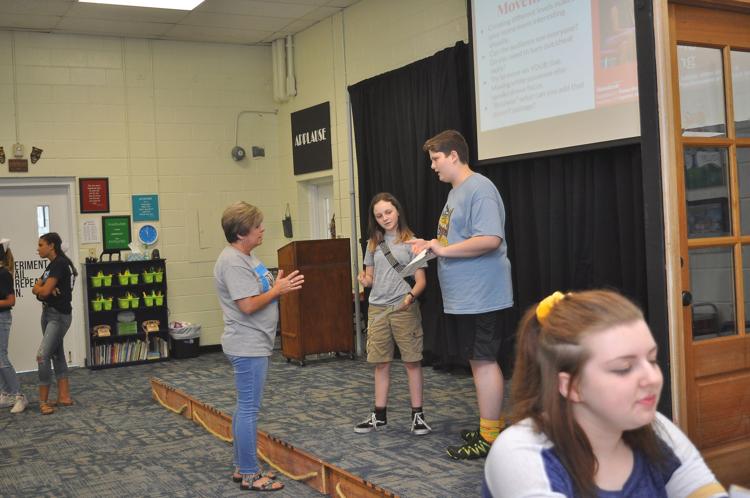 For the school year, Theater teacher Karen Lewis moved into a new class room, a former chorus room then computer lab, and was offered a stage, built by the maintenance department, new carpet, stage lighting and a wall of floor-length mirrors.
The classroom is closer to the stage (located in the school gymnasium) and provides a rehearsal space and green room for upcoming productions.
"I came in this summer and they said dream," Lewis recalled. 
These additions will help prepare students for high school, community and possibly one day college level theater knowledge, while giving non-theater students a chance to develop confidence and better self-expression.
Theater I student, Griffen Farley said that theater helped him emerge from his shell.
"When I was growing up, I was afraid to talk to people," he said. "I feel like theater is going to make me more outgoing — back then I used to slouch. I didn't look confident enough. I want to look really confident this year."   
Farley took the lead in a class program.
Last week mirrors were installed in the classroom. Lewis said that they will be used for teaching dance, and with them facing the stage they offer students to study their facial expressions in a scene.
"They don't know what their facial expressions look like. That's why so many teenagers are rolling their eyes at their teachers. They don't even know they're rolling their eyes," Lewis said.  
The new Theater I class is unique because it offers students high school-level instruction, while maintaining the tight-knit group feel of the sixth and seventh-grade classes.
"We don't have to start like a Theater I at the high school would. The teacher doesn't know them; they don't know each other," Lewis said.
She said that while a high school teacher is getting a feel for the student's strengths and personalities, she knows her classes and can start pushing them right away. 
"We're jumping into scene work right away," she said.
The class is working on "In the Heights" that involves a lot of Spanish language dialogue.
"My Spanish-speaking students take the lead to help the others," she said.
"They become the natural leader…started standing up straighter and became real leaders."