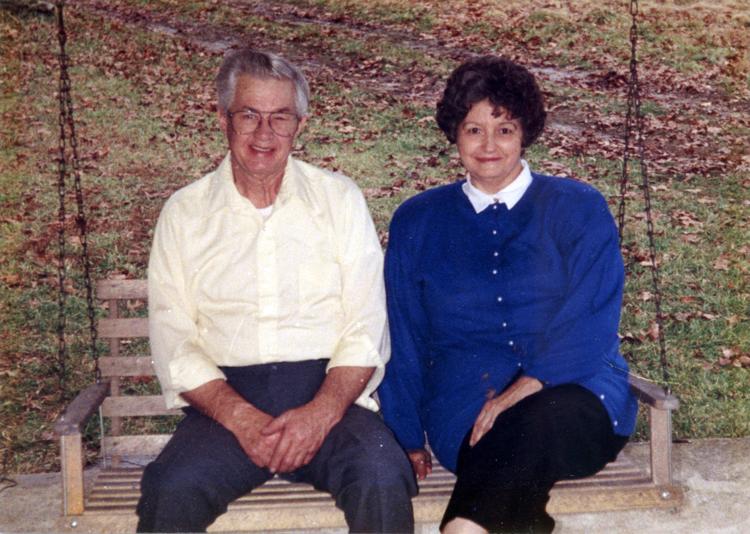 George W. (G.W.) and Maryellen Oakley passed away at their home in Muncie, Ind., 23 hours apart, on Valentine's Day, 2018. 
They will reach their chosen resting place in Bethlehem Cemetery outside Hillsboro at noon on Feb. 15. Maryellen died early in the morning of a stroke she suffered two days earlier in the home they built in 1957. Her husband followed her 23 hours later after a long battle with Parkinson's disease. 
The delay in burial is because G.W. Oakley had pledged his body to the Indiana University School of Medicine Anatomical Education Program in the fall of 2019 to contribute to the body of knowledge for the care and cure of Parkinson's disease.
G.W., age 92, was born near Rutledge Hill to John F. (Frank) and Nancy Ellen Campbell Oakley.  Following graduation from Manchester High School, he served in the U.S. Army during WWII. 
Maryellen, 84, was born in Anderson, Ind. and adopted at birth by loving parents, John F. and Florence Mauck.  She was a member of the first graduating class of the Muncie School of Practical Nursing and retired from Ball Memorial Hospital in Muncie after over 50 years as a Licensed Practical Nurse.  Family, painting and traveling with friends were her favorite activities.
They are survived by four children and their families. Their daughter Sherry Simmonds, calls theirs a love story.
"We were truly blessed to have Mom and Dad at home with all four children at their bedsides when they passed," Simmonds said. 
"Dad was sitting up in a wheelchair holding Mom's hand just after I had told him that she was going to die soon.  When a sunbeam came in the window and focused on their hands.  You can see it in the picture.  That was about twelve hours before she died." 
Simmonds said that "so many people have told me that our story is just like the 'Notebook' by Nicholas Sparks, a love story.  Not being a talented writer, I could not make this up. It is certainly hard to lose both parents in twenty-three, what a blessing they gave us."
In lieu of flowers, donations may be made to the Hillsboro First United Methodist Church, 305 Winchester Hwy., Hillsboro, TN 37342.