Peoples Bank partner with Coffee County Schools to collect school supply donations for upcoming event 
Coffee County Schools' Family Resource Center and Peoples Bank and Trust will hit the road again Wednesday, July 18. to collect school supplies for the upcoming system-wide program that will provide much needed items to those less fortunate in the system.
FRC coordinator Taylor Rayfield said that the event will help students start on equal footing with their peers. 
"Coffee County Schools will unite on Saturday, July 28 from 9 AM - 2 PM at Coffee County Central High School to host the Fourth Annual Coffee County Student Expo," Rayfield said. "This student-support event aspires to engage students, staff and community organizations with the goal of combating barriers that hinder student academic success."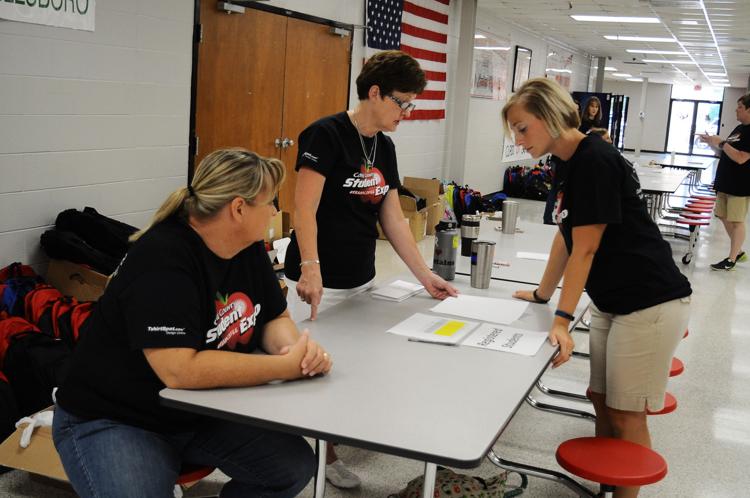 According to Rayfield, the event will focus on at-risk, disadvantaged students to allow every child the opportunity to start the school year on the right path.
"The program aims to improve attendance and academic performance, as well as bolster self-esteem and develop community awareness," he said.
This year's event will serve grades pre-K through 12th.
"Students who have pre-registered will receive a backpack, school supplies, hygiene products, and a new pair of shoes -- the basic necessities," Rayfield said.
 "Students will also have the opportunity to receive a haircut free of charge from the Coffee County Central High Schools' Cosmetology Department. We will offer resource opportunities from various community partners, as well as a job fair for parents."
Over the four years since the system started the event, it has helped nearly 2,000 students in need. The goal for this year is just under 700 students.
Coffee County Schools' Family Resource Center (FRC) exists to work with families and students to address any barrier that may impede on family success or a child's ability to learn and grow successfully. Our programs are committed to provide educational support, resources, engagement, and empowerment opportunities to ensure the success of all students and families.
"Imagine yourself as a student beginning the school year not having basic necessities such as a backpack or school supplies. It is difficult to be focused on learning if basic essentials are not taken care of. The academic, social, emotional, and physical well-being of every student is our priority. Coffee County Student Expo and Stuff the Bus Tour are excellent opportunities for our community to come together and make a difference in the lives of students and families in Coffee County," Rayfield said.
He also commended the community for its outstanding support in past years for the program.