A new theater is coming to town, but it doesn't show movies. Opening Dec. 10, Domino's on Hillsboro Boulevard will feature a pizza theater – an open floor concept where customers can see their pizza being built. There are even a set of steps with handrails for the younger viewers to be able to see the dough action.
Jon and Danielle Powers own two other Domino's pizza restaurants in Tennessee – they opened their first in Sparta 17 years ago and their second in Cookeville nine years ago. Their third location is in Manchester's DeVille Plaza, Suite 102, across from First Bank.
Danielle said Manchester is "a little big town that needed a Domino's and it's close to home." The couple lives in Sparta and have eyed Manchester for a new Domino's location for years.
Jon started as a delivery driver for Domino's and worked his way up to management and eventually ownership over the years. He loves the family atmosphere and wanted to be a part of expanding a business he believed in.
What sets Domino's apart from the competition, including their neighbor Papa John's, is their technology and their employees. Though not established yet in the Manchester location, Jon said their employees and managers excel in customer service. He and Danielle work hard to create a family atmosphere with little drama.
"We're the franchisees. I know some that visit their store once a year or once every six months. We're here often – I'm here doing the electrical work," Jon said.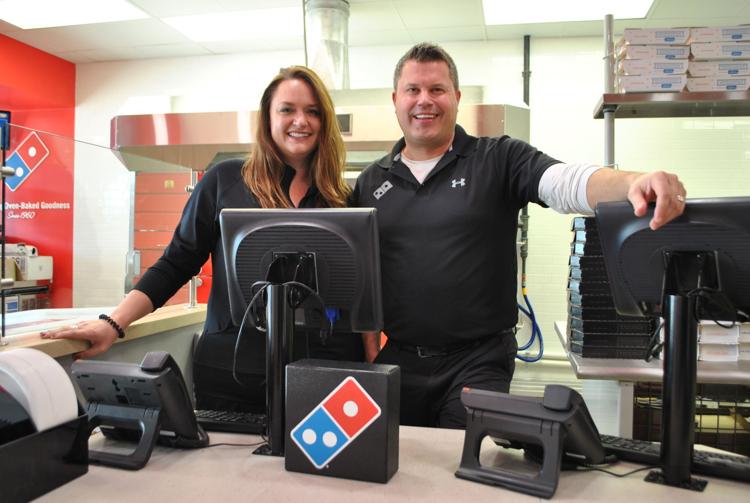 All of their employees have an open line of communication with the Powers, which helps create that familiar atmosphere.
Technology is something Domino's is ahead of the curve with – the business was named the 2018 Tech Accelerator of the Year by Restaurant Business.
"And the food," Danielle added about what makes them stand out.
Her favorite pizza to order is either the spinach and fetta or the Honolulu Hawaiian.
Jon couldn't pick a favorite off the menu and said "it's like picking your favorite kid."
Despite being next door to a competitor, they pair aren't worried.
"I don't' worry about Papa John's or Pizza Hut," Jon said. "I worry about Domino's. I worry about what we're doing."
Domino's is pushing for a customer-driven experience, meaning the customer can place an order no matter where they are. From calling in, order ordering online, anything is possible. Users can even order their favorite pizza or menu-item with a pizza emoji or by tweeting.
Jon and Danielle are pushing for online orders as it reduces the possibility of a mistake or an unhappy customer.
Once open, their hours will be 10:30 a.m. to 11 p.m. on Sunday through Thursday and 10:30 a.m. to midnight on Friday and Saturday.