Titus Van Zandbergen, of Manchester, received a special visit for his birthday this year. Due to the COVID-19 pandemic, his presents didn't arrive on time, but while the celebration was delayed, it was extraordinary thanks to officers with the Manchester Police Department.
"Talk about over the moon," said his mother, Kenya Marie Van Zandbergen.
Titus turned 4 on April 4. A package with one of his presents – a police uniform – arrived on April 17. Thrilled to receive his gift, Titus immediately put on the uniform, started his police car, and went to fight crime in his yard. Kenya Marie Van Zandbergen took some pictures, which immediately made it to Facebook. When MPD officers saw the pictures, they came up with a plan.
"Manchester Police Department came to surprise him by driving in front of our house with a few sound signals and a gift of small police cars," Van Zandbergen. "His birthday was April 4 and due to the coronavirus, some of his birthday presents came in late. So, of course when his new police outfit came in, he had to dress up and go play cop with his cop car big wheel.
"I had posted some of his pictures on Facebook and had a friend message me that had sent his picture to a cop friend who asked to come and surprise him."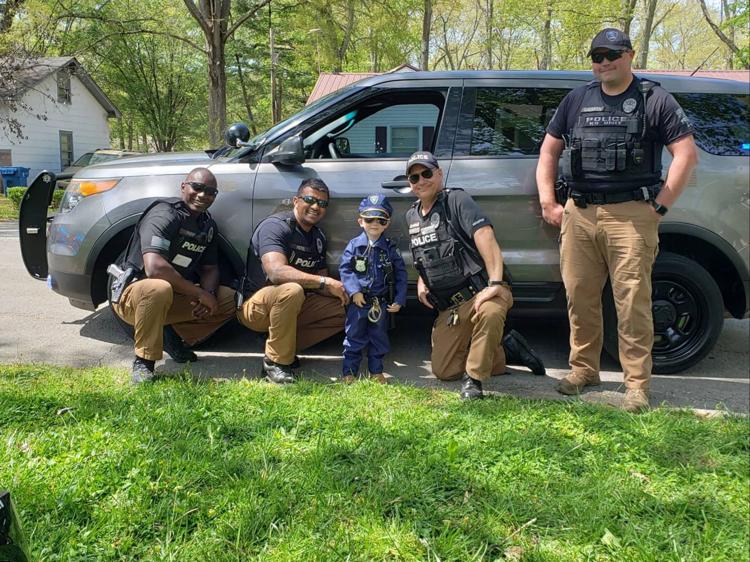 The visit delighted Titus.
"Titus is a very outgoing boy, but when they came, he was in awe," Van Zandbergen said. "He got a little bashful but showed them some of his new toys that he had 'like them' and also took his police car for a spin for them to see it go. He still talks about 'those policemen' coming to see him."