Editor's note: This is the first story out of a four-part series that looks into the data, problems and solutions for the Coffee County Jail, which is located within Manchester. The first story in this series will look at the overarching problem, how the data compares to other judicial districts and counties, and potential reasons behind the numbers. This iteration of the series excludes the annex. For the sake of comparison, the article is using April 30 data compiled by Tennessee Corrections Institute.
There is a disconnect occurring in the Coffee County judicial system – one that puts Coffee County as the seventh highest county in the state for housing inmates on pretrial misdemeanor charges. In a county where it costs $42-43 to house an inmate every day, this is a problem.
Out of the 425 inmate population at the main jail, 208 were there for pretrial misdemeanor charges, which is 48.9 percent of the entire jail demographic, according to Tennessee Corrections Institute's (TCI) April 31, 2018 jail snapshot. This means in April, nearly half of the inmates were waiting to be sentenced for a misdemeanor charge, which are a lesser type of crime that is usually punished with a fine or a short jail sentence of up to one year. These crimes include, but are not limited to, petty theft, some driving offenses, simple assault and trespassing.
The state average for pretrial misdemeanor incarcerations is 17 percent.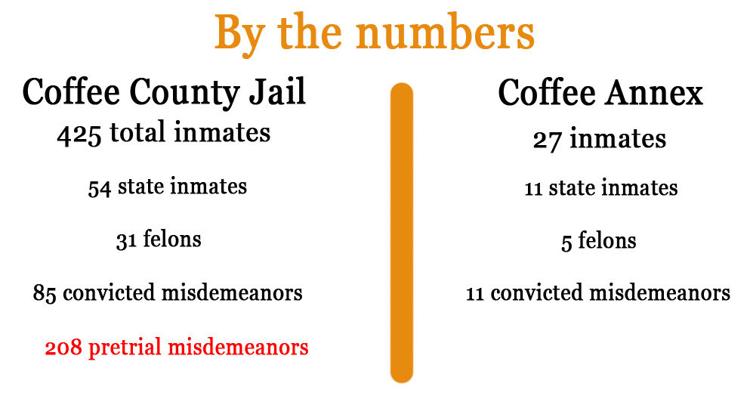 County Technical Assistance Service (CTAS) consultant Jim Hart explained the numbers aren't so cut and dry; many offenders are coming in with numerous misdemeanors charges or a mix of misdemeanor and felonies.  
"A person doesn't always come to jail with one misdemeanor charge," Hart said. "Driving without a license or writing a bad check, there's always a mix of things. It's never sort of clean."
Hart will be looking into the county jail in late July or early August to see what capacity challenges the county judicial system is facing. (Continue reading below ad)
Circuit Court Clerk Heather Duncan echoed Hart's statement – many of the cases coming through Coffee County can be bound over to court as a felony charge, but they play out as if it was a misdemeanor case. It is probable that the 208 pretrial misdemeanor number is slightly misleading due to this.
It costs $42-43 per day to house one inmate. The county jail and annex hold a combined 387 local inmates and 65 state inmates. State inmates are excluded; the state pays about $39 a day per state inmate.
At this population, 387 inmates cost taxpayers $16,641 per day. If the population stayed consistent at 387, the yearly cost would skyrocket to just over $6 million.
To break it down, taxpayers are paying nearly $9,000 a day for the 208 pretrial misdemeanors housed in the county jail.
County Mayor Gary Cordell is not pleased the cost to the taxpayers, but is adamant on keeping the state inmates.
"What can we do differently? Not being soft on crime, necessarily, but making sure we have a system that is effective and efficient in our tax dollars, because that's where money comes from," he said.
"We have 60-80 state inmates depending on the number, I think we want them here because the state is paying $39 a day those people. You have some medical cost that may go with that but still I think all in all we're making some money as a revenue stream that comes into the county with that.
"Keep the number and get the local population down."
Overcrowding comes with increased costs to the jail as well.
In January 2015, March 2017, July 2017, and March 2018, the jail costs exceeded budget amounts due to rising medical costs and overcrowding issues, according to Times records. 
In June 2018, County Sheriff Steve Graves asked for an additional $900,000 in the county budget for the jail, and an additional $267,000 to the annex. These asks were to cover rising medical costs and salaries.
Comparing to a similar district
Coffee County is the 14th Judicial District. It is the only county in the district.
Circuit Court is the trial court of general jurisdiction in Tennessee, meaning it has the authority to hear civil and criminal cases, and appeals from other courts.
General Sessions Court often handles criminal misdemeanors.
To compare, the 17th Judicial District, which encompasses Bedford, Lincoln, Marshall and Moore counties, had 91 pretrial misdemeanors out of 505 total inmates (18 percent). Last year, the Grand Jury moved an average of one misdemeanor case per month to circuit court; almost all of their misdemeanor cases were resolved in general sessions.
From July 1, 2017 to June 31, 2018, Coffee County General Sessions Court saw 1,385 pending misdemeanor cases (including probation violations). In the same time frame, circuit court saw 304 pending misdemeanor cases, according to Duncan.

No one department can be blamed for the overcrowding and high pretrial misdemeanor problems.
"It's a system wide problem," Hart said.
He later added that, "Nobody's at fault, but everybody is sort of at fault because everybody plays a role in it." His solutions to jail overcrowding often begins with bringing the stakeholders together, not to point fingers, but to learn where the system can give and take to expedite processes.
During his assessment of the jail, Hart will be looking into how to expedite processes, the availability of courts, timeliness of the process, viability of keeping state inmates, inefficiencies. The process is like "peeling back an onion," he said.
Graves agreed that no one department was at fault.
 "From what I see, a lot of people I see here are probation violations, child support violations. It's going to take judicial system as a whole to solve this problem," the sheriff said.
No state entity exists to oversee county judicial processes.
"The one thing I'm finding out and, this research is that statewide, there is no legislative group to provide oversight to any of those (judicial) programs," Cordell said. "It's almost like we're doing 90 things 95 different ways, potentially.
"And with probation for example, they have no state entity that says you got to do it this way or whatever, so do it the best way you can. A lot of the counties privatized and I saw a lot of counties in trouble over the years with (law) suits and so on and so forth. We went 10 or 11 years ago with our own county operations with probations which I'm glad we did. But having said that, we have about 2,000 people on the numbers there and about 1100-plus of those have absconded, so I think we have about 850 or 838 or whatever in their client base.
 "There are some things we could be doing differently to get our pretrial misdemeanors back down from almost 50 percent of our current population down to something closer to the state average."
To address the system problems, Cordell has been meeting with judges, the public defender, the district attorney and others.
"Something I put on the table was the other day, are we continuing too many cases? What's the process of that? The public defender was not there the other day, for whatever reason, but I want to have Jim Hart to check that out. Are we continuing too many cases?"
He later added the judges didn't have much to say on this and the meetings did not offer as much insight as he had hoped.
The Times reached out to Judge Tim Brock, who attended both meetings, but he did not respond for comment as of press time due to him being on vacation.
The Times will be following this story and putting out weekly additions to this series. The next iterations of the series will look further into potential problems, such as the number of continuances, bonds amounts, court procedures and more.