UPDATE: Supervisor of animal control Samantha Clark-Boyd thanked the community. 
"I would like to start by saying thank you all for your concern, your donations and your many kind words," she said. 
"It's concerning to me that not only did one person see this dog, but multiple people did, and no one did a thing," she said, adding that animal control officers can use the help of the community. 
The animal abuse, neglect and over population in Coffee County are issues that need to be addressed by the community," she said.  
"If you ever see a dog in this condition or a similar situation that you know in your heart isn't right, call and report it," Clark-Boyd said. "Call animal control, call the non-emergency dispatch center, call the sheriff's department... but please don't walk away."
Miles is currently receiving fluids and supportive care.
"He may not make a full recovery but as of now, his future is looking brighter," she said. "There was nothing on the bloodwork to show any type of illness that would have caused his condition. He is thankfully heartworm negative...He was 100% neglected. Starved to death. Left to die."
ORIGINAL STORY: The Coffee County Animal Shelter responded to a call today, Sept. 17, about a dog that appeared to suffer from malnutrition.
The dog was found off Farrah Hill Road, according to Samantha Clark-Boyd, supervisor of the animal shelter.
"We spent an hour looking for him," she said. "We named him Miles."
Miles' condition is "very poor," she said.
"I'm not sure what caused it," Clark-Boyd said. "He could have a health condition."
Miles is currently at the All Creatures Veterinary Clinic. Veterinarians will have more information about his condition when bloodwork tests are completed.
Locals are encouraged to help by donating to Redemption Underdog Freedom Fund (RUFF) at redeemdogs@gmail.com or by calling the veterinary office at 931-723-0551.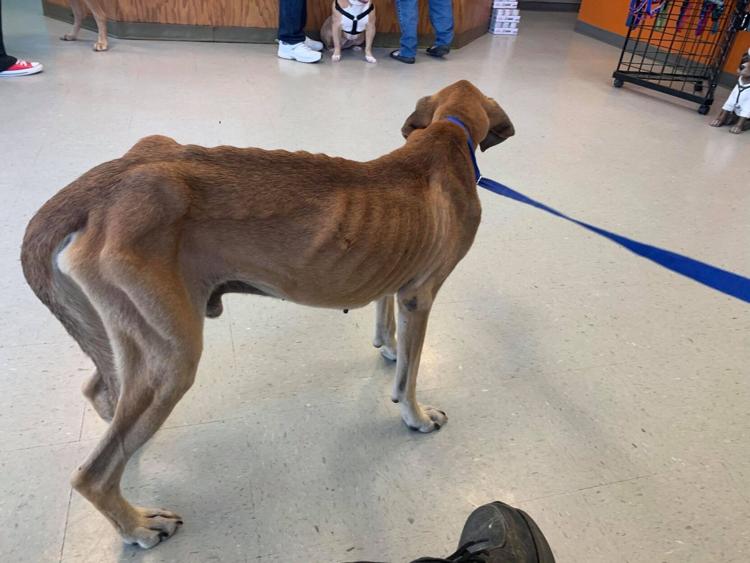 RUFF is a nonprofit aiming to sponsor the dogs of Coffee County Animal Control and spay and neuter for the community
"If anyone sees anything like this, please call non-emergency dispatch and notify them," Clark-Boyd said. "They can get in touch with animal control as soon as possible and can also send a police officer out to the area."