After breaking ground in late September and waiting through the winter for better weather, Manchester's Dog Park, Bark-aroo, is officially open. The ribbon cutting ceremony occurred at 10 a.m. on Saturday, March 23.
Parks and Recreation Director Bonnie Gamble was thrilled.
"We sometimes forget how important pet owners and pets are to the community," she said while watching the dogs run through the park.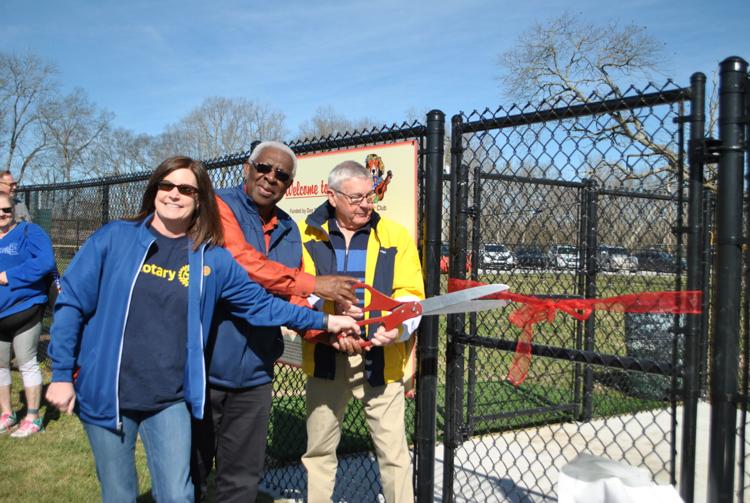 This is the department's gift to all of the dog owners in the area.
Funded by a $25,000 grant through the Boyd Foundation, the park is located on the soccer field complex with parking on N. Waite Street. It has two sections – one for large dogs and one for small. There is a water station in the holding area for dogs to get a drink, bag dispensers and trash cans for owners to clean up any accidents, and benches for owners to relax on as their dogs run free.
Dogs can also enjoy the fire hydrants and various donated playground equipment scattered around the two sections, as well as relax under the shade of the pecan trees.
The entire site is fenced in.
 Opening day even brought in out-of-towners: Doug and Vanessa from McMinnville stopped back with their French Bulldog Rex and Boston Terrier puppy Maddie. The couple are excited to bring their pups down to run while their daughter swims with the Manchester Makos Swim Team at the Recreation Complex.
Briley and Charlie Lafferty from Shelbyville were throwing sticks and a Frisbee for their Doberman Tina. The kids were in town to visit family.