With less than 160 days until the next festival, Bonnaroo is beginning to announce changes and updates to this year's musical festival On Jan. 10, tickets will officially go on sale at 11 a.m. local time.
The headliner lineup is as follows:
Thursday, June 13: Grand Ole Opry, featuring special guests Saba, Space Jesus, 12th Planet, All the Witches and more.
Friday, June 14: Phish, Childish Gambino, Solange, The Avett Brothers, Brockhampton, Grizz and RL Grime.
Saturday, June 15: Post Malone, Odesza, Hozier, Kacey Musgraves, The National, The Lonely Island, ZHU.
Sunday, June 16: Phish (two sets), The Lumineers, Carbi B, Brandi Carlile, Illenium and Walk the Moon.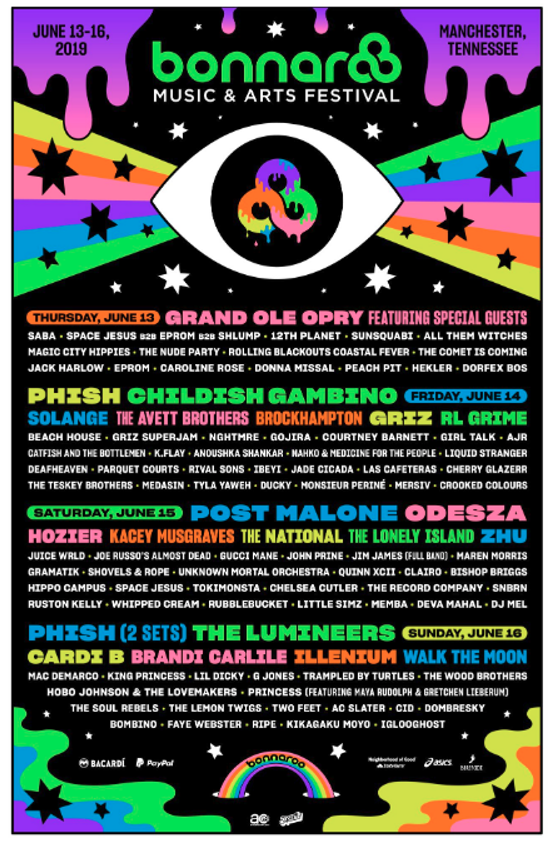 Some new curators have stepped in to put their own design on the Bonnaroo map. More details of each site will be released in the future.
Plaza 2 is being taken over by Paramore's Hayley Williams, who dubbed the area the Sanctuary of Self Love. The plaza will be focused on mental health, how a person treats themselves as a whole being and taking time for yourself. More details will be released soon.
A new section is opening up in the eastern woods of Bonnaroo. The area has never before been open to festival goers. " Expect out-of-this-world experiences with bands, artists and light-based art that has never been seen in the campgrounds before," according to the Bonnaroo website.
A few plaza themes are returning in 2019.
In Plaza 3, the House of Yes and Little Cinema are making its return. This year, the site will feature circus acts, interactive immersive shows and themed parties.
Making a return is Plaza 7's The Ville, a Nashville-themed barn. Everything going on will be inspired by Nashville – from the music to the art installments. Bonnaroo partnered with Nashville Convention and Visitors Corps and local maker-space Fort Houston to bring this space to life.
The Grove in Plaza 7 is also coming back. It is a shaded area hidden in trees with art installments scattered about. At night, it is filled with lights. Musical experiences occur here as well.
Plazas without updated information include 9's Barn, which hosted the Happy Roo Day party in 2018, Plaza 4, the center of the site, the central campgrounds (Plaza 6) and the VIP Plaza. More information will be released closer to the festival.