The seventh annual One Day of Hope is on Saturday, Oct. 13 at the Coffee County Fair Grounds, 99 Lakeview Drive. On this day, volunteers, churches and Christians come together to hand out food, clothing and free services to thousands of people in need.
Offered this year will be groceries, a kid's zone, haircuts, clothing, lunch, medical and dental screenings, community services, family portraits and prayer.
"Each year is always special because of the generosity of the volunteers," said One Day of Hope President Ray Marcrom. "We will have more services and items to share because someone is prompted to make a generous donation. Some years it is work shoes and other years it is extra food or hygiene items. This year we have received an unusual amount of children's clothing and also winter coats for all ages. Also the Kid Zone has had several new things added to make the kid's experience more enjoyable."
The event brings together 82 churches and serves between 2,500-3,000 guests on average.
The day is special to Marcrom.
"My favorite thing is to see a light go on in one or more of our guests as they are treated with respect and care as we attempt to assist them in their life journey," he said. "One of my favorite was a man who was able to get a job interview and then receive a pair of work boots that allowed him to take his new job. When I saw him there were tears in his eyes along with hope. Hopefully we encourage folks to know that they are not alone and that Jesus and his followers care."
Make donations at American City Bank to the One Day of Hope Account. Make checks payable to "One Day Of Hope," Or mail a check to P.O. Box 99, Manchester, TN 37349.
"For those folks who want to do something to help and serve others, this is a great way to get their feet wet and show their love for others," Marcrom said. "For anyone who just needs some help, whether that is physical, emotional, or spiritual, we hope they will come and see that they are our honored guests and neighbors. We hope that love and service will be what they experience."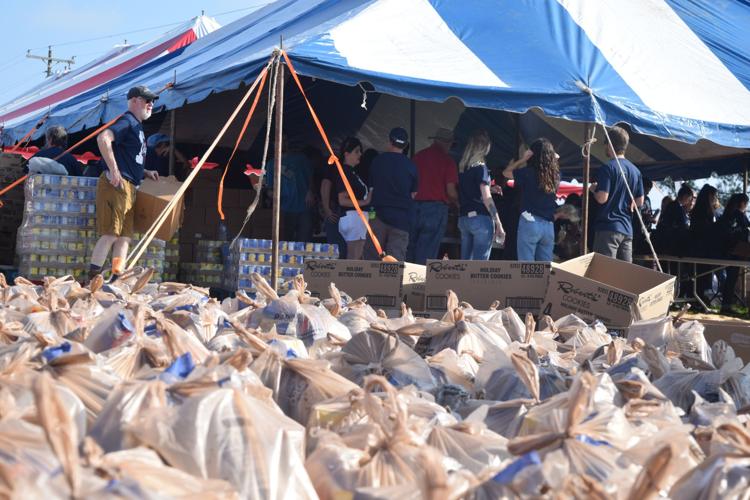 One Day of Hope's history
A discussion among Manchester Ministerial Association ministers in 2011 created the spark that ignited into One Day of Hope. The group, led by Kenny McNatt of Canvas Community Church in Manchester, wanted to create a way for Christians to reach out and love the county as one community. In October 2012, the first event was held. Eight churches came together with 25 volunteers and served near 2,000 people.
In 2013, the group enlisted "Convoy of Hope," an international organization that assists communities by providing them with food and Christian-based events. McNatt moved to Florida and Chris Boyce, pastor of Forest Mill Church of Christ, replaced him as chairman and named Jerry Crites as treasurer. That year, approximately 400 volunteers served nearly 2,500 guests. Their budget of $30,000 was met through the gifts of churches, individuals, community organizations, and businesses in the months preceding the event, Marcrom explained.
Marcrom was appointed chairman in 2014. That year's event provided food, clothing, counseling, entertainment, and several other services to nearly 3,000 guests and was blessed with nearly 1,000 volunteers.
In 2015, administrators and event supports established a board and elected officers. They achieved 501c3 status as a nonprofit the following year.
Since then, One Day of Hope has grown; their number of partners and services they are able to provide increased substantially in 2016. Partners include Legal Aid, Life Choices, Job Services, Children's ID Program, Partners for Healing, Adult Education, Books from Birth, and the Christian Counseling Center.
"The Health Care Team has discovered through the past years the crucial need for medical and dental care in the county year round. As a result, in 2018 the organization plans to seek grants to help build a year-round free medical clinic to provide regular medical care as well as dental assessment and follow-up care," Marcrom said.
"Good Samaritan of Coffee County in 2017 acquired a new home for their work, and they have an ample warehouse with adjacent property," he continued. "Their Board of Directors are currently considering a proposal to allow a facility to be built on their property; therefore, we would not have to purchase land. Once the building is complete or another facility is acquired, the vision is to provide a weekly health clinic as well as year-round access to dental care, job assistance, legal aid, and other support services."