Bulgarian Ambassador to the United States Tihomir Stoytchev, Minister of Defense of Bulgaria Krasimir Karakachanov and other top officials with the Bulgarian Department of Defense visited Manchester Oct. 8. US Defense Secretary Dr. Mark T. Esper and Karakachanov signed a 10-year road map charting defense cooperation between United States and Bulgaria over the next decade, the US Department of Defense announced Oct. 6.
After visiting the area, the group enjoyed a dinner at Bites of Europe Restaurant in Manchester, owned by Bella Greenwood, who is Bulgarian, and her husband, Kevin.
Stoytchev has served as ambassador to US for four years.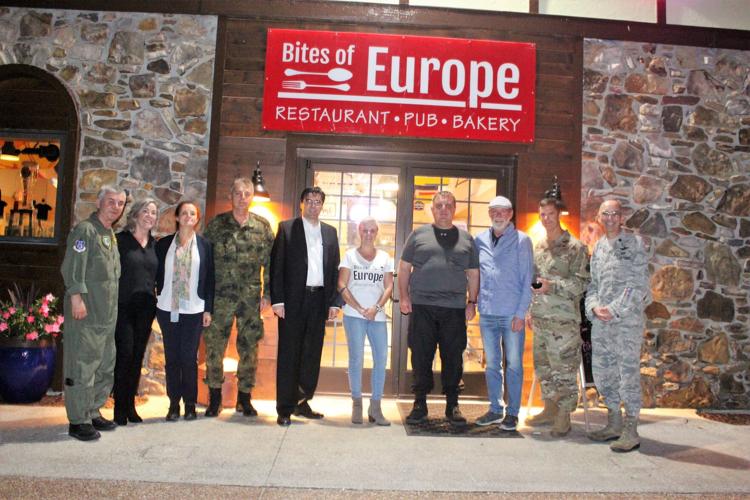 "Bulgaria and United States are strategic partners and allies," Stoytchev said, adding that defense and security cooperation is the focus of the partnership.
"We have had a very special relationship with the National Guard of Tennessee. This special partnership was established in 1993. That means for 27 years now, we have had a quite active relationship. More than 200 joined military-to-military events were conducted, and hundreds of soldiers from both countries have traveled to Bulgaria and vice versa to the United States. In Bulgaria, we have joined military facilities, we have joined exercises and training with the National Guard of Tennessee. Our ambition is to deepen this great partnership."
And this is the purpose of the visit, said Stoytchev.
"We want to establish direct contacts with the leadership of the National Guard and to see what they have to offer," Stoytchev said. "We are impressed by the capabilities of the National Guard and the hospitality of the people of Tennessee."
Stoytchev said the group hopes to return to Manchester again.
"Our ambition is to expand this military cooperation in different areas – trade, economy, education, culture, tourism, people-to-people contacts between Bulgarians and the Volunteer State."
The group included top officials.
"It's an official delegation from the Ministry of Defense of Bulgaria," Stoytchev said. "The delegation is led by Deputy Prime Minister and Minister of Defense Krasimir Karakachanov and also Chief of Defense Admiral Emil Eftimov, Defense Attaché to the United States Brigadier General Anatoliy Krastev and other high-lever officials from the Bulgarian Ministry of Defense."
Bulgaria is a beautiful country, said Stoytchev.
"More and more Americans are visiting my country – about 100,000 Americans usually visit Bulgaria per year," he said. "I would like to invite the local people here to come to Bulgaria. Any American who visits Bulgaria wants to go again…They love Bulgarian food and the hospitality of Bulgarian people. The country is beautiful and very diverse. We have our Black Sea, with summer resorts, and a lot of mountains, with resorts for skiing and snowboarding in the winter. And we have a lot of mineral water springs in my country, about 1,600 mineral water springs. Americans are good friends and always welcome to visit."