"Roger, your house is on fire."
The words didn't register the first time Roger Shelton heard his brother's voice over the phone. He and his wife, Brenda, were in Manchester on Thursday, April 18, around 11:30 a.m., running errands to pick up dog food, mulch and Easter gifts for their granddaughter. They were in Russell Stover Chocolates with half of a basket full of goodies when Roger got the call.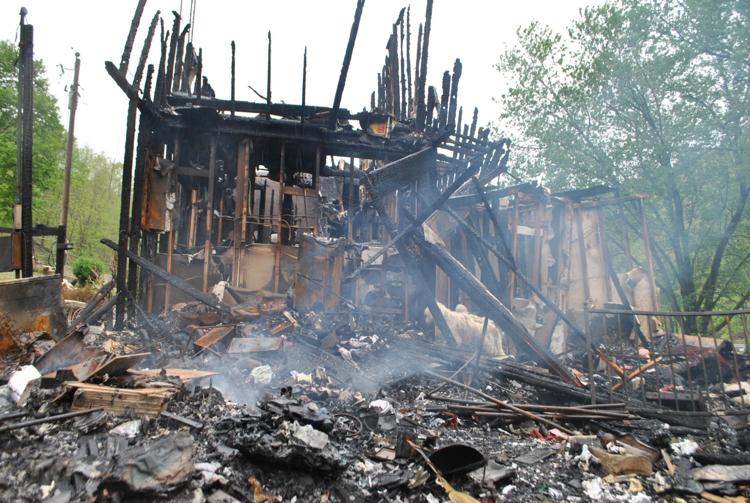 They dropped everything, put on the hazard lights of their car and raced home to 1203 Crews Hollow Road.
"I won't tell you how fast I was going," Roger admitted. His only thought was trying to save the house he raised his family in.
When Roger pulled to his gate, the side of his home was already engulfed in flames. When he couldn't kick down the door, he broke a nearby window in an attempt to get inside and grab the fire extinguisher in the hallway, but the smoke was too much for him to get inside. Brenda was yelling at him from the car to get away and he heeded her warning when he realized he couldn't do anything.
 "It's like losing 10 relatives at once," Roger said, looking over the charred skeleton of his home a day after the fire. "That's the feeling."
Roger and Brenda built the house 40 years ago without a plan – Roger built it and Brenda designed it. They made a bridge to cross the creek and fenced in the property to keep their animals safe. Their plot of land is built on a wooded hill right next to a small creek with waterfalls. It was right down the road from where Roger grew up too. That land was home.
The couple have a small farm with cattle, milking cows, chickens and roosters and dogs. They made a modest living, raised their children in this home and often took care of their granddaughter. She would love to sit on the stairs with Roger and play and liked to pretend to be a cat and "sharpen her claws" on the carpet, Roger said. 
"It was perfect," Roger said.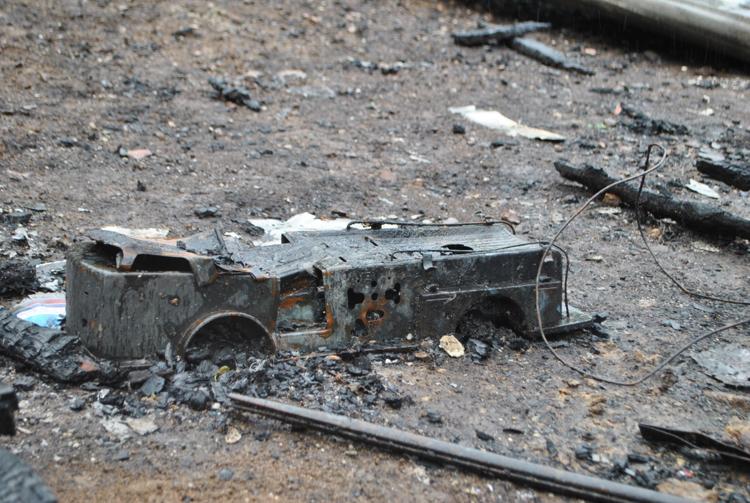 No one was injured during the fire and all of their animals are accounted for and safe. But the Shelton's lost a lot of their family history in the fire – Roger's father's baby boots, which were made by his grandmother, are gone; Brenda's mural of a forest scene she painted on their granddaughter's playroom wall is charred and unrecognizable; an antique walnut cabinet that was in Brenda's family for generations is blackened; and Roger's toy fire truck, which is the only Christmas gift he kept from his childhood, is a burned metal skeleton.
He pointed through a broken window at the back of the house to a cracked and scorched table.
"I used to sit there and eat," he said, gesturing to an end of the table. "My father would sit over there."
He added all 11 of his family would sit around the cherry table and eat together growing up.
"It's stuff I'll never see again," he said.
Also lost to the blaze were Roger's album collection, which was 2,000 albums strong, his son's gun collection, which included a 500 S&W shotgun, baseball cards, numerous antique oil lamps, his granddaughter's toys and more.
Roger, looking over the still smoking remains of his house, urged the community to be proud of what they have, because there is no place like home.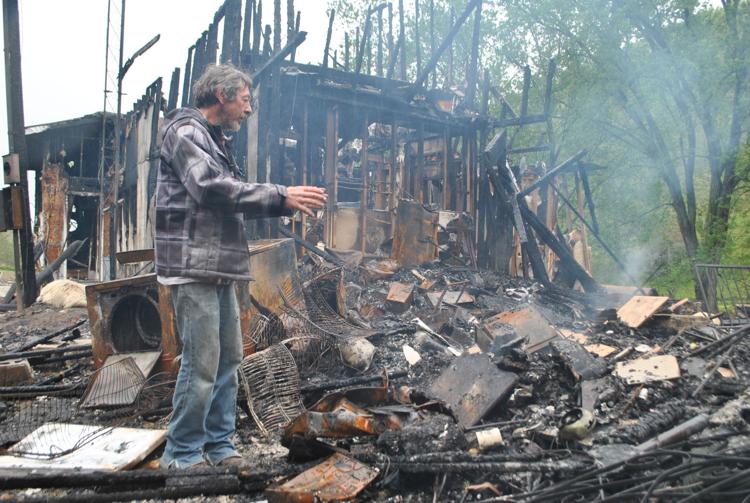 Roger's family set up a GoFundMe account to help him and Brenda. The house is uninsured and is a total loss.
"It's just a simple life," Roger said.  I just want my family to stay healthy. I'm not one for handouts, I'd always give where I could, but I never thought I'd be in a place where I didn't have a bed to sleep in."
Roger and Brenda are currently staying with his sister, who lives up the road.
As for Monday, April 22, nothing is known about the fire. Due to the holidays, the inspector was not available to check over the home.
The first started on the side of the home, near the Shelton's TRANE heating and cooling unit. Roger believes that unit may have been the cause – it was relatively new and already had to be repaired twice. However, the cause will remain unknown until the fire inspector can get onto the property.
Responding to the blaze was the North Coffee Volunteer Fire Department and Coffee County Emergency Medical Services.