A Coffee County resident was asleep on the couch during the early morning of Jan. 13 when a fire started in her bedroom.
Cherrie Fletcher didn't know about the fire until her 2-year-old Rottweiler Hopi Grace began barking in her face and woke her up. At first, Fletcher thought her dog needed to go outside and didn't know anything was wrong.
"I got into my wheelchair and I could hear something – I didn't have my hearing aids in so I didn't know what it was," Cherrie recalled. "I went to the hallways when a cloud of black smoke hit me."
She grabbed her phone and tried to save her cat Pinto Beans and her other Rottweiler LaCoda Heffer, but her cat clawed at her and ran into the kitchen and Heffer only looked at her from the recliner by the sofa. Hopi pulled her wheelchair to the front door before she could do more, helped push open the door with her nose and brought her to the porch.
After making it outside, Fletcher called 911. Firefighters arrived at the Ramsey Road home at 4:58 a.m. and police lifted her chair off the porch and brought her and Hopi to the road. They left the scene at 9 a.m., after the fire flared up for a second time.
"If she hadn't woken me up, I wouldn't be here," Fletcher said, referring to her Rottweiler.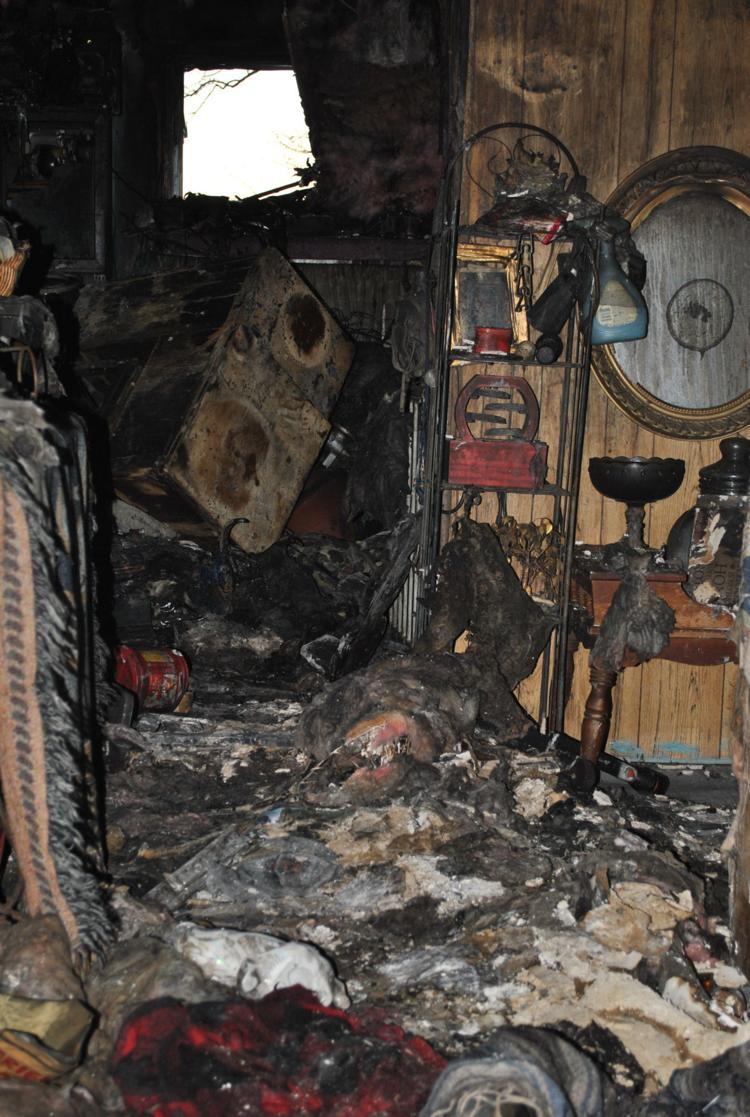 Unable to save Heffer, fire fighters buried him in the yard per Fletcher's request. Pinto Beans has yet to be found. Firefighters told her cats usually flee after the department begins breaking windows, so Cherrie hopes her black cat, who is blind in one eye, is still hiding somewhere nearby or under the trailer.
Fletcher has fallen on hard times recently – she had a stroke in 2013, had foot surgery and later broke her wrist after losing her balance with her crutches and falling off her front porch. After her stroke, she was granted disability and now lives on a fixed income.
Fletcher owns her land and her home was completely paid off. She invested her disability check into the home as well and used the $6,000 to put a new roof on the trailer.
"I put all my money into it and not I've got nothing left. I didn't blow it or waste it, I put it on my house because I expected to live here for the rest of my life," Fletcher said.
Now, her home of 28 years is gone. The home is a total loss and was uninsured due to the trailer's age. The fire started in the fuse box in Fletcher's bedroom and travelled inside the walls along the aluminum wires. The only room spared from the flames was the room directly next to Fletcher's bedroom, which stored her crafting things and items left behind by her mother.
Fletcher hasn't been able to go inside her home yet due to her booted foot, but has seen the damage through her front door and broken windows. She hopes the water and smoke damage, as well as the weight of the ceiling, which collapsed, wasn't enough to damage everything inside that room.
Her daughter, Sherry Rosales, and long-time friend Stoney Lancaster have been helping Fletcher – they are getting quotes for tearing down the home, have looked into getting her a new trailer and just became cleaning out the home during the weekend of Feb. 2. Fletcher is staying with Lancaster in Tullahoma, as no other place would allow her to move in with her dog.
Somethings they've been able to salvage so far includes her bibles, a yarn scarf her mother knit her, a charred family photo, and the many wind chimes and flower baskets that hang from her front porch.
Seeing her home in such a state and losing 30 years of her material possessions and the home she raised her family in, paired with her health issues, Fletcher said she is depressed.
"I told my daughter and my psychiatrist, I don't know why I came out of the house because I'm just a burden to everyone. My daughter tells me I'm not. I always worked for what I wanted and didn't have to ask," Fletcher said.
Rosales explained she's been reminding her mother how lucky she is.
"She's always saying I've lost everything; all my stuff is gone," Rosales said. "That's what it is mom, it's stuff. The important thing is that you're out. It hurts to lose memories, all of your sent. Stuff and all of your personal property. She is still alive, she is really lucky."
Fletcher, who has been working since she was 15, explained she wouldn't be able to afford a place to live or to tear down her trailer without help from the community and her family.
"It's gonna cost about $3,000 to tear it down – I don't have that kind of money to tear it down," Fletcher said.
Fletcher later added, "I just hope we get enough to make a house payment. I just want enough to get back home."
Rosales was quoted last week $6,000 for someone to clear the whole lot. They've raised about $7,000 so far through GoFundMe and the First National Bank Quality of Life fund, which will cover the cleanup, however it drains the fund to get her mother a new home.
Rosales explained they would need to make a $10,000 down payment on a $30,000 trailer for her mom to be able to afford house payments. Not wanting to have her mother live in a used home with potential safety risks, Rosales opted for the simplest model Home Meadow offers.
"If they come in with a $10K down payment, he could get her a $200 a month price. That's really what I pushing for," Rosales said.
"With the cleanup, now I feel like I have to start over from scratch again trying to get this going…It's insane," Rosales added.
All Rosales wants is her mother to be safe and feel like she is home again.
"We've been in Manchester since '89. Manchester is her home. She's been in that spot since '90 or 91," Rosales said.
"It's kind of devastating to lose everything," Rosales added. "To see everything just gone, I'm kind of in awe of it all. I don't know. I'm just kind of numb with the situation at the moment. In some ways, I do feel like my mom is kind of better off – it is a fresh start for her. She's been down in the dumps since my dad and her divorced in 1999. She kind of feel into depression.
"I feel really bad now that everything she has that was a sentimental thing to her is kind of gone, but it might be a fresh beginning for her to help her get out of the darkness…New beginning, get it all cleaned out, have something that is in better condition, nice, she can be proud of and something she can be proud in herself," Rosales concluded.
Rosales set up a GoFundMe account and a Quality of Life fund at First National Bank.
Fletcher's clothing sizes are 8 in pants, 8-10 mediums in shirt, and shoe size is a 7. She has received a small George Foreman grill, plastic dishes and a few coats from the community already.
First National Bank of Manchester, at 100 W. High Street, can be contacted at  (931) 728-3518. The fund is set up under Rosales's name.
If anyone wishes to help, they can volunteer to help Fletcher go through her home to salvage items as well. Contact First National Bank (931) 728-3518) and ask for Rosales if interested.
Dead Zero will be holding a benefit raffle for a new Glock 48 9mm. All proceeds will go to Fletcher. Tickets are $10 for one or $25 for three. The winner will be drawn March 3. Contact Rosales at 931-273-3550 if interested.