He never held public office, yet he served the people of Coffee County for over 50 years. He never had children of his own, but those who knew him when they were children remember his kindness and generosity. He was never formally a preacher, yet he established a church that thrives to this day. He was Hugh Doak.
Hugh Jean Doak was born September 29, 1891 in Woodbury, Tennessee to Robert Daniel Doak and Mary Jane Preston Doak. By 1900, Robert and Mary had a family of six: daughters Cuba and Clarice and sons John Preston, Thomas L., Elijah, and Hugh Jean. Another son, Robert, was born in 1901 but died in 1902 at about 18 months of age.
Hugh was a handsome man, as his photographic self-portraits will attest. He had dark brown hair and eyes and was of medium height and build. He married Nell Willis, who was five years his senior, on May 6, 1916 in Coffee County after having finished four years of high school, according to the 1940 census. The same document lists Nell as having completed four years of college.
As early as 1910, when he was 18, Hugh was in the printing business. He listed "printer for a weekly newspaper" as his occupation in the census of that year. His father had a shingle business at the time, but Hugh had other ambitions. He purchased the Manchester Times from W. M. Smartt and J. H. Ashley in 1916 and became the publisher and editor. The following year, he started the Tullahoma Times. In 1917, when filling out his World War I draft registration card, he listed his occupation as newspaper editor.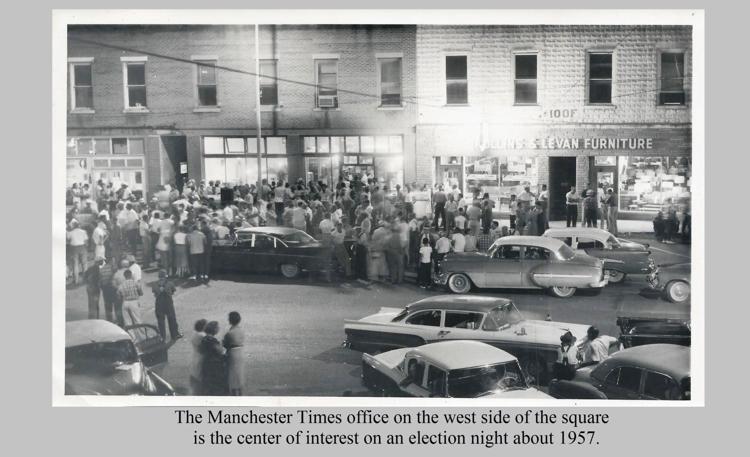 In 1930, Hugh and Nell were living with her father, Thomas Henderson Willis, a commercial fish dealer at the time, on Woodland Street in Manchester. Mr. Willis, himself, had an interesting career. Records indicate that he was a fertilizer dealer and a general merchant as well as a fish monger at different times. Hugh continued as editor of the Manchester Times, and Nell served as the paper's social editor.
By 1940, the couple was living over the printing office on Irwin Street in Manchester. (The building now houses the Beaver Press.) 
Hugh had been appointed as acting post master of the Manchester Post Office in 1939 and as post master in 1940 while Nell continued to run the printing office/newspaper as editor. She was not paid for her work according to the 1940 census. Hugh left the Postal Service in October 1944 and returned to his newspaper, printing and photography business. At least 30 of his postcard photographs are housed in the Library of Congress. Doak submitted them as copyright claimant in 1943.
In addition to his printing and publishing business, Doak was also a dairy farmer and promoted dairy farming in The Manchester Times. He was instrumental in the establishment of the Carnation Company's milk processing plant in Manchester.
Outside of his work as a farmer, printer, photographer, newspaper editor and post master, Doak had a very active church life. He purchased a large amount of land in what was then called Red Hill, and part of which is now known as White Oaks. Additionally, he purchased the old Red Hill School which had closed in 1955. The school building itself became the auditorium for the new established Red Hill Church of Christ, and a brick-clad foyer and classrooms were added to the front of the school to make it into a church. It's assumed that Doak himself paid for the renovations. His will states that "any indebtedness owed me or my estate by the Red Hill Church of Christ…shall be cancelled at the time of my demise." The congregation built a new building in the mid-sixties. This building remains the home of the Red Hill Church of Christ. The original school-turned-church was on the site where O'Charley's restaurant sits today.
Hugh and Nell did not have children of their own. Nevertheless, Hugh especially liked them and was very kind to them. Lori Campbell Amos and her sister Susan Campbell Rhodes have some very fond memories of Hugh Doak's kindness to the children at Red Hill Church of Christ. Mattel, Inc. introduced their now iconic Barbie doll in 1959. Soon after that, according to Susan, Hugh Doak "ran a contest for the older grammar schoolgirls at Red Hill. Each girl was asked to design and sew outfits for the Barbie dolls to depict women characters from the Bible. After the contest concluded, the girls were allowed to keep the Barbies!" In addition to Susan Campbell, some of the girls who participated in the contest were Laura Wallace and Doris Gibson. Lori Campbell Amos and Kim Hickerson Floied remember that "Mr. Doak gave the younger girls (4 or 5 years old) 18-inch dolls in a case filled with clothes and accessories. The dolls came with a sash, like a beauty contestant wore, which was printed Miss Red Hill."
Hugh Doak encouraged attendance at Red Hill Church of Christ's Vacation Bible School (VBS) each summer by providing drinks every day from the local Jersey Gold dairy: milk, chocolate milk or the group's favorite: orangeade. On Friday of VBS week, he provided sack lunches and orangeade for the entire group.
Hugh Doak died on June 25, 1963. He and Nell are buried in Rose Hill Memorial Gardens.