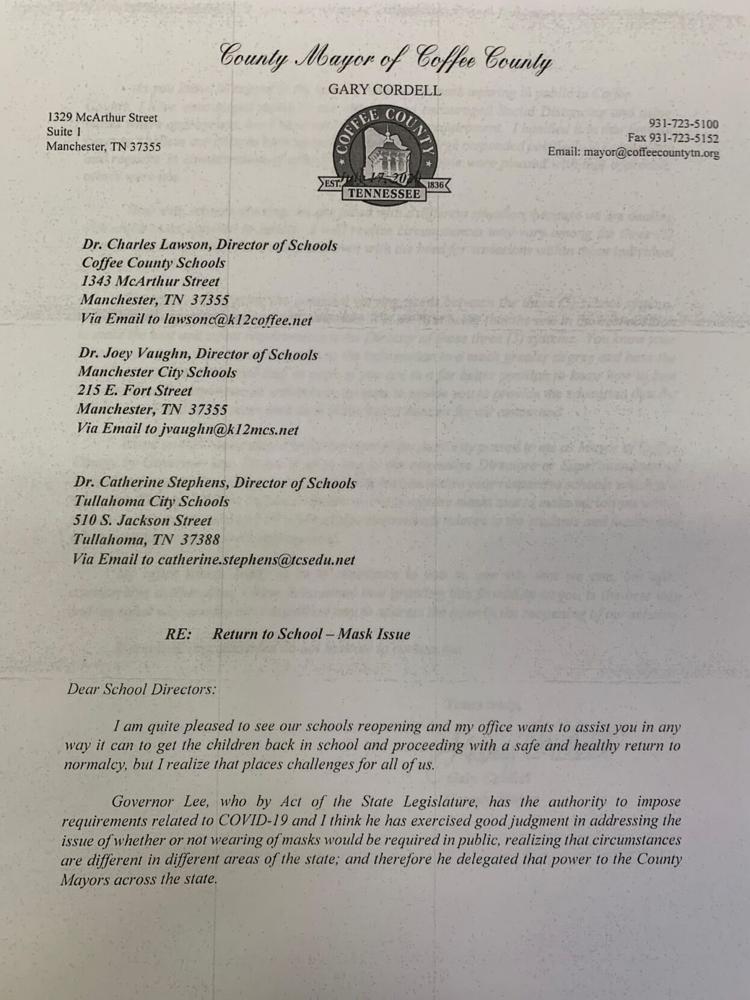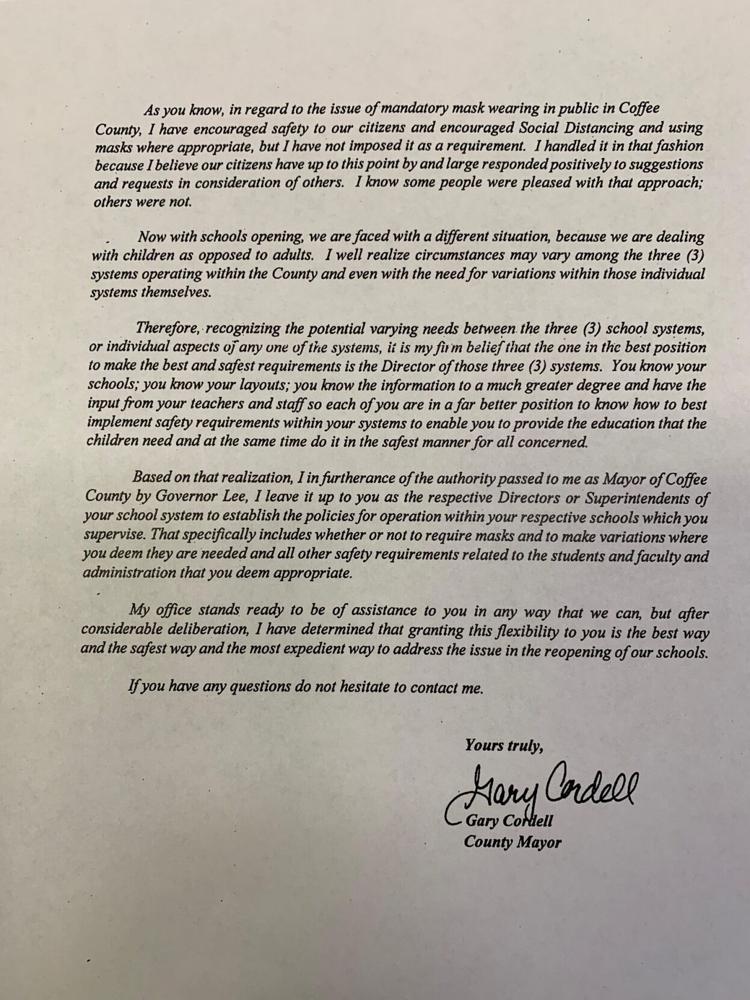 Coffee County Circuit Court Judge Vanessa Jackson ruled Sept. 24 to deny Heather Murchison's request for temporary injunction against mask requirements in Coffee County Schools. A hearing for an injunction was held Sept. 8. Murchison filed a lawsuit against Director of Coffee County Schools Dr. Charles Lawson and the Coffee County Board of Education in August after her son, Nico Sanfilippo, was disciplined for not wearing a mask, according to Murchison.
While the temporary injunction was denied on Sept. 8, "this is not the end of the litigation, and the legal battle continues," said Murchison.
The complaint alleged the mask mandate approved by the school board on Aug. 10 violated state law.
"On Sept. 8, we went to court to get a temporary injunction to be able to have Nico attend school without a mask until the final hearing," Murchison said. "The Judge ruled that without the Attorney General being brought into the case, she could not rule whether it was constitutional or not. So, she denied the temporary injunction stating Coffee County Mayor (Gary) Cordell wrote a letter giving power to Dr. Lawson to mandate masks."
According to Cordell, he sent the letter on July 17.  
Murchison added that before the litigation process began, "Mayor Cordell stated that he did not have the legal authority to mandate and yet sent a letter giving his power to mandate."
In July Gov. Bill Lee signed Executive Order No. 54, which granted county mayors in 89 counties the authority to issue local mask requirements due to the rise of COVID-19 cases in the state. Cordell chose not to issue a mask mandate as he did not feel he had the "legal and constitutional authority to mandate the use of face masks upon our citizens."
"Mayor Cordell is an elected official and it is absolutely illegal for him to pass his power to an unelected official," Murchison said. "We are very confident that we will win this case. If they want to mandate masks, they need to do it legally. We are not stopping, and Mayor Cordell has some questions to answer. I had a personal conversation with him, and (said) he had no authority to mandate masks."
The matter came before the court on Sept. 8.
At the hearing, the Court heard testimony from Nico, Murchison and Lawson, Jackson said in the court document.
Counsel for the parties subsequently filed briefs in support of their respective positions on Monday, Sept. 21, 2020, according to Jackson.
The court finds that on March 12, 2020, Gov. Bill Lee declared a state of emergency in response to the COVID-19 pandemic. Since then, Gov. Lee has issued a series of emergency management
executive orders attempting to slow the spread of the disease and to protect the health of Tennessee residents. These orders have been issued pursuant to the emergency management powers granted to the Governor by the General Assembly Tenn. Code Ann. 58-2-107, said Jackson.
"Pursuant to Executive Orders Nos. 54, 55 and 59, the Coffee County Mayor (Gary Cordell) has been delegated the authority from the Governor to require the usage of face coverings within Coffee County," Jackson said.
Cordell delegated his authority regarding face covering requirements for the Coffee County School District to Director of Schools Dr. Charles Lawson, according to Jackson.
"Mayor Cordell set forth this delegation of authority in a letter to Dr. Lawson," Jackson said.
Based upon the delegation of authority from Cordell and a request from a Coffee
County School Board member, Lawson formulated a proposed face mask policy to present to the Coffee County School Board for approval. It is the responsibility of the school board to approve policies for the Coffee County school system, according to Jackson.
At the Aug. 10 school board meeting, the board approved the mask mandate policy.
Nico is a ninth-grade student at the Raider Academy, a school within the Coffee County School system. On Aug. 13, Nico attempted to enter school without a mask. Nico initially told school staff that wearing the mask was against his religious beliefs, but he admitted at the hearing that this was not true. He also indicated that he had a medical reason for refusing to wear the mask, but there was no evidence presented at the hearing to substantiate this claim. Nico stated that wearing the mask makes it difficult for him to concentrate. Nico has received no disciplinary actions for his refusal to wear a mask, Jackson said in the court document.
However, Murchison said that Nico had to sign an In-School Suspension document on Aug. 13 because he was not wearing a mask.
Nico has been required to go to a room where he could be socially distanced from other students, said Jackson in the court document.
"This is the same room in which students serve in-school detention. There has been one or other students in the room with (Nico) and one staff member, Coach Jennings While at school, (Nico) has received his instruction via videos and Google classroom (i.e. virtual learning). The virtual learning instruction that (Nico) receives is the same instruction as received by students who have opted to stay home and 'distance' learn," Jackson said.
Nico has continued to participate in the extracurricular football program and to take his elective Spanish class. He is a good student and has continued to receive high grades, said Jackson.
According to Jackson, the four factors the court should consider to decide whether to grant Plaintiff's request for a preliminary injunction are: whether Plaintiff has shown a likelihood of success on the merits; whether Plaintiff will suffer irreparable harm if the injunction is not issued; whether the issuance of the injunction will cause irreparable harm to others, and whether the issuance of the injunction will serve the public interest.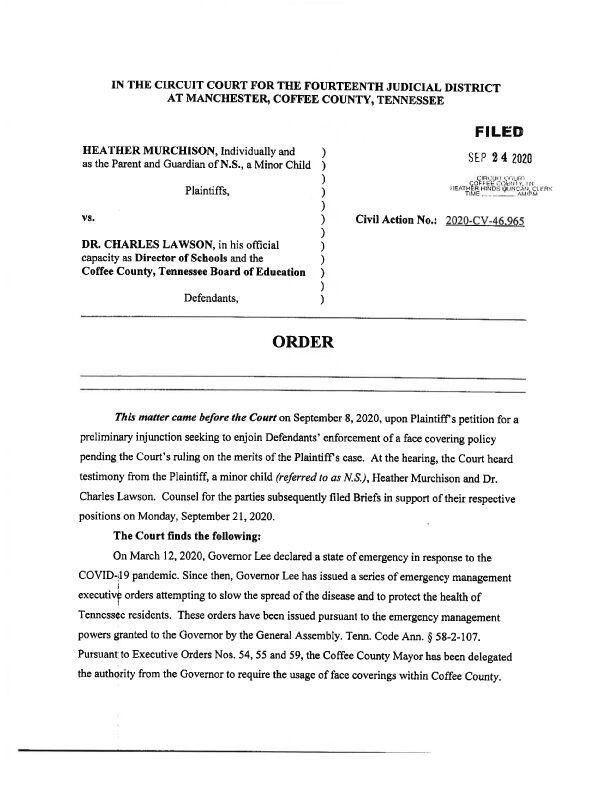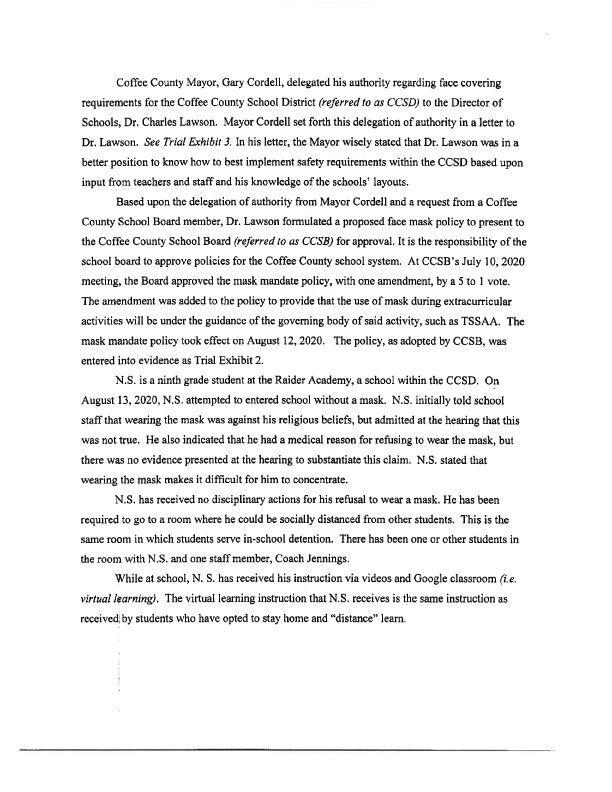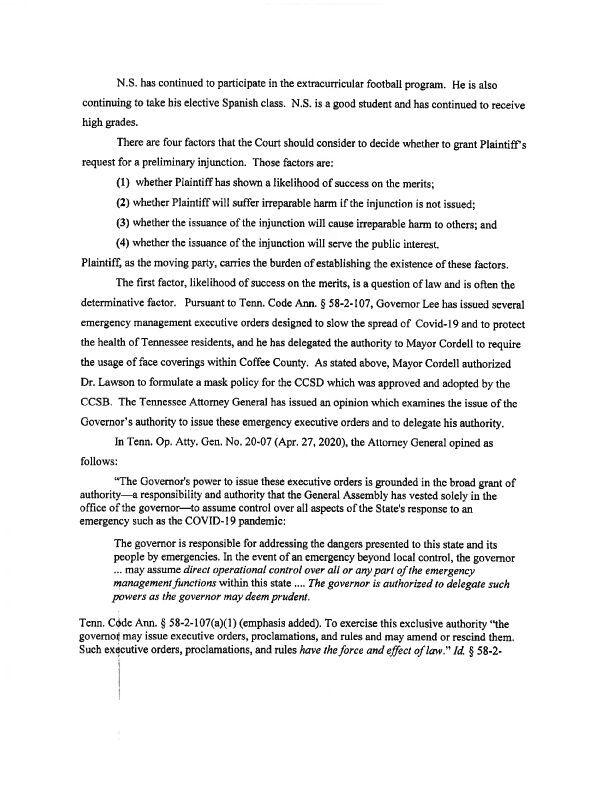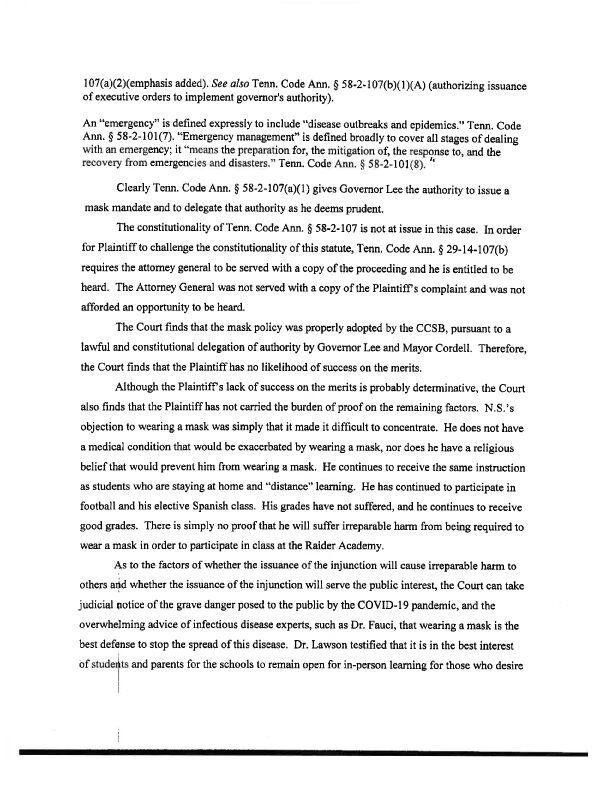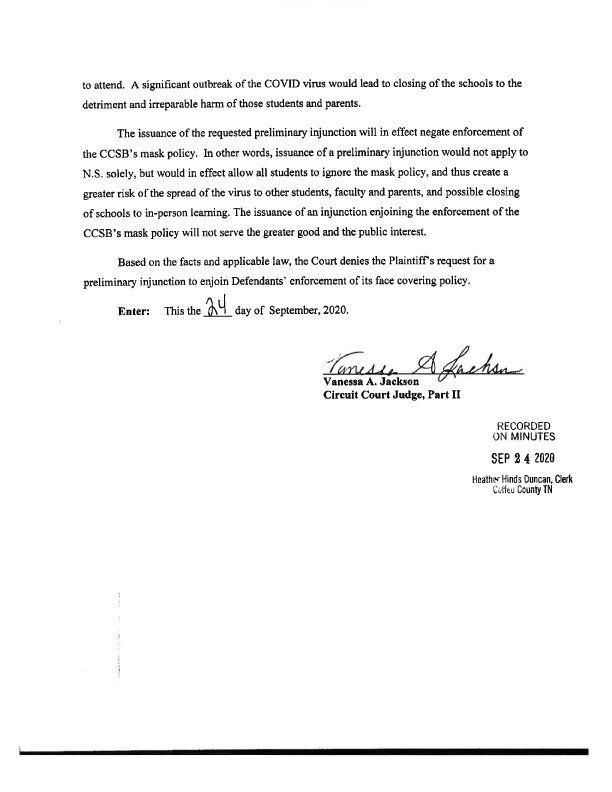 "The Court finds that the mask policy was properly adopted by the CCSB, pursuant to a lawful and constitutional delegation of authority by Governor Lee and Mayor Cordell. Therefore, the Court finds that the Plaintiff has no likelihood of success on the merits. Although the Plaintiff s lack of success on the merits 1s probably determinative, the Court also finds that the Plaintiff has not carried the burden of proof on the remaining factors. (Nico's) objection to wearing a mask was simply that it made it difficult to concentrate. He does not have a medical condition that would be exacerbated by wearing a mask, nor does he have a religious belief that would prevent him from wearing a mask. He continues to receive the same instruction as students who are staying at home and distance learning," Jackson said. "He has continued to participate in football and his elective Spanish class. His grades have not suffered, and he continues to receive good grades. There is simply no proof that he will suffer irreparable harm from being required to wear a mask in order to participate in class at the Raider Academy."