In this day and age, it seems unfathomable to not be connected to the internet, however 19 percent of Coffee County is in the dark, according to the Federal Communication Commission. Broadband is coming to some areas of the county, but many areas aren't expecting to receive it until 2019 or later.
Three Times readers shared their experience about living in a broadband and Wi-Fi dead zones.
Lisa Lazalier , who lives exactly three miles from Manchester City limits in the Blanton Chapel Area near Powers Bridge Road, is in what she calls a "black hole." It wouldn't be that big of a problem if she didn't work from home.
"We literally live in a black hole," she said. "We have to go out in the yard for our phones to work. When I work, I can put my phone in the window, I have one window (that gets reception) and I can use my earbud."
Even then, calls still drop. She has to travel to the library or Starbucks for conference calls, which isn't ideal.
It doesn't just affect her either. As a mother of two, her oldest daughter is unable to do homework at home, as a majority of the assignments are on her Chromebook. When her family goes to bed or plugs in their mobile devices, they have to turn off Wi-Fi access to prevent updates to keep data usage low.
There is broadband access a mile down the road from her house on either side, but her stretch of road is without.
"There's a mile of Powers Bridge Road that Charter doesn't hit…for whatever reason, they won't fill that mile hole," she said.
Lazalier doubts Charter will ever come in and, because she is surrounded by Charter, she doubts Ben Lomand will fill in the dead zone as well. Her only hope is Duck River Electric Membership Cooperative (DREMC) to add internet lines with their power lines, which is a future project for the cooperative.
She's been in her home for 25 years, meaning she bought the property before broadband was widely installed.
"The good thing is, we've never had it," she explained. "That would be harder if we moved from having it. We do know what we're missing, but we haven't experienced it."
It's not that she hasn't tried to get it either – she's contacted Charter many times, signed petition for grants to bring internet to rural residential areas and tried to raise awareness about the problem.
"You can't explain to people," she said. "People don't even know that that's still a thing. It's not our choice, we're not being cheap, we're not refusing to pay for it, it's just not there.
She pays $200 a month for television and 50 gigabytes of monthly data, which is the best plan available to her. Her family used to be forced to make due to 15GBs of data before their provided upped the plan.
No access after moving states
A lack of internet may be the breaking point for Randall Pate, who moved to Manchester last year from Maryland.
In Maryland, he was spoiled with Verizon Fios, which has Fiber capabilities, meaning extremely fast upload and download speeds. In his five-acre Maple Springs Road home he built to retire to, he has nothing.
"I bought the land next door to my sister and built a house to retire to," Pate explained. "She said that she had heard there was cable coming. She's been there for 8 years. She heard that Charter was running a cable and they'd get there one day, it was slow."
After buying the land, Pate called Charter and asked them if he could get his home connected. He was allegedly told that Charter wasn't installing cables unless there was more development in the area.
"No interest in putting cable because it was too expensive," he said. "Unfortunately, I was already building my house by then."
Pate isn't without, however. His new wife, who lives in La Vergne, has access to XFinity. The pair only spend about six days a month, if not less, in Manchester due to the lack of internet and cell service. Due to this, they are considering selling their home and moving to La Vergne fulltime.
"We should have service by Christmas," he said.
Even though he now has the promise of being connected, Pate is shocked that, in 2018, there are still areas without it.
"It should be considered a necessity like electricity because today, it is," he said. "When you're rural and it's a 20 minute drive to town to do anything…the internet, that's a way of life and you're taking it away with no internet."
It is also a safety hazard – Pate has satellite/dish television. If there is bad weather, he gets cut off from knowing how bad it actually is. He has no way of knowing if the storm is bad enough to where he needs to take shelter.
"If you're wondering if a tornado is coming, you can't find out! The phone internet is so slow, it's almost useless. It seems like a safety issue for me," he said.
"We don't even have a landline," he added. "I have no communication except with my cell phone."
Living without cell service
It isn't uncommon for cellphones to not work in homes without broadband. For Shannon Jernigan Hill, who lives in the Cathey Ridge area off of 16 Model Road, she has to go to a graveyard down the road if she needs to make a call or look up something online.
"Where I live in particular, we don't even get cell service," Hill said. "I have to leave my home to look up a recipe – anything I have to do on the internet, I have to leave the house period."
"There's a little graveyard about 1.5 miles down the road from me and I have to sit at that graveyard to get signal," she later added.
Not having access forced her family to move out of the home. Her son and his girlfriend used to live with her awhile attending college. However, as her son's girlfriend needed access to internet for classes and homework, she made the choice to leave. Her son followed.
"It just kind of broke my heart," Hill said. "I wanted them there, but it wasn't an option with her back in college."
Before moving into this home two years ago, they knew it wasn't connected to Wi-Fi and that they would be unable to use their phones. That was an issue for Hill, but her late fiancé loved the area so much that she was convinced. It turned out to be less of an issue than she thought, but it can be inconvenient in some ways.
"I grew up that way," Hill said. "There's a part of me that's okay with it, but there's a part of me, we walk around with these itty bitty computers in our hands – what people have made a necessity we can't even use."
If she needs to refill a prescription, look up a recipe, check the weather or anything, she has to remember to do it work or drive to the nearby graveyard. Her friends know when she is at the graveyard as well, as she'll often post on Facebook while there.
"It's not funny, but it's so funny because that's become my life," she said.
The state issues about $10 million broadband grants through the Broadband Accessibility Act, which was created in 2017 by Gov. Bill Haslam.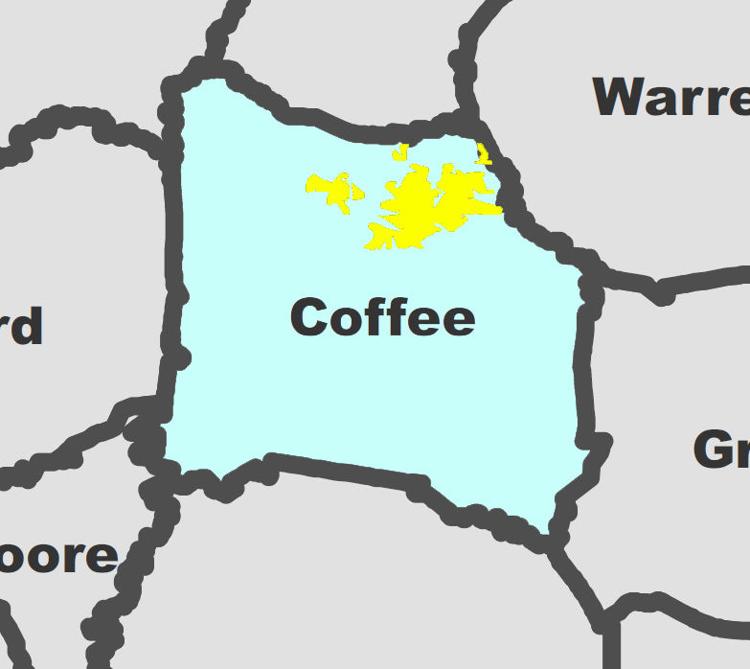 In 2017, Ben Lomand was funded $1 million to add broadband to the Pocahontas community. In the 2018, the Tennessee Department of Economic and Community Development (TDECD) received 71 applications, totaling $66M in funding, and was able to roll out nine of them, according to TDECD Broadband Direcot Amanda Martin.
"Ben Lomand has been awarded $1,025,000 in funding from TNECD to serve over 400 locations in Coffee County," Martin said in an email. "Construction is underway and the project will be complete by February 2020 at the latest."
General Managed and Chief Executive Officer of Ben Lomand Connect Lisa Cope confirmed this.
"Ben Lomand Connect searched for eligible grant areas (which led Pocahontas residents to Ben Lomand Connect and led us to the Pocahontas community) and began completing our field verification to ensure that the proposed area would meet all the necessary grant criteria," Cope said in an email. "Our employees completed a lengthy grant application for the area, and our project was selected as a Round 1 winner of the Broadband Accessibility Grant which is administered by the Tennessee Department of Economic and Community Development under the direction of Amanda Martin and Crystal Ivey.
"I think it is entirely appropriate to say that the residents of Pocahontas and Ben Lomand Connect found each other and forged a strong partnership to see this project through," she added.
Broadband can't be installed overnight. It is a lengthy process; field verifications alone take two months, Cope explained.
"As we construct the fiber plant in the area, we will deploy in a phased approach," Cope said. "As each area is finalized and ready for customer installations, we will schedule appointments with customers rather than waiting for the entire project to be completed. The grant period is two years, but we plan to schedule installs around the end of the year."
Cope was there when the first round of grants were rolled out in 2017.
"The most significant impact was the realization of how desperate folks are to be connected and how the lack of connectivity is impacting lives," she said. "Working together to develop real solutions has been one of the most rewarding experiences for everyone involved in this project. The outpouring of community support from residents of the Pocahontas community, elected officials and business leaders has been almost unbelievable. Collaborations such as this effort make me firmly know and believe that "it takes a village" to create solutions."