Cordell returns for second term as county mayor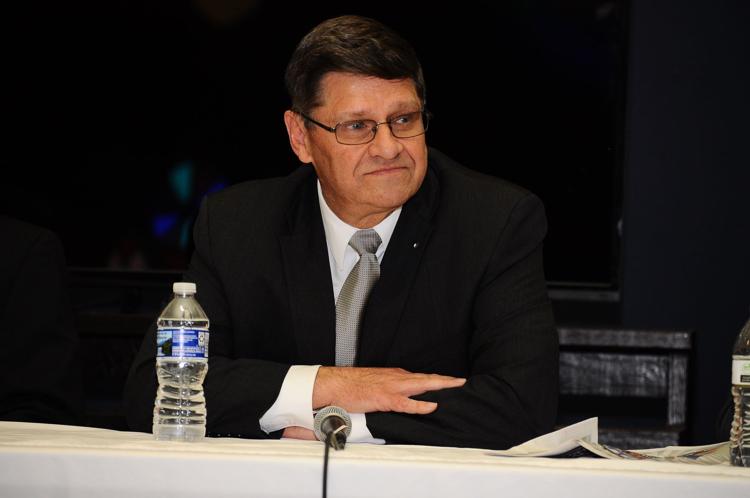 Incumbent Coffee County Mayor Gary Cordell took the lead in early voting and never looked back. He beat each of his opponents, Tim Brown and David Pennington, by over 2,000 votes and was elected for a second term. 
"A big thank you to the voters of our wonderful county," Cordell said. "Thank you for that experience of support and confidence. Looking for to serving our citizen four more years. My wife and I were blown away by the expression of support and confidence."
Cordell vowed to be responsible with money collected from taxes, push educational programs and look into the county jail incarceration rate.
Before all of that, however, he plans to have a work session with all of the county commissioners to give them an overview of what they will be doing in the county.
"I pledge to them to be transparent, I'll share issues with them, pros and cons and I want us to hit the ground running."
Eleven new county commissioners elected
Out of the 11 new commissioners on the board of 21 people, only two of them faced and beat incumbents. Independent Jimmy Hollandsworth took District Two from incumbent Steven Jones, a republican, and district 12's incumbent Tim Morris, running as an independent, was beaten by newcomer Ashley Kraft, a republican.
Hollandsworth is an eight-year veteran of the Manchester Fire and Rescue Department and served on the Emergency Management Agency Board.
Kraft, a Manchester resident, is looking to focus on transparency with the Conference Center to reduce deficits caused by the center.
The incumbents for districts one, three, eight, 10, 11, 13, 15, 17 and 21 did not seek reelection.
A county commission is a body of government designed to enact ordinances, approve budgets, oversee spending, hire county employees and more.
For a full list of who won in the county commission, see the results in the box alongside this article. 
Pat Barton remains on county school board
Pat Barton beat out his competition, Steve Jernigan by a vote of 1004-985.
Barton previously served four years on the county board of education. He ordered the board's priority as follows: students first, employees second, maintenance and facilities third. Barton believes the board following that priority list well, but improvements need to be made, especially in the school cultures, accountability and transparency.
"In my opinion, [school culture] has gone downhill dramatically," Barton said. "I would love to find the underlying reason and try to work together to get those resolved. If the school climate is not good, then the teaching is not as good. Everybody should be happy to go to work and feel comfortable with their administration all the way to the top.
"Dr. McFall's contract is up in 2020," he continued in reference to Director of Schools LaDonna McFall. He believes the right move would be for the board to let her contract expire and hire a new director of schools.
Until then, he is going to fight for transparency, such as looking into getting all of the board meetings recorded and posted online, and accountability for everyone – especially those at the top of the chain of command.
Barton was the only contested person. He joins Freda K. Jones, Brett Henley, who were re-elected to the board as well. He was not available for contact prior to press time.
Each school board member serves four-year terms. Terms are staggered with elections every two years.
Three new city aldermen elected
Three new people were elected onto the Manchester's Board of Mayor and Aldermen. The new members are Bill Nickels, who accumulated the most votes with a total of 1,176,  Marilyn Howard with 1,094 and Mark Messick with 916. Aldermen Lana Sain, Cheryl Swan and Tim Kilgore did not run for reelection.
Nickels's main priority is to ensure taxpayer dollars are spent fairly and responsibly. He believes prioritizing expenditures of such funds is the primary duty of BOMA. He is a man of context and vowed to look at each issue before putting a priority on it.
Messick's three priorities are property taxes, the Conference Center and controlling spending.
"All three of these go hand in hand," he said in the Manchester Times's Meet the Candidates brochure, a section were candidates submitted their campaign goals. "Property taxes do not need to be raised, spending needs to be cut. We don't have a tax problem, we have a spending problem."
Howard is the co-founder of Alabaster House of Manchester, the co-owner of Mid Tenn Turf Inc,. and a graduate of University of Tennessee, Knoxville. She believes the three entities in control of the Conference Center (the city, the county and Public Building Authority) need to come together and figure out what they are going to do about the continued deficits instead of sitting idly by for the contract to expire in three years. 
The three beat out Donny Parsely, James Threet, Tammie Fuller and Terrence Hillsman.
Bill Lee vs. Karl Dean for state governor
Bill Lee and Karl Dean secured nominations to replace Gov. Bill Haslam.
In a statement released shortly after the race was called, Haslam congratulated Lee on the victory.
"Bill is a man of strong faith and character, and I know he will lead Tennessee in the right direction. He has long been a supporter of Tennessee's business-friendly environment, and he is committed to the education and development of the state's workforce," Haslam said. "Bill has demonstrated that he will put the needs of Tennesseans at the forefront of any decision he makes as governor of our great state."
Lee also led the way in Coffee County balloting, securing 3,433 votes.
Diane Black received 2,282 votes in the county, followed by Randy Boyd with 1,277, Beth Harwell with 1,033, Kay White with 29 and Basil Marceaux Sr. with 21.
Democratic voters chose between Karl Dean, Craig Fitzhugh and Mezianne Vale Payne. Dean, the former mayor of Nashville, emerged as the Democrats' nominee for governor.
In Coffee County, Dean received 2,629 votes, Fitzhugh garnered 269 and Payne got 147 votes.
In total, Lee received 291,140 (36.75 percent) of the total votes in the state and Dean received 280,004 (75.14 percent), according to the unofficial results on the Tennessee Secretary of State's website.