For the last eight years, New Union Elementary School has been dedicated to making a difference with their annual food drive. During its inaugural run, the drive had a large purpose – to fee the world, the state and the county, according to New Union Nurse Donette Porter.
After successfully raising $825 for the three locations and feeding 400 kids in Nashville New Union turned its focus inward to its own classrooms. Last year, the school donated about 2,500 lbs. of food to families in need via a store setup. This year, the school is changing the formula up again.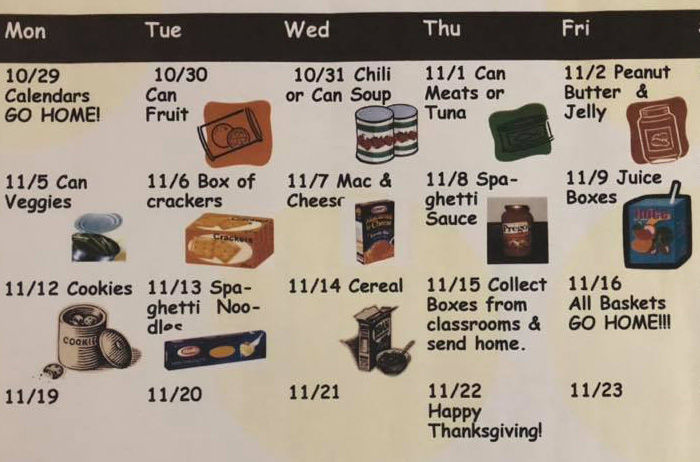 Each classroom will be focusing on filling their own tote box to help one family, instead of gathering in bulk and separating the food for families to pick from. Every day for the first 2.5 weeks of November, students will bring in a specific food item, such as a can of vegetables, a box of crackers, cereal and more. They hope to get at least three meals in each box, as well as snacks. New Union staff inspects every item before distributing it to make sure nothing is expired or open.
"We just want the kids to understand they can be a vital part in someone else's life to better it," Porter said.
The families are chosen via word of mouth, teacher observation and from those on the backpack program. Porter and school counselor Dawn Kronenes contact the family and give them the chance to opt-in to the program or opt-out to allow others to receive the food. Kronenes and Porter said the drive serves about 40 families each year and the number won't change, despite the new setup. If one box is lacking, the staff will pitch in to fill it.
To hit their point home, Porter and Kronenes pick a book to go along with the food drive. This year, their selection was "Maddi's Fridge" by Lois Brandt. The book tells the real story of two young classmates. Brandt's character discovers her friend, named Maddie in the book, had a virtually empty fridge and she and her brother would only get to eat bread and milk at home.
Brandt's character then tries to get food to Maddi on her own, but fails for two days straight. She gets her mother involved and the pair bag up food to give to Maddi.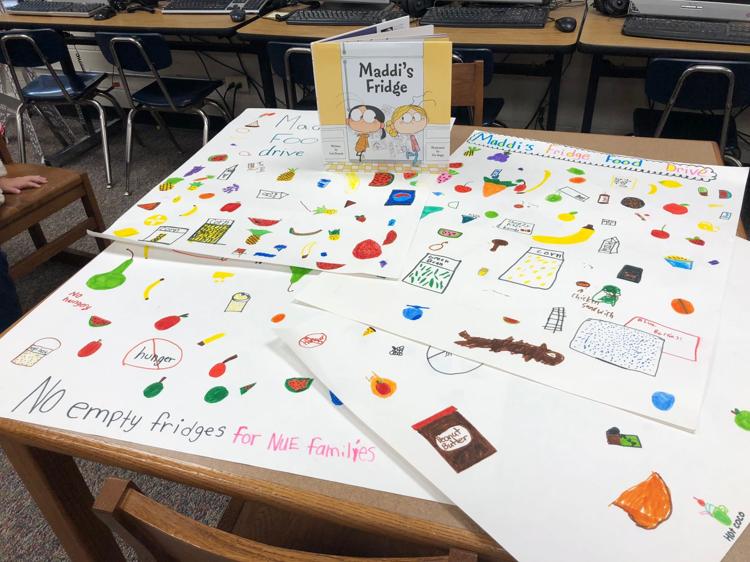 When reading the book to students, Porter and Kronenes wanted students to learn that having less "Does not make them less of a friend, just gives you an opportunity to be a better friend," Porter said.
After Porter and Kronenes read the story to all of the grades, Brandt made an online visit on Monday, Oct. 29. Brandt told the students about the book, what it was like to be an author and answered their questions.
One in every five child goes hungry in America, according to Second Harvest Food Bank and Feeding America. To explain to the kids that this problem isn't unique to Coffee County, Kronenes pulled out a map. She pointed to Washington, there Brandt is from, and explained that she and her friend lived in another state, but her friend still had an empty fridge at home.
In the third, fourth and fifth grade classes, the counselor brainstormed with students on how to keep helping out, such as holding drives in churches.
Porter taught the younger students that they can help out by making cards, sharing stories and being kind to those who may be in need, because everyone, even kindergarteners, can make a difference, Porter said.