River Romp brought more than local vendors to Rotary Park, it showcased the live painting of two new murals in the city. The new art can be seen along the Little Duck River Greenway under N. Woodland Street headed toward Rotary Park.
Under the N. Woodland Street bridge, three canvases became one as an eel winds through the separated cement supports, the large concrete block near the city spring is no longer a green monster with chipped paint and the light post bases along the area are now a bright blue, primed and ready to be decorated by a local teenager.
The projects were sponsored by DMA-events and all of them were completed at no cost to the city.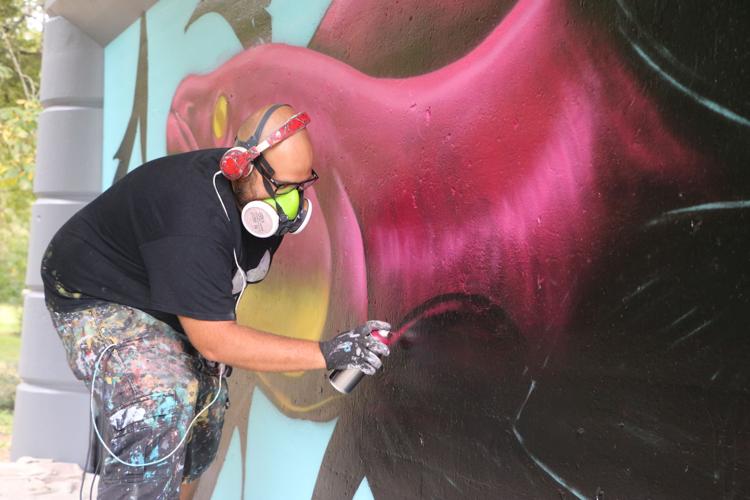 A fantastical sight can be seen snaking in and out of the Little Duck River – a pink American Eel with bright yellow eyes.  Miami-based artist Ivan Roque brought the creature to life in one of Manchester's newest murals. Installed under the bridge going over Little Duck River on N. Woodland Street, the American Eel weaves through the three support columns near the greenway. The eel is joined by the iris, Tennessee's state flower.
Roque wanted to challenge himself with this project, so he decided to span the one piece of art across three separate canvases.
"I could have done three separate pieces alone, but this will have more of an impact on everyone and myself," he said.
Roque explained he always had a knack for art, but he was hesitant about pursuing it. Roque's mother encouraged him to live his dream.
He grew up with her telling him, "I want you to wake up every day loving what you do and not dread going to work," Roque said.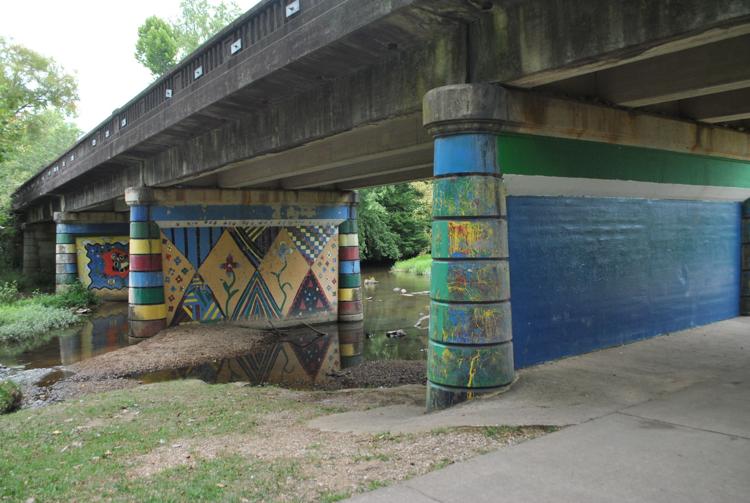 His love of art grew in high school, when his friends began introducing him to different artists and subcultures. His profession started in 2010 when he was 18, he began an assistant to a muralist in 2011 and started doing his own murals in 2012.
The art he creates is 90 percent spray paint and about 10 percent acrylic paint, he estimated. For him, controlling spray paint feels like "you're trying to control a breathing dragon," he explained. Once the artist has control, they can do whatever they want with the medium.
His work commonly features bright colors and aquatic animals, which is Roque's way of spreading Miami to other cities.
"I always try to keep a color scheme with highly saturated colors…it represents my culture, where I'm from, who I am," he said.
Roque, who has done a mural in Chattanooga, approached Kristin Luna and Scott van Velsor after he read about the downtown Manchester magnolia mural. He wanted to be a part of their cause to bring life to Manchester through art.
"I'm really honored whenever I'm able to be a pioneer in something, it really feels great," he said.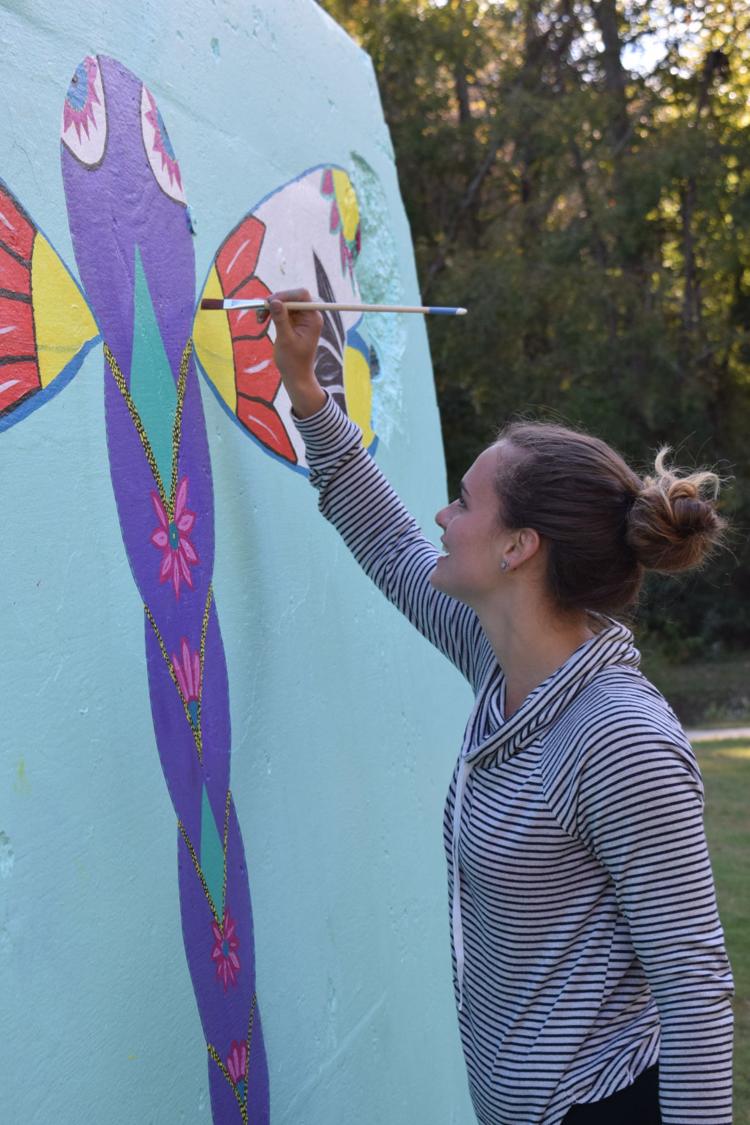 The green monster, as Parks and Recreation Department Director Bonnie Gamble called the large green block next to the city spring, is no longer green nor chipped and stained white from being exposed to nature over the years. Central High School graduate Sarah Pearson made her mural debut this month and painted it live at River Romp before she sang onstage at 5 p.m.
Her mural is currently a dragonfly on top of a sky blue base. Once complete, it will feature more bugs with floral designs incorporated in their bodies. She painted grass on the side of the structure to blend it in with the landscape.
Pearson began painting when she was 9 years old – nothing fancy, just circles and stripes, she explained.
"Then when I was in ninth grade, I thought I could maybe be good at this," Pearson said. She began expanding her horizons and trying new things. She found she enjoyed panting animals and nature and love incorporating designs, such as flowers, into the animal.
Van Velsor approached Pearson about singing in River Romp and painting the mural after listening to her perform and purchasing one of her paintings in a local shop. She accepted both opportunities, despite never painting a mural before.
While she was packing up her supplies on Saturday, numerous families stopped to take photos with the dragonfly. Seeing this, Pearson was visibly moved by their reactions to her art.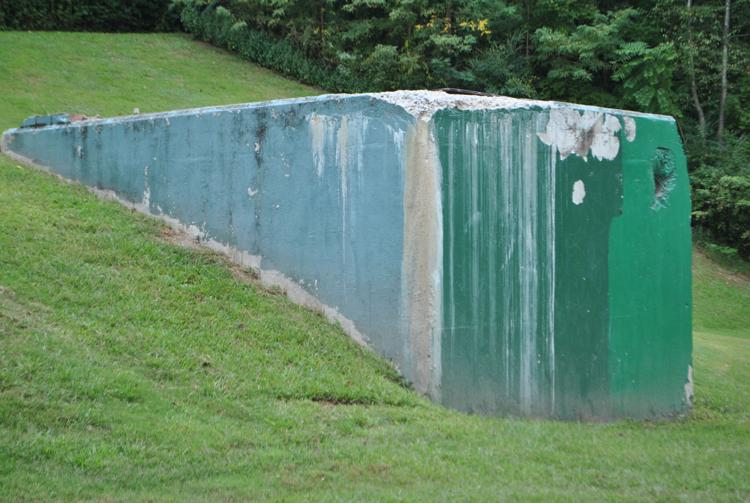 "We have so much potential here and something as small as painting an ugly old block adds so much," Pearson said. "This is such a beautiful place, just being a part of that is really good."
The mural is bright and created from outdoor acrylic paint – she picked the blue base and van Velsor gave her colors to choose from. She picked palettes that would contrast with the blue and stand out against the green hill.
"This paint lasts forever. I'll be older and come back and see it and show my kids it one day, if it's still here," she said.
Pearson is interested in painting more murals in the future.
The dragonfly mural  is unfinished as of press time. As a college student studying communications at Tennessee Tech in Cookeville, Pearson can only work on it during the weekends. She hopes to have it done by Halloween.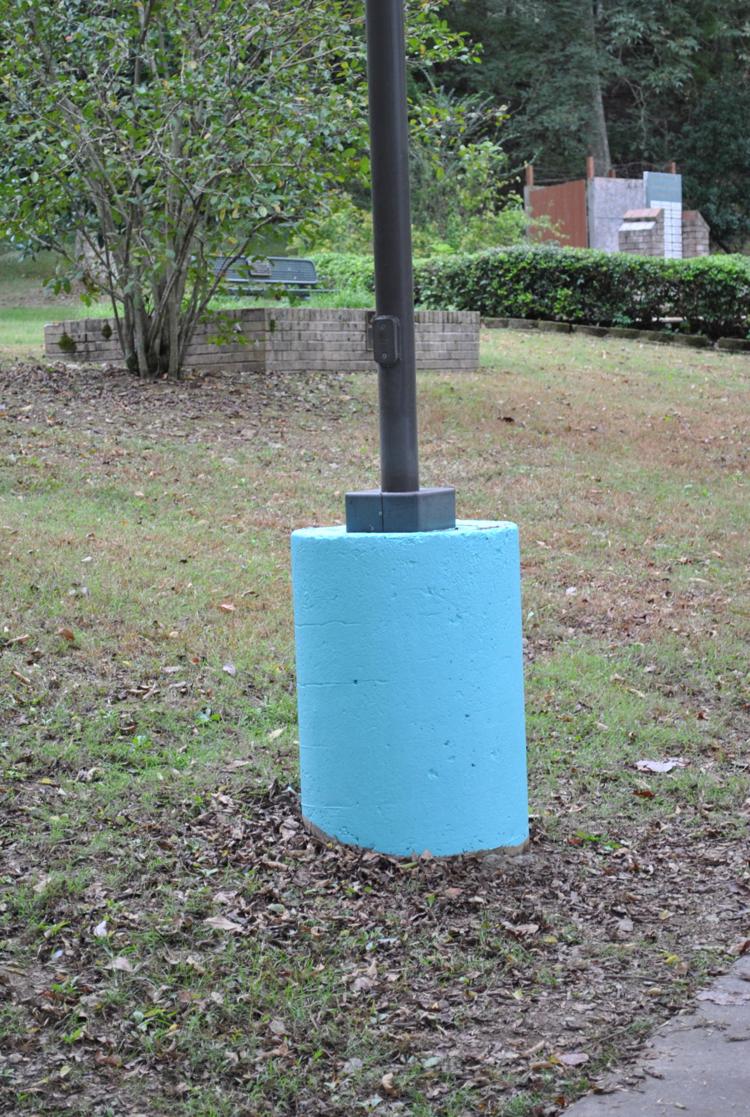 Those who frequent the greenway may have noticed that a few lamppost bottoms were colored light blue. This is in anticipation for script writing to be painted on them by 14-year-old Lauryn Ashby. The painted bases are between the American Eel mural and the dragonfly mural. Van Velsor anticipates getting all 17 bases in the area painted in the future.
Luna approached Ashby through Facebook after seeing Ashby's eighth grade graduation cap, which she decorated with script writing. The teenager agreed to take on the project and, since then, she has been practicing scaling up her words with Luna and van Velsor behind their Manchester home. She is excited to unveil her work to the public.
"It's going to feel great – I can't' wait to show people what I can do. I can't wait," Ashby said.
"It's really exciting. I've never done anything like this before," she added.
What she will be writing hasn't been decided on yet, but van Velsor and Ashby anticipate the messages to be short inspirational sayings and cute messages, such as "Marry me?"
She hopes to add color to the letters so they won't be black writing against the blue. Ashby is envisioning one message to start as purple and fade to pink.
Ashby splits her time between Manchester and Warren County, so the start date for the project is unknown. That, paired with shorter messages, such as "Marry Me?" taking upwards of two hours for her to complete, means the project will be spanned over next few months. She hopes to start soon, but just needs a free weekend or a break from school for that to happen.
Ashby is in the planning stages right now – she is using Pro Create on her iPad to have mobile templates for her to reference when she is in Manchester. For examples of her previous work, Ashby designed this year's Girls Night Out map of participating businesses in downtown Manchester as well.
"I just want to thank (Scott and Kristin)," Ashby said. "I wouldn't be able to do this without them. I wouldn't be able to try and get my name out there."