Over 32,000. That's the average of the  number of fires that occurred in the month of December from 2011 to 2015, according to the National Fire Protection Association (NFPA).
Winter months have an elevated risk for fires due to heating, more electrical usage and holiday cooking and decoration. The U.S. Fire Administration reported in 2005 that heating was the cause of 17 percent of structural fires during spring through fall, but that number jumped up to 27 percent in winter months.

Additionally, cooking fires amount for 50.3 percent of house fires in 2017, according to the USFA, and the holidays are known for bringing people into the kitchen and dining room for large meals.
However, the elevated risk doesn't have to ruin holidays if approached with caution.
"Distraction during the holidays, multitasking in your home. It takes one second, one minute or so, or what you think is a minute…and bam, a stove fire starts on your range," said Manchester Fire Rescue Chief George Chambers.
"At my house, when my wife is cooking, not that I've ever had a kitchen fire, thank god, but me personally, I try to stay in that area," Chambers said. "It's not because I'm a fire fighter; I know there's a lot going on."
His advice for safe cooking is simple: have someone always attending the stove or keeping an eye on the food. If the cook is heating up oil, watch is closely so the chance of it flashing up are minimum, he explained.
"You just gotta pay attention to what's going on in your kitchen," Chambers said.
Dealing with cooking fires can be dangerous, especially if it is an oil or grease fire. If it is small and manageable, here is how you deal with it. If the fire is large and dangerous, do not try to put it out – evacuate the home and call 911.
 Do not put water on a grease fire – instead, cover the flame with  metal lid or cookie sheet and turn off the heat source.
Each year, from 2013 to 2015, an estimated 45,900 heating fires in residential buildings were reported to fire departments within the United States, according to USFA.
Chambers said the risk depends on what type of heating system you have in your home. Outdoor heaters don't get dusty or covered in lint, while older homes with indoor heating coils may gather buildup. It's typically nothing to worry about and will smoke up the house, but generally won't ignite, Chambers said. He explained Manchester Fire-Rescue has been on a few calls this season already where this was the case – no fire, just smoke.
The problem is largely portable room heaters.
"Make sure you buy good quality and make sure you have a tip switch," Chamber said. A tip switch turns off the heater automatically if it falls over.  Without one, there is a risk of it falling over and igniting the carpet, blankets or curtains.
Plug it into a wall socket and not an extension cord or a power strip, Chambers added. Those are meant to be used a temporary wiring only and are not built to handle the amperage required to run the space heater.
The other risk is wall sockets are designed to trip the circuit breaker if they're overtaxed, while extension cords are not.
"It may fail on your hardwood floor and carpet, melt and start a fire before the circuit breaker activates," Chambers said. 
He related a portable heater to a blow dryer – they are the same concept, and yet people plug a hair dryer into a wall and not an extension cord. Treat a heater like a hair dryer – plug it in the wall, keep it away from pets and flammable materials, and it will be fine.
For propane heat throughout the home, Chambers said the most important thing a family can do is have carbon monoxide detectors installed.
Elevated fire risk over the winter holidays doesn't only come from cooking and heating, but from the decorations often set out with them.
"Many people begin the celebration of the season by decorating their home with seasonal garlands, electric lights, candles, banners, or displays. Probably the most popular addition for the holiday season, and as fire hazard, is the Christmas tree. It may ignite easily, especially if dried out, it burns vigorously, and it often is positioned in such a way to allow rapid fire spread to other combustible materials in the house," according to the 2005 USFA report.
Open flames in a fireplace or candles are also larger hazards due to gift wrap, garland and other flammable material in close proximity.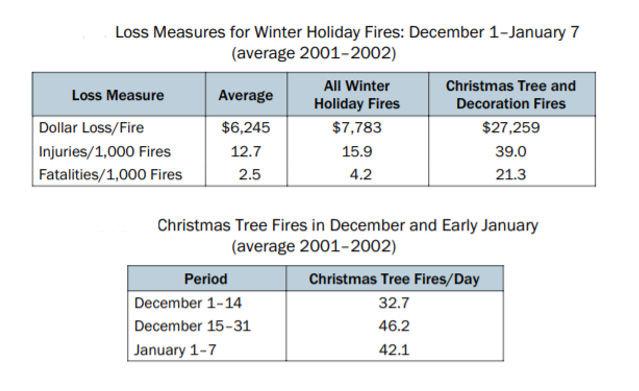 The NFPA reported that "Between 2012-2016, U.S. fire departments responded to an average 170 home fires that started with Christmas trees per year. These fires caused an average of four deaths, 15 injuries, and $12 million in direct property damage annually."
NFPA also reported that lighting or electrical distribution was involved in 43 percent of Christmas tree fires and 27 percent of Christmas tree fires involved the tree being too close to an open flame.
These fires are easily preventable, however. Water the tree daily and keep it at least three feet away from candles and the fireplace.
If putting lights on an indoor tree, make sure they are for indoor use and turn them off when leaving the house and going to bed. Replace any worn or broken cords and lose bulb connectors.
Once Christmas is over, get rid of the tree before it dries out.
All fires can't be prevented, but the families can be protected by smoke alarms. Manchester Fire-Rescue gives out free smoke alarms to anyone who needs them. The department is currently out of them, but Chambers put in an order to the state for more. The department gives out 600-800 every year.