More than 100 residents gathered yesterday, Jan. 23, at the Noah Community Center in Beechgrove to discuss a proposed quarry in the area, 470 Underwood Rd.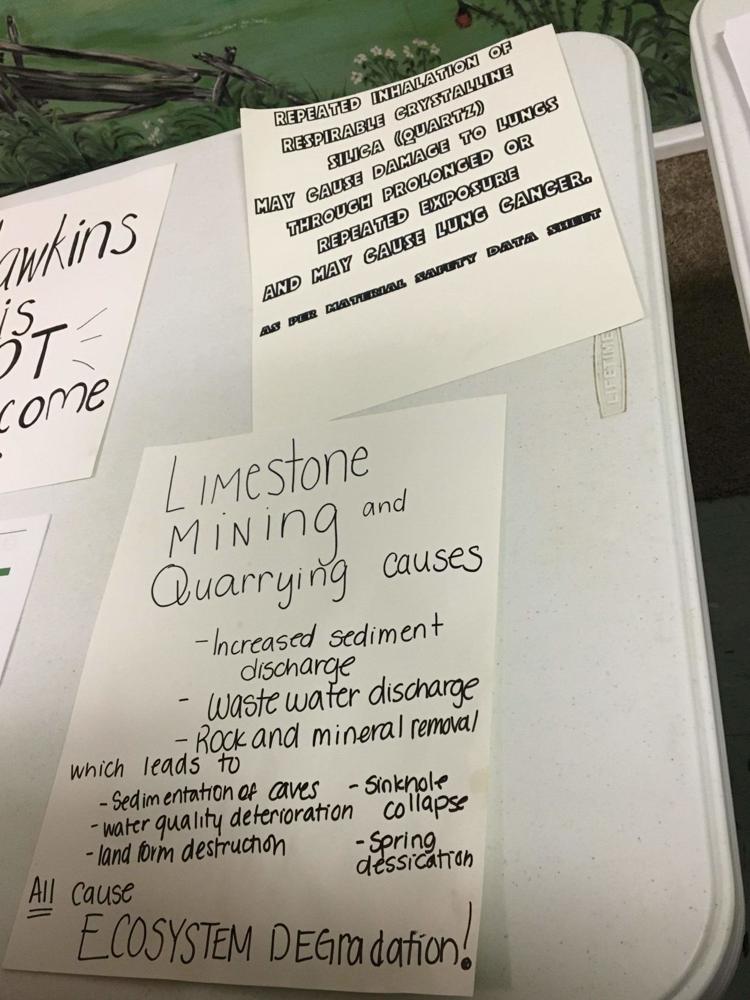 The company – Hawkins Asphalt Paving – is asking Coffee County to change the zoning to would allow establishing a rock quarry in the area. The zoning change is on the agenda of Coffee County Planning Commission Tuesday, Jan. 28.
The meeting last night was organized by Hawkins Asphalt Paving. The company intended to offer a chance to residents to ask questions and address concerns. According to several attendees, however, much frustration was expressed by residents, and residents weren't satisfied with the answers. Most of those who attended oppose establishing the quarry. No one spoke in favor of allowing the quarry business.
Residents have started a petition to reject changing the zoning and establishing the quarry. As of Friday, Jan. 24, 190 people had signed it.
"As local residents and interested parties we respectfully request that the appropriate government agencies defend its constituents by taking the necessary actions to prevent the opening of this mine.  This may include but not be limited to:  denying permits and zoning requests
We are highly concerned about the multitude of negative impacts this open pit mine will cause such as:
Long term exposure to silica dust causes silicosis; a nearly fatal disease
Respiratory ailments such as asthma, bronchitis and COPD that are made worse by the dust released from the site.
Illness from contaminated water in wells
Air pollution caused by dust from blasting which cannot be contained.
Destruction of existing Garrison Fork Creek by run off and disruption caused by blasting.
Water contamination by sand and silt disrupted into the water tables through blasting.
Leeching of chemicals, oil and or gasoline into the ground and subsequently water supply that is consumed by residents, livestock and wildlife.
Displacement of approximately 300-1000 acres of wildlife such as deer, turkey, owls, coyotes and foxes
The effect of explosion shock waves, air pollution and water contamination on pets, livestock, poultry, honeybees and wildlife.
Road and highway deterioration from heavy truck traffic as well as safety concerns created by this massive traffic increase.
Decreased property values caused by all of the listed issues here or simply who wants to live next to a quarry
Lost crops due to decrease in honeybee pollination, lost livestock and poultry due to the negative effects of the mining
Property damage such as foundations, chimneys, interior walls and windows cracking from the shockwaves caused by the blasting
Noise from explosions, machinery and numerous daily large trucks
Competition with large trucks along roadways
Lost rural feel for those who choose to live here for such
Roads that are not designed for the increased traffic and weight
Increased truck traffic on roadways damaging already substandard roads
Transportation of hazardous materials into the area to include explosives creates a risk of disaster in the event of a wreck and taxes emergency resources.
By supporting and signing this petition the listed individuals together and collectively express that this type of industry is not wanted nor welcome in this quiet rural farming community of Beechgrove"
In order for the zoning to be changed it will have to be approved by the Planning Commission and then by a vote of the full commission.