A tale of desperation turned into life changing experiences for two men. Peter Bowling Anderson was broke and needed a job after moving to Fort Worth, Texas, to be in a band with his friend. Richard Herrin, now of Manchester, needed a tutor to help him pass his master's program. The next five years that followed changed both of their lives, an experience Anderson wished to document in his newest book, "Life at 8 MPH: How a Man with Cerebral Palsy Taught Me the Secret to Happiness."
Herrin has Cerebral Palsy and has been confined to a wheelchair his entire life, though he never let this stop him from living his life. After aging out of assistance programs, high school, and an institution his father placed him in, Herrin got into Section 8 Housing and, with the help of Community Living Assistance and Support Services (CLASS) program, he was able to live alone with the help of attendants.
Herrin got married, had kids and divorced before Anderson found his advertisement for a tutor to help him get his graduate degree.
"This book is not about me, it's about how (Anderson) changed my life and I changed his. I'm just like anybody else. I'm not no different than anybody else," Herrin said.
The day Anderson contacted Herrin about the job was the day Anderson wanted to run the other way. But the tutor was won over by Herrin's smile and decided to take the risk because he needed the money. Over the years, Anderson's view changed.
"The very first meeting I had with him, he wanted to do a book. His idea was a collection of sermons he had written. As we were working, years went by, I thought every now and then that this would be a good book…I had a misconception about people with Cerebral Palsy, I didn't think I was capable of offering him anything, but that's not the case," Anderson said.
"He's a really good guy – it's hard to say no to him," he added. "He's got the great smile…it helps you too when you're around something like that, it helps keep your trials in perspective."
Anderson believed writing a story about Herrin could help others who are struggling like he was, put a smile on their face or give them hope.
"It's valuable for people to learn from interacting with people with physical challenges. I thought people would enjoy it," Anderson said.
He explained the lessons he learned from Herrin, including patience, picking your words wisely and to keep your mind open, had a trickledown effect in his life. He learned to be patient with his friend Bryan, who is also in the book, his wife Leslie, and more.
"A lot of the times it's more reciprocal than we realize," Anderson said.  "I wanted to show how Richard was affecting me in different areas of my life."
The book shares many stories about their five years together, including the trials of passing a class with only three days to write a grade-saving paper, helping Richard find his current wife Della and assisting him in his everyday life.
Della was the first to read and sign off on the book. Herrin is about halfway through it and is enjoying it so far.
"I think it's funny," Herrin said. "It was a new concept that I would never have thought of."
He added he went through good and bad times with Anderson and they still laugh about experiences to this day, even though they parted ways in 2012.
"I thank him," Herrin said.
The book will be released in September.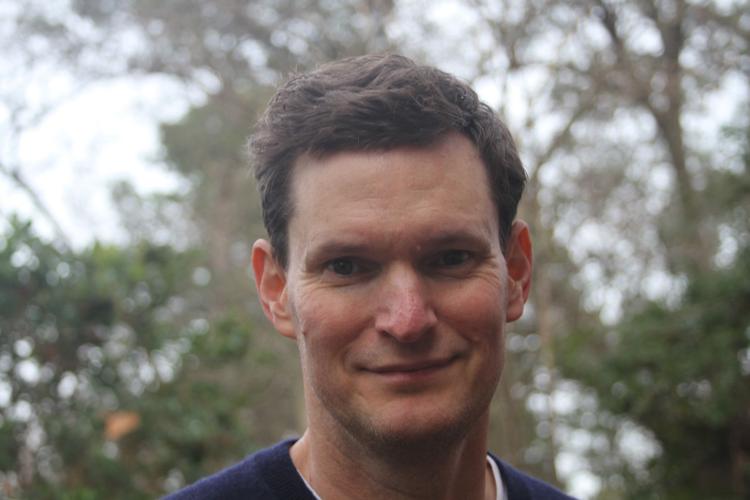 Anderson was born in Maryland and graduated from the Moody Bible Institute in Chicago. He was also a musician and formed a band, as well as wrote songs.
In 2005, he wrote a book titled "Lessons I learned from Sleeping with Dogs," which are stories about him growing up with 10 dogs. Anderson explained HarperCollins, a publishing company, was interested in his story, but then another popular dog book came along and they decided to publish "Marley and Me," by John Grogan, instead.
He moved to Texas in 2007 to form a band with his friend Bryan and that's when he saw Herrin's advertisement.
Anderson now lives in Shreveport, La., with his wife Leslie, his son Henry and his adopted daughter Clementine.
He has a master's degree in teaching and is working to obtain his special education certification.