K-9 Storm and handler Derek Bowles with the Manchester Police Department work to keep the community safe.
Just recently, Storm alerted Bowles of the presence of a narcotic odor coming from a suspect's vehicle during a traffic stop. That led to a probable cause search of that vehicle, and officers found a large sum of money, along with methamphetamine, baggies and scales.
"I was promoted to the position of K-9 Handler in August of 2019," Bowles said. "We have been a certified team since December 2019 in both patrol and narcotics. We currently hold two narcotics certifications with AWD (American Working Dog Detection Certification) and NNDDA (National Narcotic Detector Dog Association). We hold a patrol certification with AWD."
The responsibilities of Bowles and Storm include assisting in the detection of illegal narcotics and apprehending fleeing or combative individuals suspected of committing criminal acts. One of the most rewarding aspects of the work is the relationship created with Storm, said Bowles.
"My favorite part of the job is the bond that has been developed between myself and K-9 Storm," Bowles said. "In such a short time, K-9 Storm has become a loyal and dependable partner at work but has also become a part of my family. That bond has made us a better team and it is only going to continue to get better and be more and more beneficial to making the community a safer place."
The City of Manchester acquired Storm through the Manchester Police Department Drug Fund and of no expense to the city taxpayers, said Bowles. Storm is a Belgian Malinois  
"K-9 Storm was imported from the Netherlands by Nashville K-9, where we received our initial training," Bowles said.  
K-9 Nashville trains officers and helps K-9 handlers receive the highest qualifications in the United States, according to the organization's website.  
"In almost three months of being a certified team on patrol, we have assisted in a number of executed search warrants and have assisted in recovering evidence in those cases," Bowles said. "We have made several drug cases, which include marijuana, methamphetamine and heroin. We have also assisted in the apprehension of a suspect wanted for questioning by a neighboring agency in reference to a shooting incident in that jurisdiction.
"We have to maintain a minimum of 16 hours of continued training each month. Our training includes narcotic detection, tracking persons, bite work, and building searches. We have trained in numerous locations throughout the county to get the dogs used to all different types of environments which will benefit us in real world situations. June 21-26, myself along with K-9 Storm, Officer Daryn Gadeken and K-9 Nalty, will be attending a week-long patrol K-9 seminar in Scottsville, Kentucky."
These K-9 dogs are "remarkable animals," said Terri Bryan, community representative with Bradford Health Services.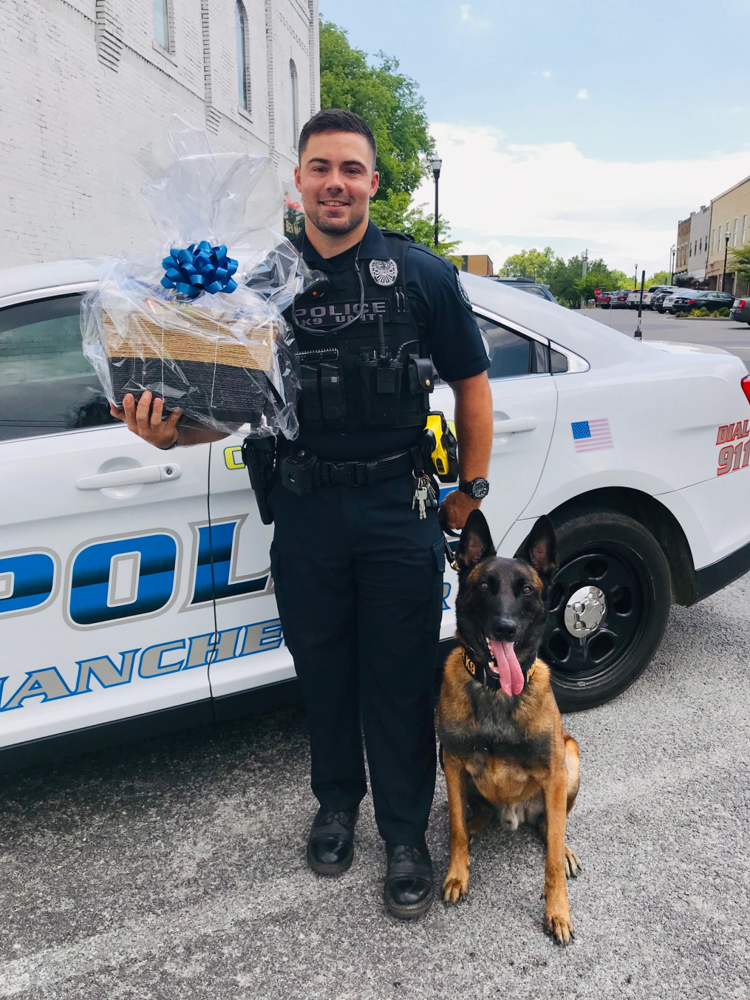 "The K-9 and handlers spend countless hours in training to help gain accuracy during searches," Bryan said. "We appreciate all the efforts that are put forth to help make our community safe. Most of our clients don't come into treatment on their own, it's usually due to some kind of consequence. If we can help one person into recovery and help them gain their life back, it's worth it to us."
Bradford Health Services presented Storm and Bowles a gift basket and gift certificate as a token of appreciation.