Unity Medical Center celebrates EMS week
Hospital administration cooks, serves lunch to EMS crews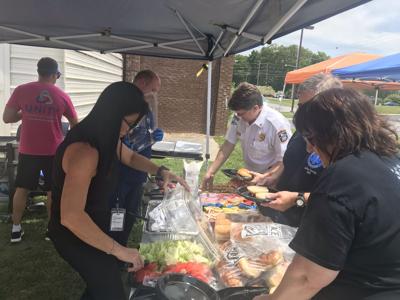 Recognizing the day-to-day lifesaving services provided by local Emergency Medical Services professionals, the staff and administration at Unity Medical Center said "thank you" by cooking and serving lunch to local EMS crews at the hospital Thursday, May 23.
"Honestly, this is the absolute least we could do for these excellent EMS workers in our community," said Martha McCormick, CEO of Unity Medical Center. "These hard-working EMS professionals are on the front lines to providing quality rural healthcare every single day. Their dedication saves lives in our community and we want them to know how grateful we are not only as medical professionals, but as citizens of this county who also rely on their services."
Unity administration cooked hamburgers, hotdogs and other traditional cookout "fixings" to serve to dozens of EMS workers who stopped by. Among the groups who joined for lunch were Coffee County EMS, Medstat and Expedited Medical Services. Air Evac Lifeteam and Vanderbilt LifeFlight landed their helicopters at the hospital for lunch and a box of food was packaged and delivered to the Coffee County 911 Communications Center.
"We just want them to know that we care about them, and we are thinking about them here at Unity Medical Center," added McCormick. "I hope the community joins us in saying thank you to all of our hard working EMS workers – not just this week, but every day."
The EMS appreciation cookout was held in conjunction with National EMS Appreciation week. Unity Medical Center is located at 481 Interstate Drive in Manchester.
NASCAR
NFL Football
Preserving the US Postal Service