In the words of Childish Gambino's "This is America," Bonnaroovians just wanna party.
The music festival runs from Thursday, June 13 through Sunday, June 16.
"My time in Manchester when I'm just doing normal prep work…and there's just this feeling of I'm coming home. No matter what, a piece of my soul will always reside here," said The Vice President of Strategic Operations for AC Entertainment Jeff Cuellar.
"Throughout the years – the workers the plans…it's become this weird family reunion. Once a Bonnavoorian, always a Bonnaroovian," he continued. "Yeah, it's hard work, yeah it's a challenge, but that's what makes it so sweet."
Bonnaroo is more than just music; the festival is committed to helping local organizations, nonprofits and businesses. Festival goers are sold beer by local entities looking to raise money for their causes. This year, a few locals are involved.
Park Partners, an organization that focuses on improving the parks in Manchester, will be selling beer during the festival to raise funds for an inclusive playground. Last year, volunteers worked to raise money to build an inclusive playground in Fred Deadman Park as well.
"It will be for Inclusive Playground project and possibly the new playground in Riverview school," said Director of Parks and Recreation Bonnie Gamble.
The Manchester Chamber of Commerce will have a beer tent this year and will be involved in hospitality.
"The funding we receive goes in our general fund and is used for Chamber programming and operations," said Chamber Director Katy Riddle.
This will be the Chamber's 18th year selling beer at Bonnaroo.
The Coffee County Central High School Baseball Booster will be at the main stage Booth B2 selling Gatorade, water, Red Bull, tea, lemonade and beer. They'll be there Friday-Sunday when the main stage is open.
The Lady Raider Diamond Boosters will be mixing drinks into a container and sending it to booths. They'll be behind the main stage. The booth is being run by Joe Barstad's with the Community Plus Foundation, but he's allowing the Lady Raiders to volunteer and benefit.
The Coffee County Youth Bass Club will have a booth as well. Coach Phil Petty and his wife will run beer tent B11 for spectrum concessions. This will be their fifth year. They are in Centeroo to the left of the Which Stage.
Keep Coffee County Beautiful (KCCB) will be onsite this year as a nonprofit. In 2018, KCCB handed out ashtrays to keep cigarette butts off of the farm and out of the community. Bonnaroo also helps KCCB throughout the year. During the 2018 festival, Tonya Wilkinson explained compost from Bonnaroo's pile goes to KCCB school projects, KCCB does recycled art programs at the ninth grade academy and a $2,000 grant allowed them to do their Recycled Earth program.
Local businesses are involved too.
The bamboo fencing at the Oasis at The Bacardi Bay was built by Premier Lawn Care. The Oasis is a beachy area near the food trucks in Centeroo – it features volleyball, hammocks, sand and more.
State Farm is donating money to bring music education to more youth – all festival goers have to do is sing a song in their studio on the farm, dance in their silent disco, perform a drum color or listen to tracks from aspiring artists to help out.
Bonnaroo Works Fund assists countless local efforts. In years past, grant money from BWF offered funding for projects for the Manchester Arts Center, Coffee County Central High School, Coffee County Child Care Center, the Manchester-Coffee County Conference Center and more.
Currently unveiled, Bonnaroo representatives confirmed there will be a replacement for the old Bonnaroo arch, which was burned down due to it being a safety hazard.
Totino's is doing something it has never done before: the business is bringing its mini snack mix to Bonnaroo for free. It will be available at the Christmas Barn on Friday through Sunday from 8:30 to 11:30 p.m.
"The food alone gets me excited," said Cuellar. "Just the thought of an Amish donut makes me salivate." He added some of the best tamales he's ever had come from Bonnaroo.
Like last year, the Food Truck Oasis and plazas will be full of food options, such as Hamageddon and Bacon Land and the Broo'ers Festival.
A Pride Parade will be occurring on Saturday, June 15 at 5:30 p.m. The parade will begin in the eastern campgrounds and move through Where in the Woods, Plaza Two, Bushy Branch Road, Plaza Three and will end in Centeroo.
The campgrounds will be alive with activities again this year. In 2018, festival organizers put an emphasis on revamping the campgrounds – they added two new permanent barns and themes to each area. Last year, Cuellar, said 20 percent of the festival's audience were in the campgrounds at all times.
Plaza Two, dubbed the Sanctuary of Self Love, was curated by Paramore's Hayley Williams. The band's lead singer centered the plaza's barn around mental health.
The plaza will feature hair styling by the Good Dye Young, mini spa treatments, a glitter station and flower crowns. Activities include yoga and themed dance parties at night. Lucky guests could win a makeover and a meet and greet with Good Dye Young's Brian O'Connor and Williams herself.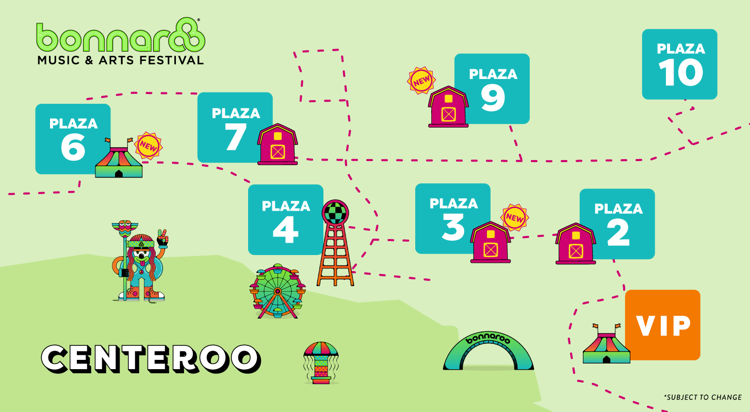 Where in the Woods is a new campground experience set in the eastern woods just off of Plaza Two. It will feature activities and themes such as throwback Thursday, future Friday, beach vibes, rest and relaxation, and more.
Plaza Three brings the return of the House of Yes and Little Cinema, which promise dance parties, circus acts and interactive performances. New to this year is the Pride Parade. The idea came from Plaza Three's House of Yes owner Kae Burke and Little Cinema founder Jay Rinsky.
Plaza Six is the Boogaloo of Wonder. This new Bonnaroo space will feature DJ Meth Dad; Karaoke every night from 6-8 p.m.; dance parties from 12-3 a.m.; ambient light installations by  *Mike Kluge (MKAV)*; Tarot readings by Raven Robbins of Athamé Metaphysical; Boogaloo Comedy from 3-4:30 p.m. every day, featuring Corey Perry Brad Sativa Eddie Ortiz Laura Peek Joshua Wagner Joshua Black Mary Jay Berger Allison Summer Jessica Watkins Drew Morgan Chance Willie Matt Boyd Zac Townsend; live portraits by Julia Morgan every day from 12-2 p.m.; guided meditation by Meghan D'Amico; and Power Spell Yoga by Meghan D'Amico.
Plaza Seven is home to The Ville and The Grove, which feature Nashville-centric performances, food, artists and more.
Plaza Nine, also known as Bayou Libre this year, is an interactive experience powered by New Orleans entertainment collective FREEWATER. Ladies night, "twerk out" and secret performances from the festivals lineup are all on the docket.
SheRoo: Women's Camp by MOTHERSHIP: SheROO is a camping experience for an inclusive community of Woman and non-binary identified Bonnaroovians, according to Bonnaroo.com.
VIP Plaza: "The newly revamped VIP Campground Plaza features air-conditioning, private bars, complimentary Wi-Fi, daily yoga classes, games, live video feeds of the festival performances, and much more – available exclusively to VIP & Platinum patrons," according to Bonnaroo.com.
Cuellar reminded all Bonnaroovians that the festival is  "A marathon, not a sprint. Hydrate, hydrate, hydrate."
And, most importantly, Cuellar said to "Give some good vibes and radiate positivity."
"The talent. It's always a point of discovery," Cuellar said. "Our booking team, they really are some of the best, if not the best. The curated lineup we have from top to bottom, I'm really looking forward to it.
"Childish Gambino, what he's going to bring to the main stage, I'm just like a school kid. I can't wait see what he's bringing here," Cuellar added.
Below is the lineup for the four day festival.
Thursday, June 13: Grand Ole Opry and special guests, SABA, Space Jesus, Eprom, Shlump, 12th Planet, Sunsquabi, All Them Witches, Magic City Hippies, The Nude Party, Rolling Blackouts Coastal Fever, The Comit is Coming, Jack Harlow, Caroline Rose, Donna Missal, Peach Pit, Hekler and Dorfex Bos.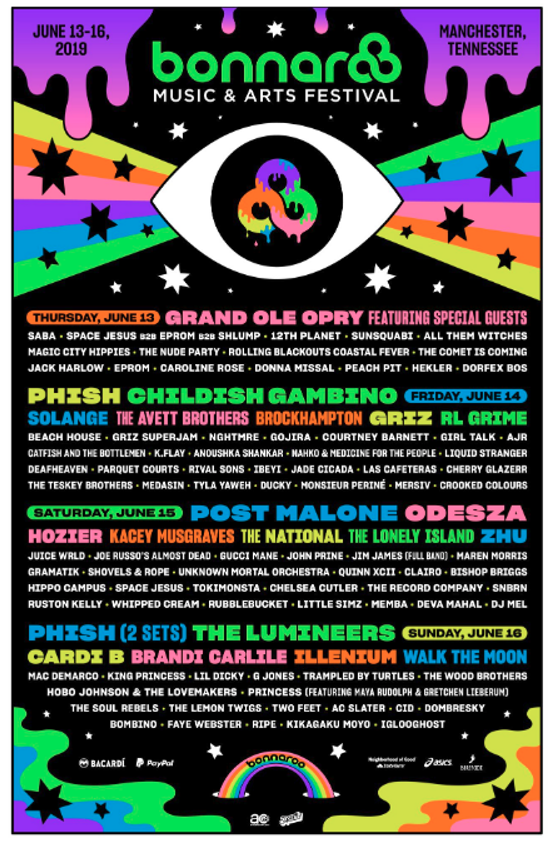 Friday, June 14: Phish, Childish Gambino, Solange, The Avett Brothers, Brockhampton, Griz, RL Grime, Beach House, Griz Superjam, Nghtmre, Gojira, Courtney Barnett, Girl Talk, AJR, Catfish and the Bottlemen, F. Flay, Anoushka Shankar, Nahko & Medicine for the People, Liquor Stranger, DeafHeaven, Parquet Courts, Rival Sons, Ibeyi, Jade Cicada, Las Cafeteras, Cherry Glazerr, The Teskey Brothers, Medasin, Tyla  Yaweh, Ducky, Monsieur Periné, Mersiv, Crooked Colours.
Saturday, June 15: Post Malone, Odesza, Hozier, Kacey Musgraves, The National, The Lonely Island, Zhu, John Prine, Juice Wrld, Joe Russo's Almost Dead, Gucci Mane, Jim James (full band), Maren Morris, Gramatik, Shovels & Rope, Unknown Mortal Orchestra, Quinn XCII, Clario, Bishop Briggs, Hippo Campus, Space Jesus, Tokimonsta, Chelsea Cutler, The Record Company, SNBRN, Ruston Kelly, Whipped Cream, RubbleBucket, Little Simz, Memba, Deva Mahal and DJ Mel.
Sunday, June 16: Phish (two sets), the Lumineers, Cardi B, Brandi Carlie, Illenium, Walk the Moon, Mac DeMarco, King Princess, Lil Dicky, G Jones, Trampled by Turtles, The Wood Brothers, Hobo Johnson & the Lovemakers, Princess (featuring Maya Rudolph and Gretchen Lieberum),  The Soul Rebels, The Lemon Twigs, Two Feet, AC Slater, Cid, Dombresky, Bombino, Faye Webster, Ripe, Kikagaku Moyo and IglooGhost.