A prolonged justice system could be one reason why so many pretrial inmates are behind bars in the Coffee County Jail.
A significantly higher number of misdemeanors seem to be resolved in Coffee circuit court instead of general sessions court compared to other judicial district and that could delay resolving these minor charges for as long as two years. Typically, general session's courts handle misdemeanors, while circuit courts deal with more serious charges.
Misdemeanor charges are lesser type crimes, such as driving offences, possession of drugs, possession of drug paraphernalia and petty theft.
In the Coffee County Jail, nearly half of the inmates are housed on pretrial misdemeanors, while the state average is 17 percent. The local jail population – which excludes the number of state inmates housed in the county jail – has increased from 227 in 2013, to 385 in 2018, according to reports of the Tennessee Department of Corrections.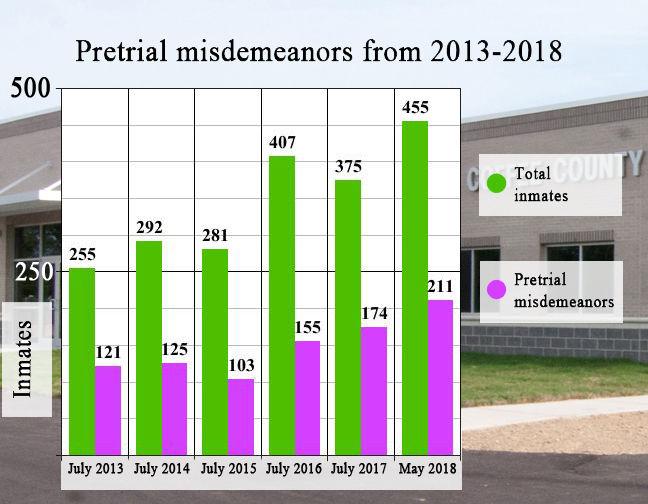 Coffee County is in the 14th Judicial District and is the only county in the district. Compared to the 17th Judicial District, which encompasses Bedford, Lincoln, Marshall and Moore counties, Coffee County sees a significantly higher number of misdemeanors in circuit court.
The inmates housed on pretrial misdemeanors in the 17th Judicial District account for 18 percent of the total jail population of 505 inmates, compared to the 14th's 47 percent.
It's hard to identify the exact number of standalone misdemeanors, or those that are not tied to any felonies, according to Coffee County District Attorney Craig Northcott
However, it's clear that more standalone misdemeanors move to circuit court in Coffee County, compared to some surrounding counties. 
Last year, the Grand Jury moved an average of one misdemeanor case per month to circuit court in the 17th district; almost all of the misdemeanor cases were resolved in general sessions.
"There is a long standing policy in the 17th district, instituted many years ago, and followed since then, that misdemeanor cases are to be addressed in general sessions court and are not bound over to circuit court, unless the defendant demands a jury trial," said Robert Carter, district attorney for 17th Judicial District.
Carter pointed out that any defendant has an absolute right to take any case to circuit and to a jury trial.
"However, it is simply unusual in this district for misdemeanor only cases to reach such a resolution," Carter said. "To that end, if and when a defendant binds a misdemeanor case over to circuit court, the general procedure dictates that the case be immediately set for a jury trial and no negotiated settlement options are available pending good cause shown otherwise by either party."
This policy works well for the 17th district, said Carter.
"The caseload in circuit courts is great, and the 17th district has only two circuit judges to manage all criminal cases in the four counties," Carter said.
To compare, from July 1, 2017 to June 31, 2018, Coffee County Circuit Court saw 304 pending misdemeanor cases, according to Circuit Court Clerk Heather Duncan.
Some of these cases are tied to felony charges, according to Northcott.
"Rather than trying to resolve (the two charges) in two different courts with two different judges and probations, we move the misdemeanor count in circuit court and handle it all together," Northcott said. "If we don't reach an agreement, we have to try it and we end up trying both (cases) separately."
A number of standalone misdemeanors do appear on the dockets of Coffee County Circuit Court.
For example, on the docket of Coffee County Circuit Court for May 22, there are 10 misdemeanor cases that are not tied to any felonies. Those charges include possession of drugs and drug paraphernalia and petty theft. 
Northcott said the number of those standalone misdemeanors in circuit court is insignificant.
"With rare exceptions, there will be some type of offer to resolve the misdemeanors on the general sessions level, without bringing it to circuit court," Northcott said.
The defendants have an absolute right for a jury trial and an absolute right to not accept a plea offer, added Northcott.
"That is entirely up to them," Northcott said. "If they decide not to take the offer, then the choices we are left with are: take it to circuit court, try the case – we do our best to get justice in that case – or dismiss it."
Northcott said many of the standalone misdemeanors resolved in circuit court are DUI cases.
"DUIs are creatures in and of themselves," Northcott said. "They are typically misdemeanors, but a lot of DUI offenders want a jury trial for whatever reason."
During the last 13 months, 23 DUIs went to circuit court, according to Northcott.
"The vast majority of them are misdemeanors, so most, if not all of these, are standalone misdemeanor cases," Northcott said. "But (the defendants) wanted a jury trial, and the only way that can happen is by going to circuit court."
The delay that comes with a case going to circuit court can be from about a month and a half to two years, said Northcott.
But he added, he doesn't believe that has a huge impact on the jail population.
Northcott said some other factors likely affect local jail population more directly.
"It is a very complicated issue," Northcott said. "It is not any one thing and it is difficult to figure out what is going on."
When the new jail was completed in 2015, the jail population was expected to increase.
"The reason for constructing the new jail was we didn't have room (in the old jail), so we expected to exceed the number (of inmates)," Northcott said.
With the overcrowding at the old jail, "There was a concerted effort to limit the number of people that went into the jail, and that was done through delaying probation violations in anticipation of the new jail," according to Northcott.
"There was some effort by the judges to modify sentences to accommodate the overcrowding that was happening at the old jail," Northcott said.
Once the space issue was resolved with opening the new facility, there was an immediate influx of inmates.
"On the whole, that has settled down at this point," Northcott said. "The (local) population has steadied out at 300 people, give or take."
Northcott admitted to having made some changes that may have affected the jail population.
"I made it clear that my intent is to hold people accountable to the laws of this county," Northcott said. "I have instituted some policies for accountability – if you violate the law, there is some punishment that comes with that."
Northcott has insisted on making all defendants appear in court for their scheduled court dates. Prior to his taking office, Northcott said, there was no organized system to charge or arrest those who missed court.
He said he discovered capiases (writs ordering an arrest) were not being issued in the cases that defendants failed to appear as required by statute.
"I pointed this out to the judges, and that is now happening," Northcott said. "There is probably an average of 20 to 30 people who fail to appear in court every week."
These people are now being arrested and held without bond until their next court date, said Northcott.
Taking steps to solve issues
Northcott has been attending county meetings to share ideas with community leaders to discuss possible reasons for the jail overcrowding and to try to find a solution.
Coffee County Mayor Gary Cordell has also been actively involved in these meetings. Cordell has contacted County Technical Assistance Service (CTAS) consultant Jim Hart, and has requested a review of the county jail system.
Hart said the reasons for jail overcrowding are not easy to identify and there are many facets to the issue.
Something he has often seen in similar situations, Hart said, is people assume that overcrowding is a problem stemming mainly from the sheriff's department, jail administration or probation officers.
"When you start looking across the system, you'll see a public defender or a district attorney or court that's overwhelmed…everyone plays a role in to jail crowding," Hart said.
Is Coffee County's judicial system overwhelmed?
"Our caseload tends to be higher than the average," Northcott said. "Certainly there are a lot of factors that go into that. We have police departments that work hard to keep our community safe. We have unique situation with the interstate running through, which leads to cases. We also have Bonnaroo and that leads to cases."
It is difficult to compare the caseload of Coffee County with other counties' caseloads, because of the different ways the dockets are prepared.
In Coffee County, each incident a defendant has accounts for a separate case on the docket, while the 17th Judicial District associates one docket entry per defendant.
When it comes to judges, Coffee County has more judges per capita than most other judicial districts in the state, according to the Tennessee Comptroller of the Treasury.
There are more district attorneys per capita in Coffee County than average, compared with surrounding counties.