CARTER
Funeral services for Ms. Jackie Ruth Carter, age 82, of Tullahoma, were conducted at 1 p.m. on Tuesday, July 23, 2019 at Manchester Funeral Home.  Burial was in Hurricane Cemetery.  Visitation with the family was from 11a.m. until time of service on Tuesday at the funeral home.  Ms. Carter passed away on July 20, 2019 at Manchester Healthcare.
Manchester Funeral Home
FREEZE
 Mr. Gary Hamilton Freeze, age 45, passed away Monday, July 15, 2019 at St. Thomas West in Nashville, with his family by his side. He was a farmer and a member of the Baptist faith. He enjoyed making flower arrangements, loved his family and was known to always bring a laugh. Gary was preceded in death by a daughter, Kelsey Marie Freeze; his mother Pamela Yvonne Nobles Freeze; maternal grandfathers, Roy Hamilton Nobles and Fred L. "Pete" Freeze; paternal grandparents, Melvin and Dorothy Freeze. Gary is survived by three daughters: Katlynn Yvonne Freeze, Karleigh Faith (Blake) Freeze, Kristlynn Rose Freeze; granddaughter, Alivia Dyanne Brown; father, Greg Freeze (Pam); maternal grandmother Jean Freeze; three brothers, Stan (Laura), Brad (Priscilla), Russ (Audra); nephews, Zach, Jake, Wyatt & Kaden; niece Linley. Funeral services was 11 a.m. Thursday in the Central Funeral Home Chapel with burial in the Shady Grove Cemetery.  Visitation was 5–8 p.m. Wednesday at Central Funeral Home, Manchester, Tennessee.
 Central Funeral Home
FULLER
Paul Alan Fuller of Tullahoma passed this life on Friday, July 19, 2019 at his residence at the age of 75. Funeral Services are scheduled for Wednesday, July 24, at 11 AM at Daves-Culbertson Funeral Home with burial to follow at Oakwood Cemetery. The family will receive friends from 5 -8 p.m. on Tuesday, July 23 at the funeral home. A native of Bedford County, he was the son of the late Alvin and Pauline Jones Fuller. He was a U.S. Army veteran and also served in the National Guard serving approximately 17 ½ years totally. He was a supervisor at Wisco Envelope and after retirement was very active with the Tullahoma and Manchester Senior Citizens, serving as President of the Coffee County Senior Citizens Center. He also worked for the Tullahoma News and Lowes. Mr. Fuller was a member of the Thompson Creek Baptist Church and enjoyed dancing, collecting guns, playing golf, gardening, reading and photography. He was a very active member of the Boy Scouts for 26 years. In addition to his parents, he was preceded in death by son, Franklin Delanoe Roosevelt Prater Jr. and brother, Verlon Fuller. He is survived by his loving wife, Gracie Ann Culver Fuller of Tullahoma; sons, James Wesley Prater and his wife, Stacey of Normandy and Jon Joseph Fuller and his wife, Deborah of Summrall, Miss.; daughters, Brenda Louise Bivins and her husband, Danny of Manchester and Deborah Kaye Fuller of Murfreesboro; sister, Sandra Cossey of Fayetteville; grandchildren, Jeremy Bivins and his wife, Aurora of Knoxville; Brittany Bivins of Kauai, Hawaii, Bryant Prater and his wife, Katie of Normandy, James Fuller and his wife, Amanda of Winchester, Tiffany Scalf of Manchester and Natasha Garbe and her husband, Mike of Marshfield, Wis. and great grandchildren, Jack Fuller, Everly Rose Garbe and Adalynn Scalf. Online condolences may be made at www.davesculbertsonfuneralhome.com.
 DAVES-CULBERSTON FUNERAL HOME
THOMAS
Pascal C Thomas of Hillsboro passed this life on Friday, July 19, 2019 at his residence at the age of 82. Graveside services were Monday, July 22, 2019 at 3 p.m. at Beans Creek Cemetery in Hillsboro. A native of Coffee County, he was the son of the late Claude and Vivian Hawk Thomas. He was a member of Our Fathers House Church in Cowan and enjoyed attending church. He enjoyed fishing, listening to gospel music, gardening and tending his chickens. He also loved his "Little Dog," Daisey. In addition to his parents, he was preceded in death by his wife, Mary Jewell Walden Thomas; son, Ricky Calvin Thomas; brothers, Charles and Gladys Thomas and sisters, Juanita Lewis and Nell Perry. He is survived by daughters, Diane McCormick and her husband, Randy and Donna Sitz and her husband, Tony both of Hillsboro; brother, Doug Thomas and his wife, JoAnn of Manchester; grandchildren, Samantha Thompson and her husband, Rob, Jessica Massingille and her husband, Kanawful, Craig Majors and Danielle Hill and her husband, Josh and great grandchildren, Lilly, Holt, Hope, Sadie, Piper, Zephyr and Daxx. Online condolences may be made at www.davesculbertsonfuneralhome.com.
 DAVES-CULBERSTON FUNERAL HOME
PERRY
Funeral services for Mrs. Peggie Jewel Perry, age 87, of Manchester, will be conducted at noon on Thursday, July 25, at Coffee County Funeral Chapel.  Burial will follow in Gnat Hill Cemetery.  The family will receive friends from 2-6 p.m. on Wednesday, July 24, at the funeral home.  Mrs. Perry passed away at her residence in Manchester, on Monday, July 22, 2019. Peggie was born in Pulaski, Tenn., to the late Rassie H. and Ester L. Watts.  She was a cook and restaurant owner for many years.  Peggie loved her flower garden, to cook, and to dance.  She enjoyed crossword puzzles and writing in her journal.  When she was younger, she enjoyed photography and drawing.  Peggie was a loving wife, mother, grandmother, and sister. In addition to her parents, Peggie is also preceded in death by her first husband of 20 years, Edward Estep; second husband of 27 years, Norris Perry; one son, Glen Estep; two brothers, Rassie Watts, Jr. and Floyd Watts; three sisters, Elise Malone, Alene Collins, and Christine Halloran; one grandchild, Glenn Estep.  She is survived by two sons, Phillip Estep (Susan) and David Estep (Tina); two daughters, Connie Schaffer (Jeff) and Vicky Murdock; one daughter-in-law, Connie Estep; nine grandchildren, Kristina Limbaugh, Bryan Beets, Andrea Beckham, Claire Estep, Melissa Murdock, Libby Sumner, Kyle Mendoza, Kimber Mendoza, Tristan Mariani; seven great-grandchildren, Gus Beets, Ethan Beets, Helena Dunn, Clayton Beckham, Canaan Beckham, Zackery Limbaugh, and Hunter Limbaugh.
 Coffee County Funeral Chapel
WILLIAMS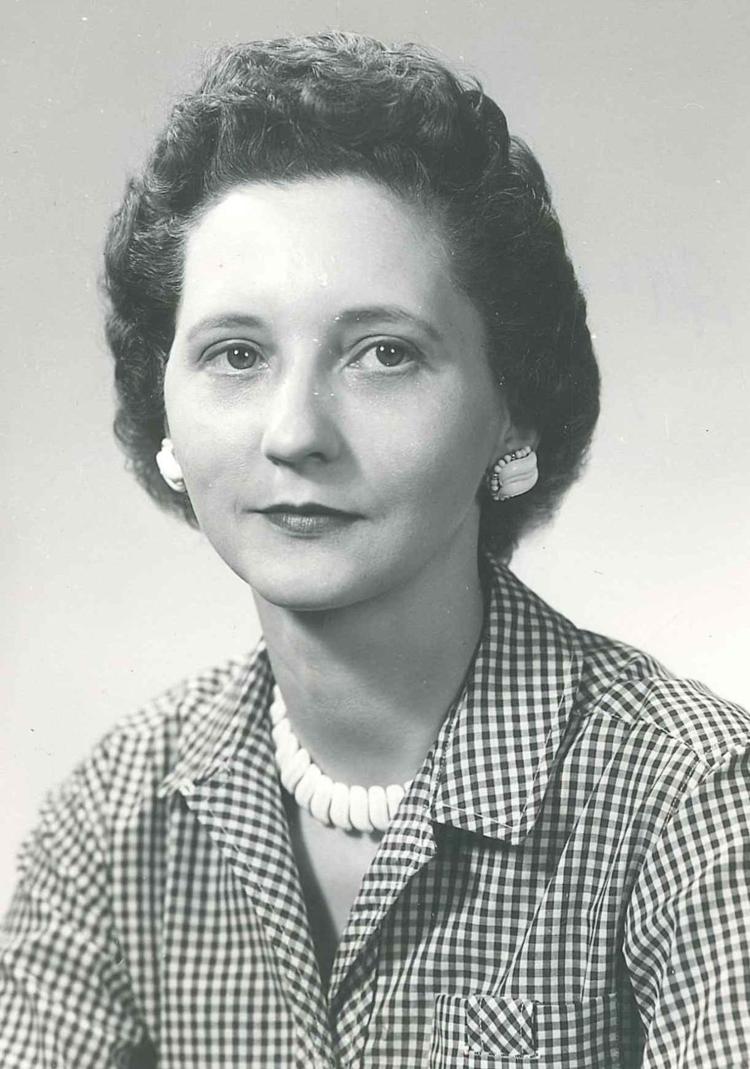 Allene Maddox Williams, age 93, of Beechgrove, passed away peacefully on July 15, 2019 surrounded by her children. A native of Warm Springs, Ga., she was preceded in death by her loving husband of 42 years, William Charles Williams Sr. Mrs. Williams was also preceded in death by her parents, Horace and Eva Maddox of Warm Springs; sisters, Doris Freitas, Jeanette Castleberry, and Elsie Burroughs. She is survived by her children, Paula Norris and husband Jody of Soddy Daisy, Tenn.; Douglas Shipp and his wife Estella of Murfreesboro; Debbie Stribling and husband Billy of Manchester,; Reba Baird and husband Leland of Milton, Tenn. and William Charles "Bubba" Williams Jr. and wife Debbie of Manchester; grandchildren, Slade Norris and wife Charlcie of Charleston, Tenn.; Katie Persson and husband Tyler of Cookeville, Tenn.; Kristina "Charlie" Williams of Denton, Texas; Adam Williams of Manchester; great granddaughter, Elise Marie Williams of Tullahoma; along with two nieces and one nephew. Mrs. Williams spent most of her working career as owner of Mid South Brace Shop in Nashville, and later retired as a bookkeeper with Hill's Department Stores. After retirement she returned to work with Murfreesboro Housing Authority and also an after school resource with the ESP Program in the Murfreesboro City School System. The family would like to express their heartfelt love and gratitude to Mark and Lisa Duke and Ron and Amy Brown, both of Manchester. A special thank you is extended to the entire staff of Stones River Manor Advanced Care, Darlene Baird, Andrew Foster, LPN and Caris Hospice of Murfreesboro. Memorials in memory of Mrs. Williams can be made to Stones River Manor. Inurnment will follow in Roselawn Memorial Gardens at a later date. An online guestbook is available at www.woodfinchapel.com.
Woodfin Funeral Chapel