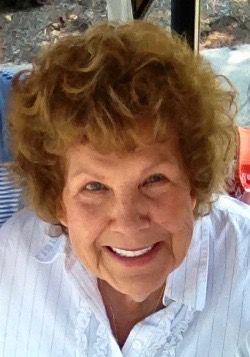 Marianne Haynes Brandon passed from this life into the presence of her Savior Thursday, Feb. 28, 2019.  She was surrounded by her loving family and passed peacefully after an extended illness.  In the words of one that knew her well, she was funny, loving, smart, giving, caring, matter of fact, truth hurts and God fearing.  She was a retired educator that dedicated 37 years of her life to the education and well being of so many young people of Coffee County. Marianne was baptized at Silver Point Church of Christ at the age of 13 and remained a devoted member of Main St. Church of Christ, Manchester.  She was a graduate of DuPont High School in Old Hickory, Tenn. and The University of Tennessee, Knoxville.  She completed her bachelor's, master's and Ed.S. Degrees.  In her retirement, she enjoyed her work with the Know Your Bible program at Main Street Church of Christ, tending her flowers and her home, and spending more time with family…especially her grandchildren.  Known to many as Gran, she was a loving and always funny presence to so many. Marianne was born July 22, 1934 to the late Kathryn Herrin "Kitty" Haynes and the late Melvin Jonathan "Bill" Haynes in Old Hickory.  Her brothers Francis Herrin "Buddy" Haynes and Melvin Jonathan "Sam" Haynes, Jr. preceded her in death.  She was married to the late Joseph Alexander Brandon on Aug. 18, 1963 and taught at Central High School in Manchester alongside her husband for many years.  In 1965, she had her first child, Tara Kathryn on April 12 and her second daughter, Joy Elizabeth on Feb. 16, 1972.  She was blessed with "sons" John Moore and Barry Vaulton when her girls married in 1989 and 1997, respectively.  She was blessed with three grandchildren, Nicholas Holman Moore (1997), Samuel Denver Vaulton (2003) and Joseph Melvin Vaulton (2005).  These were her family, her loves and so much of her life and happiness. She was married to Joe Brandon for 46 years until his death in 2009.  She is survived by her daughters and sons-in-law Tara and John Moore and Joy and Barry Vaulton, grandchildren Nicholas Moore, Sam Vaulton, Joe Vaulton and Logan Carter all of Knoxville, brother Allen "Butch" Thompson (Teena), niece Kathryn Rae Thompson, nephew Allen Thompson, and nephew Jonathan Haynes all of Mt. Juliet, Tenn. and niece Teresa "Tee" Haynes Lawlor (Lewis) of Old Hickory. Services were in Knoxville at Bridges Funeral Home, Rutledge Pike Tuesday, March 5 with Visitation from 5-7p.m.  Services in Manchester were Wednesday March 6 at Central Funeral Home with visitation from 5-7 p.m. and funeral at 7 p.m. with a private burial at Rose Hill Memorial Gardens. If a memorial is preferred, please consider:  Main Street Church of Christ, 201 E. Main St., Manchester, TN  37355.
David Allen Curlee, 78, of Manchester, passed away peacefully Thursday, March 7, 2019 after a            short illness. A celebration of life service was held at 2 p.m. Sunday, March 10, at Feldhaus Memorial Chapel, 2022 North Main St. Shelbyville.  Mark Pierce officiated. Visitation preceded the service on Sunday from 1-2 p.m.  In lieu of flowers, memorials may be made to the Sportsmen & Businessmen's Charitable Organization of Coffee County at PO Box 521, Manchester, TN 37349 or Alive Hospice at 1629 Williams Drive, Murfreesboro, TN 37129.      David was born May 19, 1940 in Petersburg, Tenn. to Sara Margaret (Davis) and Thomas Dave Curlee.  He graduated from Shelbyville Central High School in 1958.  Following high school, David worked for Empire Pencil Corporation and as a certified mechanic at Cannon Chevrolet in Shelbyville.  In addition, he was a member of the National Guard serving from 1962 through 1968.  David began working as a claims adjuster for Tennessee Farmers Mutual Insurance Company in 1970 and retired from there in 2002. In his retirement, he enjoyed spending time with his wife, children, and grandchildren as well as attending auctions, visiting his family farm in Richmond, Tenn. and cabin on Tims Ford Lake. David is preceded in death by parents Margaret and Thomas and daughter Cheryil Renee.  David is survived by his loving wife, Mary Grace (Sanders); two children, Mike and his wife Morgan of Gallatin, TN, Sharon (Sam) and her husband Leonard Wall Jr., of Smyrna; eight  grandchildren, Zachary Curlee, Alex Creek, Layne Creek, Thomas Curlee, Turner Curlee, Hudson Curlee, Henry Curlee, Raylen Wall and a sister, Connie Curlee Tucker Schrader.
John D. Talley, age 71, of Manchester, passed away on Wednesday, March 6, 2019 at St. Thomas Rutherford in Murfreesboro.  No services are planned. John was born in Warren County, , the son of the late Odie C. and Clarice Elizabeth Scott Talley.  He was a graduate of Coffee County Central High School Class of 1965 and MTSU.  John was a former editor of the Manchester Times and High Mach at AEDC.  He retired after 14 years of service from Coffee County Consolidated Communications Center as a 911 dispatcher. In addition to his parents, John was also preceded in death by two brothers, Billy and Robert Talley.  He is survived by one sister, Brenda T. (Ray) Winton; one sister-in-law, Janey Talley; nephews, Phillip and Mike Talley and Scott and Robin Winton; four great nephews and two great nieces. The family requests memorial donations be made to the Sportsmen and Businessmen's Charitable Organization, P.O. Box 1078, Manchester, TN  37349.