Late Tuesday night on June 4, Coffee County deputy Kevin Smith started to organize a prayer vigil to be held at the Manchester Soccer Complex for Westwood Middle School student and soccer player Chloie Bellamy. Bellamy was hospitalized after a seizure left her unresponsive. 
It took less than 24 hours for the word to spread and, by the vigil's start at 8 p.m. on Wednesday, June 5, well over 100 people were in attendance to pray for Bellamy. 
"I thought it was awesome to see the community come together in such a short notice," Smith said. "It just shows how much this community can really come together in a time of need, especially in a situation like this."
On Monday, June 3, Bellamy suffered a severe seizure around 9 p.m. that resulted in her being flown to Vanderbilt Children's Hospital in Nashville. She had fainted prior to seizing and had not fully woken up since. While Bellamy was listed as being in stable condition, doctors were unsure as to what had caused the episode.
In the hours leading up to the vigil, Bellamy continued to stabilize and started to regain some consciousness. Further good news came at the start of the vigil when Bellamy's breathing tubes were removed, meaning she had begun to breath on her own.
"She started answering questions around about 7:30, nodding her head," her uncle Thomas Bellamy said. "As soon as we pulled in here for this gathering, about at 8 o'clock they were taking her right off the tube."
Among those gathered to pray for Bellamy included members of the Westwood soccer team, members of her family's church and members of both the Coffee County and Manchester Police Departments. Manchester mayor Lonnie Norman was also in attendance. 
"It's mind-blowing. There's not enough words to explain it. This is something I've never personally seen in Manchester," Thomas Bellamy said. "You don't see just a hundred people come together for one single person, whether or not they know her or they don't know her."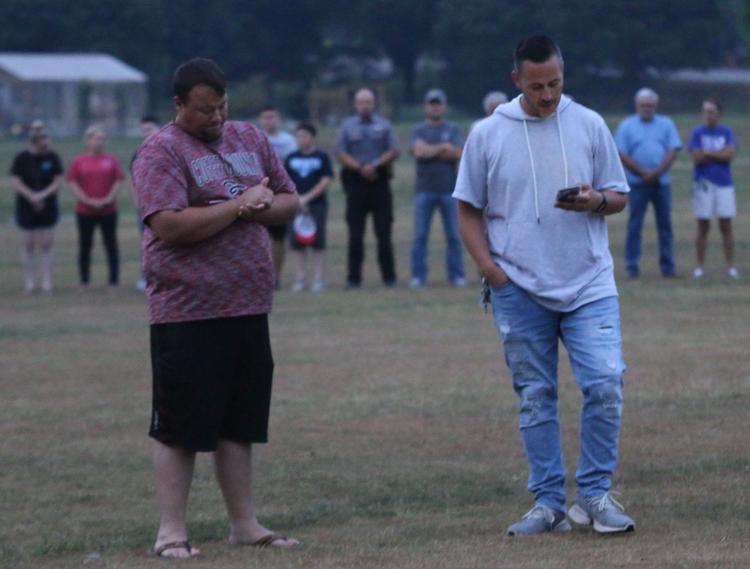 The gathering's speakers included Smith, Thomas Bellamy, Jamie Norris and JT Jordan, the lead pastor at the family's church, Canvas Community. Her Lady Rocket soccer teammates also led a prayer inside the circle.
Shawn Thomas, one of her coaches at Westwood, had high praise for Bellamy.
"Outgoing as a person and a cut-up but she does know when to be serious and that's pretty much only when she's playing," Thomas said. "As a soccer player she's just aggressive and a go-getter."
In addition to soccer, Bellamy also played basketball for one year at Westwood. Coach Angela Houck was out of town, but offered her support from afar. 
"Chloie is a very lovable and energetic young lady," Houck said. "She gets along well with her teammates and is a competitor. She is a fighter."
Smith was inspired to set up the prayer vigil due to his relationship with Bellamy's family. This ranged from working with Bob, her grandfather, to her grandmother Teresa teaching at Westwood Elementary. Smith's son had previously attended there. 
Smith also knew Bellamy through his work with the Coffee County Soccer League.
"Just overall great family. Of course soccer was a big part of it," Smith said. "She would come to some of my practices just to get extra workouts in."
After the gathering was complete, Thomas Bellamy acknowledged that while any community support was appreciated, the family was most in need of prayers and love instead of other forms of assistance.
"We're not here to ask for that. The main thing is prayer because there's just a lot of power in prayer," Thomas Bellamy said. "Pulling in at 8 o'clock to a thing like this and then next thing you know she's getting the tube out, that's just straight-up answers."
Many others also noticed that as soon as the prayer vigil began, Bellamy's breathing tubes were removed in a step forward in her recovery. 
"There's power in prayer and there's power in numbers," Smith said. "There's not much you can say other than that."